Welcome to my in-depth review of the Magic Mill Food Dehydrator Machine. As a food enthusiast and a fan of healthy, homemade snacks, I was excited to give this dehydrator a try.
In this review, I'll share my hands-on experience, discussing the features and benefits, of dehydrating various foods, comparing it to competitors, and the pros and cons.
Join me as I put the Magic Mill Food Dehydrator to the test and help you decide if it's worth the investment.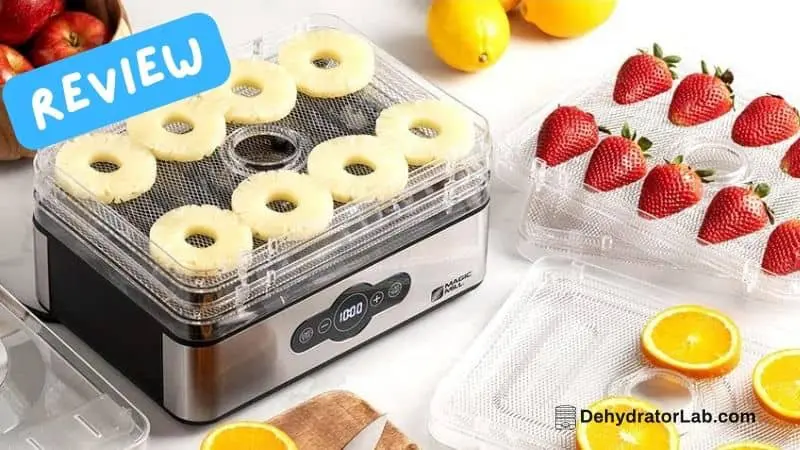 As an Amazon Associate, I earn from qualifying purchases. If you make a purchase after clicking on a link I may earn a small commission at no extra cost to you if items are purchased.
Unboxing and First Impressions: A Compact and Stylish Solution
The Magic Mill dehydrator arrived in a sleek box that showcased its compact design. Right out of the box, the Magic Mill Food Dehydrator impressed me with its sleek design and small footprint.
The five trays included with the unit may feel a bit flimsy, but they are designed to be lightweight and easy to handle.
The metal racks were a welcome addition, as they help avoid putting food directly on heated plastic for hours. The unit felt lightweight but sturdy, and overall, I was pleased with the initial presentation.
Setting Up and Getting Started: Ready for Dehydration Adventures
This food dehydrator is a user-friendly device with a digital display so after reading the user manual, I found the setup to be straightforward and easy.
The instructions were clear, and I appreciated the tips on how to prepare food for dehydration. However, it's essential to run the dehydrator empty and wash the trays several times before the first use to eliminate any lingering plastic odors.
Hands-on Experience: Dehydrating Different Foods with Magic Mill Food Dehydrator
I decided to start with some fruit and vegetable snacks, and I was eager to see the results. From creating delicious orange slices and apple chips, to drying herbs and vegetables from the garden to making savory beef and chicken jerky, the Magic Mill handled everything I threw at it.
I experimented with different foods, and the machine consistently produced delicious results in a relatively short amount of time. One minor issue I encountered was the uneven drying between trays, which I resolved by rotating them during the dehydration process.
Tips and Tricks for Optimal Dehydration With This Machine
Be patient with the initial plastic smell, as it will dissipate with use. I discovered that pre-treating fruits and vegetables and marinating meats before dehydrating improved the final product.
Also adjust the thickness of food items to ensure consistent results. Speaking of which, slice food items thinly for faster dehydration. Use the auto shut-off feature to avoid over-drying.
Use a higher heat setting for meats and a lower setting for fruits and vegetables. Be mindful of the limited height between trays when dehydrating taller items.
Features and Benefits – Convenience at Your Fingertips
Though small, this dehydrator packs a punch in terms of efficiency and functionality. The Magic Mill Food Dehydrator boasts an impressive range of features, including digital temperature control and timer, adjustable tray system, easy-to-clean design and a quiet operation, which I found to be true in my experience.
The auto shut-off and timer were a bonus, ensuring that my food was perfectly dehydrated every time. The machine also offers overheating protection for added safety.
The rectangular shape and two height options for tray spacing enable efficient use of space, making it perfect for dehydrating various food items, from fruits to jerky. The compact size is ideal for fitting on countertops, and the trays are dishwasher-safe, making cleanup a breeze.
Pros
Compact design saves storage and counter space
Metal racks for better hygiene and durability
Easy to use and clean
Efficient drying and adjustable temperature settings
Budget-friendly
Cons
Uneven drying if trays are not rotated
Plastic trays can be fragile and prone to cracking
Limited space between trays
Initial plastic smell
Short power cord may require an extension or close proximity to an outlet
Comparing the Magic Mill Food Dehydrator to Competitors
Magic Mill 6 Tray food dehydrator: a larger alternative for bigger batches
NESCO FD-75PR: a well-known brand with a circular design
The Magic Mill Food Dehydrator offers a competitive price point and value compared to other dehydrators on the market.
When compared to other dehydrators like the Magic Mill 6 Tray Food Dehydrator (see our review) and the NESCO FD-75PR, while it may not be the largest or most robust option on the market, the competitors offering more features or larger capacity, the Magic Mill delivers excellent value for money, being exactly where it needs to be between value and functionality.
For this it has become a favorite among users who prioritize space-saving and budget-friendly options.
You might be interested in: Magic Mill MFD-1010 Food Dehydrator Review
FAQ's
How easy is it to clean the trays?
The trays can be cleaned in the top rack of the dishwasher or by hand.
Is the Magic Mill Food Dehydrator dishwasher-safe?
The trays are dishwasher-safe but should be placed on the top rack only.
Can the dehydrator handle taller food items?
The trays offer limited height adjustment, which may not be sufficient for taller items.
What is the length of the power cord?
The power cord is approximately 3 feet long.
Conclusion
Is the Magic Mill food dehydrator worth it?
Despite its compact size, this dehydrator offers efficient performance and is perfect for those on a budget. Taking into account the customer reviews and my own experience, the Magic Mill Food Dehydrator is an excellent choice for those seeking an affordable, compact, and efficient dehydrator.
While it has a few minor drawbacks, such as fragile trays and the need for tray rotation, the overall performance and value make it a worthwhile investment. However, the machine's capacity may not be suitable for larger dehydration projects, in which case go for the 6 trays version of Magic Mill.
While it may not be perfect, Magic Mill Food Dehydrator with 5 trays is a fantastic option that won't disappoint. It offers great value for its price, and its user-friendly features make it an excellent option for beginners and seasoned food preservers alike.
Eric is the owner, author, content director and founder of dehydratorlab.com. He is the lead architect and the main man in matters concerning dehydrators, their accessories, guides, reviews and all the accompaniments.Whenever he is not figuring out simple solutions (hacks) involving cookery and their eventual storage, you will find him testing out the different types of dehydrators, to bring us the juicy details regarding these devices.He is a foodie enthusiast, pasionate about making jerky has a knack for healthy and tasty food and won't hesitate to share out any ideas that might be of value around this subject.