Dehydrated apples taste the best. Read on and find the best apples to dehydrate at home, how to select them, what kind of apples are best for dehydrating and which are the most flavored
Apples are naturally delicious right from the apple tree. But anyone who has tasted them dried will swear by their great taste.
Dried apples are wonderfully versatile as they can serve as snacks and also as ingredients in a variety of delicious meals.
We dry apples to produce apple rings or apple chips depending on one's preferences. Apple chips are apple slices that have been dehydrated for too long till they become crispy whereas apple rings aren't as thin as chips and aren't dehydrated for too long.
An apple has a whole lot of other benefits besides keeping the doc away. For instance, they have quercetin, an antioxidant that boosts endurance by making it easy for oxygen to reach the lungs.
Apples are also loaded with multiple vitamins that boost your immune system. But what makes them so popular is that they are low in calories and have no fat. That, to most of us, is a sure ticket to chew them without apologies.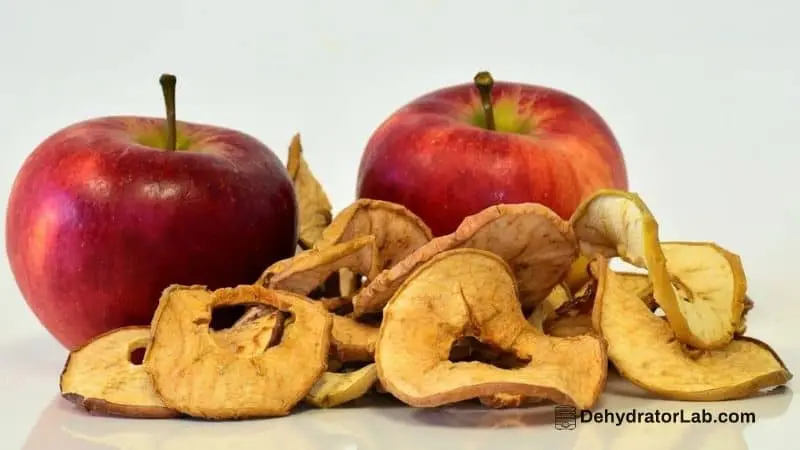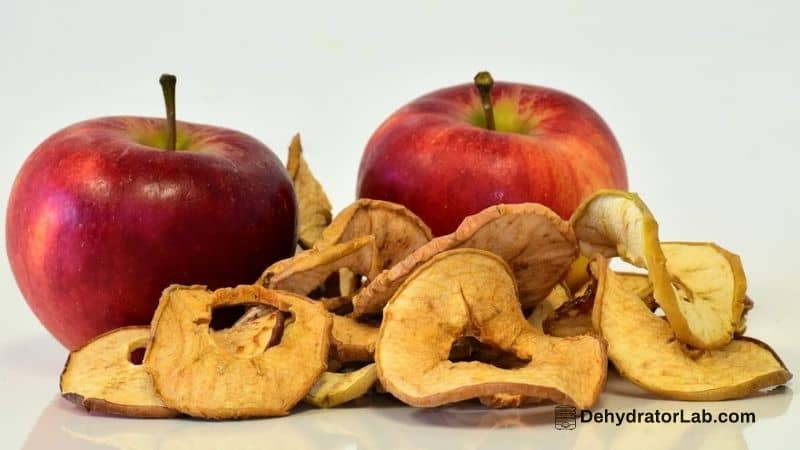 Selecting the Best Apples for Dehydrating – What We Are Looking For
Getting enough apples for drying isn't the first step in the dehydration of apples. Rather, laying your hands on the best apples for dehydrating is the most important and first step. Remember, not all apples will give you the desired results when dehydrated.
Interestingly, we have over a hundred varieties of apples that human beings can safely consume. So, which are the best varieties of apples to dehydrate? Or how do you even start selecting the best apples for dryinh from this humongous field of hundreds of varieties?
1. Flavor
The suitability of an apple for drying depends on several factors such as, first, the flavor. Is your apple sweet or tart? Are you looking for medium intense flavor or a high intense flavor?
Apples with low sugar content are ideal for drying as they tend to retain their shape throughout the dehydration process. High flavored and crispy apples are also highly recommended for dehydrating.
High-sugar content apples if dried, are mostly used as part of ingredients in other dishes and are occasionally taken as snacks.
2. Moisture Content
What is the moisture content of your apples? This is important as it also affects your final yield. If you come across a juicy apple variety, then don't hesitate to use it.
3. Availability
Have you ever realized that apples never disappear in supermarkets and grocery stores? Why is it so? Are they ever on season? I don't think so.
If you are keen enough, you'll realize that not all varieties of apples are available at the same time. Only a few of the well-known types including the Golden Delicious, Gala, Granny Smith, and Red Delicious are available all around the year.
Other varieties are available at a specific time only. For instance, if you love Honeycrisp, SweeTango, and McIntosh apples, then you'll need to wait till September.
4. Drying Time
Lastly, the time taken to dry the apple is also a key feature. This is affected by the shape and size of the apples and the moisture content too. A firm texture allows the apple to dry faster compared to a not so firm texture.
Best Apples To Dehydrate
After carrying out an intense research, I came up with the following 20 best apples for dehydrating that I consider to be "frontrunners" as far dehydrated apples are concerned.
Note that the list is just random, not in order of merit. By going through the list, you'll get full information of your various varieties and their underlying strengths.
1. Fuji
Dubbed the sweetest apple around, Fuji was developed in Fujisaki, Japan, hence its name.
This apple is a cross between 2 other popular American apples; Red Delicious and Virginia Ralls Janet.
Fuji apples were introduced in America in the 1960s and are now widely grown in several States including Michigan, Washington, California, and New York.
These apples' exterior has a slight red over yellow background and reddish stripes. Their interior features a characteristic firm and fine-grained creamy-white flesh.
These apples are also crisp and very juicy. Most people compare their sugary flavor to that of a freshly pressed apple juice.
This flavor is, in fact, what makes it a good fruit for dehydrating. Thanks to its moderate sugar content, this apple is able to retain its flavor and shape after dehydration.
While these apples are available throughout the year, they are at peak in September. It can easily be found between November/December for northern hemisphere orchards and May/June for southern hemisphere orchards.
I have to mention here that Fuji is among the priciest apple varieties around. Therefore, if you love them, then you might consider buying them in bulk in September or when they are on sale.
2. Gala
Gala is yet another mainstay for most supermarkets and groceries stores around the world thanks to its availability throughout the year.
This apple has its roots in New Zealand and was introduced in the USA in the early '70s.
You may find it in slightly varying colors from cream to red with yellow strips.
Similar to Fuji, Gala is a blend of two other apples as well, Golden Delicious and Kidd's Orange Red.
It's worth noting here that Kidd's Orange Red is a cross between Cox's Orange Pippin and Red Delicious. This is to mean that Gala combines the properties of 3 distinct apples.
Gala apples are generally softer than most other apples including Fuji. But they make up for this with their pure flavor that makes them ideal for snacking for everyone in the family including your kids.
Mind you, this apple was named so in honor of Queen Elizabeth II who was pleased by its flavor while on her visit in New Zealand.
These apples are also notably cheaper in most stores. They get crispy after dehydration and are quite juicy.
3. Gravenstein
Characterized by a green to yellow undertone, Gravenstein made its way into the USA in the 1790's and has been a favorite for many ever since.
The major drawback with this apple is its extremely short life span. They pop up in early to mid-August and are out in a few weeks. You may find them at different times in different markets since they have varying harvesting times.
Even with their short lifespan, anyone who has tasted the Gravenstein says that it's well worth the wait thanks to its perfectly balanced sweet-tart flavor with nuances of honey (Fun fact: learn how to dehydrate honey). This apple has a crisp creamy white flesh and it's very rich in juice.
Another thing that most people love about this apple is its versatility in the kitchen. You could use Graveinstein for applesauce, apple cake, and apple crisps too. The tart apple chips that it produces have a lovely flavor.
4. Granny Smith
For those who prefer a slightly tart apple, then Granny Smith might impress you.
Originally from Australia, Granny Smith is a tart flavored, crispy apple mostly preferred for drying as its response to heat is marveling. This produces less sweet apple chips.
It is green in color and has a low sugar content hence retains much of its shape during the dehydration process.
It's mostly not eaten fresh due to its tartness but its chips are top notch in terms of taste since it tends to gain some sweetness with cooking.
Thus, besides snacking, these apples can also be used for a variety of other dishes including onions and cheese due to its tartness and the great visual appeal that its green skin adds to the mix.
Similar to our other two recommendations, the Granny Smith is also available all through the year.
5. Honeycrisp or Honey Crisp
Honey Crisp/Honeycrisp was developed by the University of Minnesota.
This apple is considered a modern variety and is a kid to the Keepsake and the MN1627.
This apple has a medium-large size and its skin is green/yellow with red-orange flush. If grown in sunlight, there's always a strong hint of pink.
Honeycrisp has a white flesh that is crispy and crunchy and a bit dense. In addition, it has a sweet flavor and it's nicely juicy and sweet. Its apple chips are equally outstanding.
6. Cortland
Cortland was developed by Prof S.A Beach at Cornell University's Agricultural Experiment Station in Geneva, New York in 1898.
This apple is currently in position 12 in the list of the most commonly commercially produced apples in the United States.
Cortland has a medium to large size and has a characteristic flat shape. Its exterior is usually bright red in color and has dark red streaks.
It has a white finely grained flesh that is extremely juicy but with a sharp, sweet flavor with a little pinch of tart. This is what makes it a perfect choice for drying.
Worth noting, this is a McIntosh variety hence recommended to be eaten immediately after being harvested as its sweet flavor and crispiness fade quickly. Its season is from September to April.
7. Empire
Those who love McIntosh–style apples definitely know the Empire. This is one of the best apples that boast McIntosh and Delicious parentage.
This apple was developed by Cornell University breeding program in the 1940's in Empire State, New York hence its name.
It is currently grown in the US and Canada and makes an appearance in the market in the fall and early months of winter.
Empire has an intense maroon-red color and a light green background. It has a bright white flesh with a crisp texture. Its flesh is also juicy and just what you would expect from a breed of Delicious apple.
When dehydrated, this apple gains some tartness that gives your product that unique flavor.
8. Goldrush
The color is green-yellow with occasional bronze and red blush at harvesting time.The skin is also non-waxy.
Its pale yellow flesh is grained, firm and crisped and it also has a complex, spicy flavor. The fact that Gold Rush maintains a bright acidity at the time of harvest makes it a perfect choice for drying.
One of the best qualities of Gold Rush is how it is slow to brown. This gives you an easy time to dehydrate.
Its seasons are fall and winter. It is therefore highly recommended for drying.
9. Zester
Zester has a notably crispy texture. Has a sweet and tart flavor that makes it superb for dehydration. Its season comes between August and September.
One slight drawback of this zester apple is that is has that unsavory quality of turning brown so quickly so you should have the necessary solutions in hand for taking care of this before dehydrating.
10. Pink Lady
Its origin can be traced back to 1973 in Australia. The researcher crossed Golden Delicious and Lady Williams varieties. It's yellow in color with reddish-pink blush.
Has a white flesh. The flesh is also firm and dense meaning your dehydration would take just enough time.
It has a tart flavor and effervescent finish to give your chips an exciting flavor.
This variety is trademarked hence as a grower, you have to obtain a license before you can use the brand name. With that, consumers are assured of high-quality produce.
11. Golden Delicious
Golden Delicious traces its origin to West Virginia, US and it's believed to be a relative of Grimes Golden and Golden Reinette.
This one has a thin, yellow skin and not too soft flesh, though fine. It can sometimes come with a bright pinkish blush depending on time of harvest.
Golden delicious has a white or buff-colored flesh which is semi-firm. It possesses a high-sugar content which concentrates and caramelizes on drying it.
This apple has been noted to respond positively to drying. Its crisp chips are sweet and can nicely form part of many meals.
12. Northern Spy
Northern Spy apply is found mainly in upstate New York and it's considered old-fashioned although still pretty much popular.
It is rather large and stout in size and, therefore, a good choice for dehydration.
This apple has a carmine red skin with yellow and pale green streaks.
Northern Spy has a tender-crisp and juicy flesh. In addition, the flesh is so firm, fine-textured,tart and stands up perfectly. It is surely a good one for dehydrating. Its season sets in late October or early November.
13. Winesap
Winesap apples are popular for their exceptionally juicy nature.
They derive their name from their impeccable spicy wine-like and rich aromatic flavor.
Winesap apples tend to harbor a well-balanced sweet-tart taste that also makes them great for culinary use. They can be baked or sautéed.
Their firm texture also makes them superb for dehydrating since they don't lose their shape easily.
These apples are usually dark red in color and are of a medium round size. Their skin is firm while their flesh is crisp and creamy yellow.
14. Red Delicious
The Red Delicious is basically a sweet apple. It's among the most popular American apples although its reign is dwindling fast year after year.
This apple has a tall conical shape and has a medium size. It is dark red in color and its skin is smooth. Contrary to its appealing crimson color, this apple isn't the sweetest in the batch.
This is the major contributing factor to its continued downfall.
The Red Delicious is everything: firm, juicy, and crispy. But it's not sweet. However, it still has its market among apple lovers who want low sugar fruits with high moisture content.
Its firm and crispy nature promise nice apple chips after dehydration.
15. McIntosh
One of the most popular apples today, McIntosh has a sweet and interesting history behind its discovery.
Unlike its competitors that were developed in agricultural experiment stations, these apples were discovered by accident growing in a wild region that was not known to produce apples in Upper-Canada.
This apple was named after its discoverer – McIntosh – a Scottish who had run away to Canada to marry a girl that his parents didn't approve.
McIntosh has a vivid red color and a bright green undertone. The color, however, may vary from green to entirely red depending on the time of the harvest. These apples' season is at its peak in fall but are available till the early winter.
Mac, as it's popularly known, has a white flesh and its flavor falls between sweet and tart. Some people find it to be marshy.
Its soft flesh does shrink during dehydration but that doesn't affect its sweetness. It is highly recommended for drying.
16. Macoun
Macoun is a cross between Jersey Black and McIntosh and was developed in Geneva. It has a dark red skin color with some purplish flush. It is so juicy and sweet-flavored. This makes its chips and rings multipurpose.
This apple has a firm, white flesh and that means dehydration here is fast and perfect. Its season sets in October and goes through to November.
17. Spartan
Spartan isn't a so sweet variety. A McIntosh style apple, its skin is bright crimson and the flesh white. Being a Macs apple means that it would deliver good results when dehydrated.
Its juicy and crispy nature is a clear indication of the good results you can anticipate if you subject it to appropriate dehydration. It derives its roots from Canada.
18. Braeburn
A cross between Lady Hamilton and Granny Smith though it hasn't been proven scientifically.
It is crispy with a sweet-tart flavor and takes pride at being an all-purpose apple. It is a versatile apple that can be used for different purposes.
Its skin has yellow to light-green color with reddish tones. In the inside, it is pale cream and has a spicy-sweet flavor.Added to its crispy nature, it emerges as one of the best possible apples for dehydrating.
19. Prairie Sensation
Prairie Sensation has a crisp green color with a red overlay. Its aroma is intense and it shares many similarities with the Gala. This is a plus since Gala is one of the best apples for dehydration.
Prairie Sensation has a crispy flesh which is also juicy and with intense aroma.
The juicy and crispy natures assure you of awesome results if you choose to dehydrate it.
This variety also has a great quality of being extraordinarily multi-purpose. It is nice for fresh eating, rich in juicing and pleasant in cooking.
Its large size is a huge boon as far as dehydrating is concerned. Its season happens in mid-September. Prairie Sensation, under viable conditions, can store up to four months.
20. Prairie Sun
Prairie Sun is moderately sweet and is nice for fresh eating. It is yellow in color streaked with red and has an oblate shape that makes its final dehydration product sizzling.
Just like Prairie Sensation, it is crispy hence nice for dehydration. In addition, it is fine textured.
This apple brings some sort of convenience in that it is resistant to browning.
This means that you won't have to soak it in lemon juice or other stain removers. Prairie Sun stores well in viable conditions for about 6 weeks. Its season sets in early September.
How to Dehydrate Apples With a Dehydrator – you need these
apples (the number will depend on the size of your family and how you love dried apples)
a knife or mandolin slice
1 cup lemon juice
4 cups of water
Instructions
Wash, peel, and core the apples (I prefer them unpeeled though).
Use a mandolin slicer or a knife to cut the apples into thin rings about 1/8'' thick.
Mix the cup of lemon juice with the water in a bowl and soak the apple slices in the juice for around 30 minutes (this prevents the slices from browning).
Position the rings on the dehydrator trays after shaking the lemon juice off as much as possible (Check out our dehydrator reviews at DehydratorLab homepage).
Dehydrate at between 130-135℉ for 6-8 hours.
Allow them to cool for an hour or two before transferring them to an airtight jar or resealable bag.
In an airtight jar or bag, these rings can last up to a whole week. But you may also opt to refrigerate them. They last several months with proper refrigeration.
Conclusion
Drying apples with a dehydrator is so easy. It doesn't require an avalanche of ingredients like other food items. For example, you don't need to add any sweetener as the natural sugars found in apples get so intense in the dehydration process resulting in sweetened apple chips and rings.
Due to varying levels of air humidity levels each individual day, different batches of apples tend to dry differently. And this presents the challenge of either over-drying or under-drying your apples. When over-drying happens, experts advise that you just rehydrate your apples and continue enjoying them.
I hope this guideline will greatly assist you in choosing the best apples that suit your wants for dehydration. If you need inspiration of some other ways to use the food dehydrator, read this article. Don't miss this opportunity to up your culinary skills and also help your family stay healthy by eating healthy apple snacks.
Eric is the owner, author, content director and founder of dehydratorlab.com. He is the lead architect and the main man in matters concerning dehydrators, their accessories, guides, reviews and all the accompaniments.Whenever he is not figuring out simple solutions (hacks) involving cookery and their eventual storage, you will find him testing out the different types of dehydrators, to bring us the juicy details regarding these devices.He is a foodie enthusiast, pasionate about making jerky has a knack for healthy and tasty food and won't hesitate to share out any ideas that might be of value around this subject.