Let's guide you to some of the best commercial food dehydrators for 2022 so that you can make a sound decision regarding your business.
Best Commercial Dehydrator Overall – Excalibur EXCCOMM 2
After a thorough vetting of the models that we have reviewed, we conclude that the Excalibur EXCCOMM 2 takes the lead among the best commercial food dehydrators.
What we like about this machine is the 2 zone feature that affords you the convenience of choosing favorable temperatures for different types of food. Also, its large capacity comes in handy especially if you have a business that is expanding.
Another welcoming feature is the 99-hour timer that allows you to comfortably dehydrate foods that require a long time to become ready.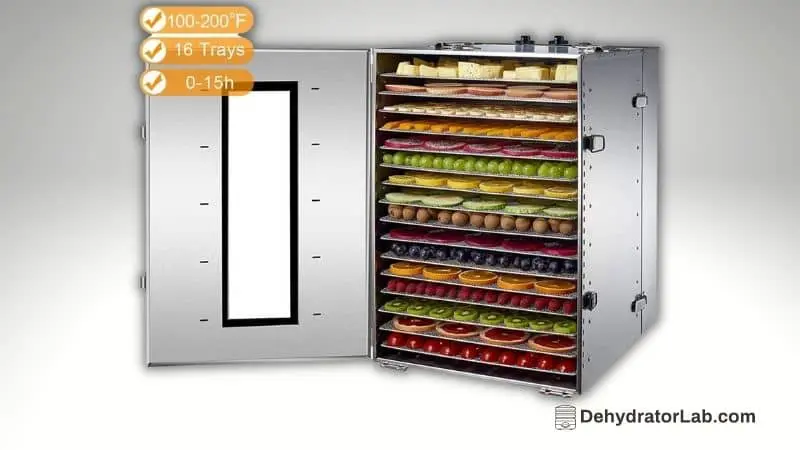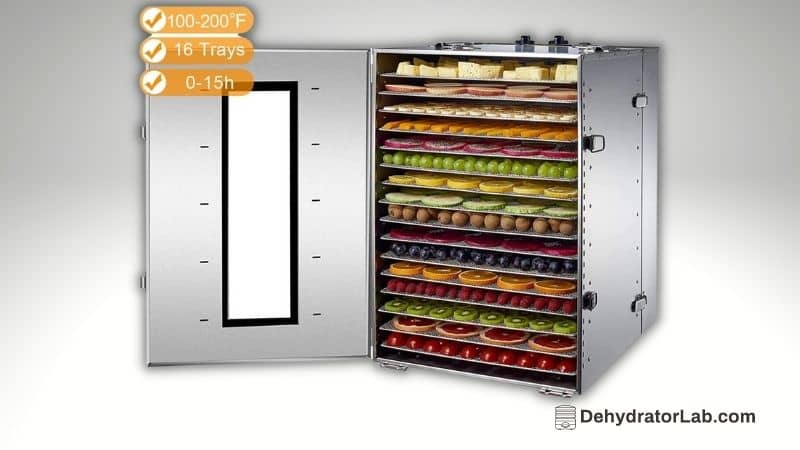 If you're searching for a regular dehydrator, read our regular dehydrator reviews before deciding which machine is best for your needs!
Our Top 5 Picks
The search for the best commercial food dehydrators is currently at its highest peak thanks to the increasing awareness about the benefits of food dehydration. If you are an enterprising soul, then this might be your chance of 'making it'.
Commercial food dehydrators exhibit several unique characteristics. These include vast drying spaces, speedy and customizable operations, and high sealing capabilities to keep the dehydrated food uncontaminated.
Rank
Model
Verdict
Editor's Rating
Brand
Timer
Trays
Thermostat
Material
Power
Warranty
Temp
1.
Excalibur EXCCOMM2 NSF Commercial Dehydrator

Best Overall

(Our Pick)
10/10
Excalibur
Yes
42
Adjustable
Stainless Steel
4800 watts
3 years
60-208 °F
2.
Excalibur EXCCOMM1 NSF Commercial Dehydrator
Best for small restaurants
9/10
Excalibur
Yes
12
Adjustable
Stainless Steel
2400 watts
1 year
60-208 °F
3.
STX International STX-DEH-1200W-XLS
Most accurate thermostat
9/10
STX International
Yes
10
Variable
Stainless Steel
1200 watts
3 years
95-165 °F
4.
WYZworks 1000W Stainless Steel Food Dehydrator
Low power consumption
8/10
WYZworks
Yes
10
Adjustable
Stainless Steel
1000 watts
1 year
95-155 °F
5.
NutriChef Food Dehydrator Machine
Large capacity
8/10
NutriChef
Yes
10
Yes
-
800 watts
1 year
84-158 °F
Top 5 Commercial Food Dehydrators
As an Amazon Associate, I earn from qualifying purchases. If you make a purchase after clicking on a link I may earn a small commission at no extra cost to you if items are purchased.
1.
Excalibur EXCCOMM 1
– Best Commercial Food Dehydrator for Small Restaurants
In line with the Excalibur brand, the Excalibur EXCCOM 1 exhibits unique and high-quality attributes. All the parts are crafted from stainless steel making its cleaning process a breeze.
It is a durable piece of equipment as it can handle constant abuse without a hitch, which might be what your business needs.
It is a USA manufactured utility that is carefully constructed with a superior design. It meets the health and safety standards; therefore, a perfect investment for your business.
The adjustable thermostat offers a wide range of temperatures to choose from. This allows you to dehydrate a broad category of food. You can be sure of coming up with, more treats for your customers.
Also, the twelve steel trays that come along with it offer you enough drying space for your needs while at the same time taking up less space on your counter top courtesy of the adequate unit size.
It is a one Zone machine meaning that it is suitable for the not so busy places such as small to medium-sized businesses. For instance it can be an ideal bet for restaurants, bakeries, orchards and raw food kitchen.
To cap it all, it comes at a friendly price tag making it an irresistible choice.
Features
1 Zone
12 stainless steel trays
A 99 hour timer and automatic shut off
Stainless steel body
A readout display for both the Fahrenheit and Celsius scales
12 mesh screens
Adjustable alarm and fan delay
Uses 2400 watts
An adjustable thermostat with a temperature range of 60 to 208 degrees Fahrenheit
Pros
It is wholly constructed from stainless steel, making it durable and easy to clean
The high power makes it suitable for business ventures
A relatively high holding capacity with the 12 steel trays
Cons
Due to its inability to expand, it may not be sufficient if your business grows
2. Excalibur EXCCOMM 2
– High-End Commercial Food Dehydrator
This model is an improvement of the above Excalibur EXCCOMM 1. Also, a product of the US, it meets the required safety and health standards.
It boasts an incredible amount of drying space for your food courtesy of the 42 stainless steel trays, which can be sufficient for your business needs.
The trays and the system components are made of stainless steel. Therefore, cleaning them is a breeze. Moreover, it can stand the taste of time, thus making it suitable for a business setting.
The 2 zone capability allows you to create separate zone temperature controls. This gives you the convenience of drying foods that need different temperature settings separately. This feature eliminates the eventuality of overheating the food or the need for regular checkups.
Even better, the two scale temperature display allows you to select the one that you are comfortable with. This improves your interface with the system.
The 99-hour timer comes in handy, especially if you don't like the continuous hassle of checking up the drying progress. These might explain as to why it flaunts a high price tag.
Due to its large holding capacity, it is a suitable model for large businesses with lots of traffic. It is not particularly ideal for small ventures which might find its features overwhelming for their needs.
Features
2 zones
42 stainless steel trays
99 hour timer
Stainless steel body
Adjustable thermostat
Pros
The adjustable thermostat allows you to select the appropriate temperature according to your foodstuffs
The 2 zone capabilities will enable you to conveniently prepare your food
The stainless steel body makes it durable and easy to clean
A 99-hour timer that allows you to take time off
Offers a tremendous capacity for your business needs
Cons
Not suitable for personal use
Quite expensive
Consumes a lot of power
3. STX International
– Food Dehydrator with Most Accurate Thermostat
The STX international offers you an enormous size for your dehydration needs. With sixteen square feet of drying space, you can do much. You can either choose to do batches of jerky or whatever food you have at a time or in your preferred way.
It's an easy to de-assemble and clean model since the parts come apart without a struggle. The heating section can be detached from the front section in less than ten seconds. It doesn't rattle during the dehydration process nor does it make noises due to the snuggly fitting parts.
It has an accurate adjustable thermostat (according to industry standards) for your temperature settings. You get to choose whatever suits your food; therefore, can be used to develop a large number of recipes.
Its industrial grade stainless steel ensures that the system is durable. You might recoup your investment within a lesser period.
It is a digital model that switches off after 15 hours, therefore no need of staying around to put it off. You can engage other activities or even go to sleep.
You may also like the horizontal flow of air, which causes a consistent circulation of heat within the interior of the system. This enables a uniform drying of the food unlike the vertical types that cause the lower trays to heat faster than the upper ones.
The only downside might be the 15-hour timer which may need some resetting to make sure that it doesn't switch off especially during extended dehydrations.
The large gratings found on the racks prove to be a pain when dehydrating small stuff like garlic. You may need an additional rack for this purpose.
Features
1200 watts power
Commercial grade stainless steel design
Ten trays
16 square feet of drying space
A maximum of 165 degrees Fahrenheit
15-hour timer
Fan system
Drip tray
Has 24 louvers on the front of the door
Pros
One year warranty
A horizontal air flow ensures uniform drying of your food
The drip tray takes care of the droppings for easy cleaning and prevents the food from messing each other
It offers an optimal drying time courtesy of the adjustable thermostat
Easy to assemble and clean.
Cons
May need additional racks to prevent smallish food from falling through
The 15-hour timer might not be enough for some food to dry appropriately hence requiring constant resetting
4. WYZ works 1000w
– Best Low Power Consumption Food Dehydrator
The WYZ works 1000w provides you with equal performance to the favorite brands but with lesser energy consumption.
It has a comparatively large capacity. With a sixteen square feet storage area, you can process lots of food, which could have taken you ages when using the smaller capacity models.
What makes this device unique is the intelligent controlling PCB and precise temperature sensor. These ensure that the set temperature is not exceeded, thus prevents it from overheating the food.
The 15-hour timer does its job religiously, hence no need of sticking around to put it off. It has a seven-inch air circulating fan that forces hot-air convection to rich the trays in an evenly distributed way thus enabling a uniform drying of the food.
The automatic temperature controller prevents the overheating of your system at the same time protecting you from burns.
The downside with the system according to some reviewers is that it sometimes goes off without a warning. This scenario may be as a result of the in cooperation of an automatic temperature controller.
Features
Utilizes 1000w of power
16 square feet of drying area
Ten drying racks
Intelligent controlling PCB
A precise temperature sensor
Adjustable thermostat
7-inch convection fan
Pros
The temperature can be set so low to accommodate more foods
Horizontal airflow system that allows uniform drying of food
Has a CE, ETL certification thus meeting your food safety requirements according to the United States standards
The seven-inch convection fan provides consistent drying heat all through the storage space, effectively drying your food
The stainless steel parts are easy to clean
The control panel can be easily be removed for easy cleaning
Cons
Some complaints of it not being durable
Can suddenly turn off
5. NutriChef Professional
– Top Large Capacity Food Dehydrator
The Nutrichef professional is an improvement to its other models. It incorporates a new feature where you can control the dehydration time. You simply set it and leave. This eliminates the need for the constant checks.
More so, the glass door comes in as a convenient accessory since it enables you to peek inside and oversee the drying progress if you so wish. You don't need to pull out a tray during the drying process.
Also, the adjustable temperature control gives you the freedom to select the appropriate figure for your needs. On the other hand, the pull out trays makes the cleaning process an easy task.
The lead lights on the digital timer provide a user-friendly interface. You can be able to read the values even in dim light, therefore, convenient to use. You don't need to stumble around during the night to put on a light, or squint your eyes before reading them.
A little bit on the downside is that some customers are not finding all the shelves fitting snuggly in the system, some are loose. Maybe own machine flaws, but generally, it is an excellent piece of equipment that can get to work.
Features
Multi-tier large capacity dehydrator
Ten slide out trays
Glass door
Digital Timer
Temperature control system
A maximum temperature of 155 degrees Fahrenheit
Pros
Allows you to set the dehydration time hence no more worries of checking out the progress
Needs elementary preparation courtesy of the digital timer
The slide out trays make's them easy to clean
A lead display for better readability
You can choose your suitable temperature
Can process a wide variety of food
An excellent heat circulation system that effectively dries your food
Retains up to 97 percent of the minerals and vitamins
Cons
Some of the shelves might be loose
Conclusion
In a wrap, an excellent commercial food dehydrator needs to be a robust piece of machine. It should incorporate features that will withstand the demanding tasks.
Importantly, the machine needs to be versatile since businesses come with extra tasks. For this reason, purchasing a system that can do most of the jobs can reduce the costs of running your business.
Lastly, you should consider a system that can adequately preserve your food without going bad, to avoid losses and the risk of being sued because of health issues.
Eric is the owner, author, content director and founder of dehydratorlab.com. He is the lead architect and the main man in matters concerning dehydrators, their accessories, guides, reviews and all the accompaniments.Whenever he is not figuring out simple solutions (hacks) involving cookery and their eventual storage, you will find him testing out the different types of dehydrators, to bring us the juicy details regarding these devices.He is a foodie enthusiast, pasionate about making jerky has a knack for healthy and tasty food and won't hesitate to share out any ideas that might be of value around this subject.