The NESCO FD-75PR 5-Tray Snackmaster® Pro Food Dehydrator is a stackable cylindrical food dehydrator that is ideal for serious first timers, or for those who want to upgrade from an older model of dehydrator.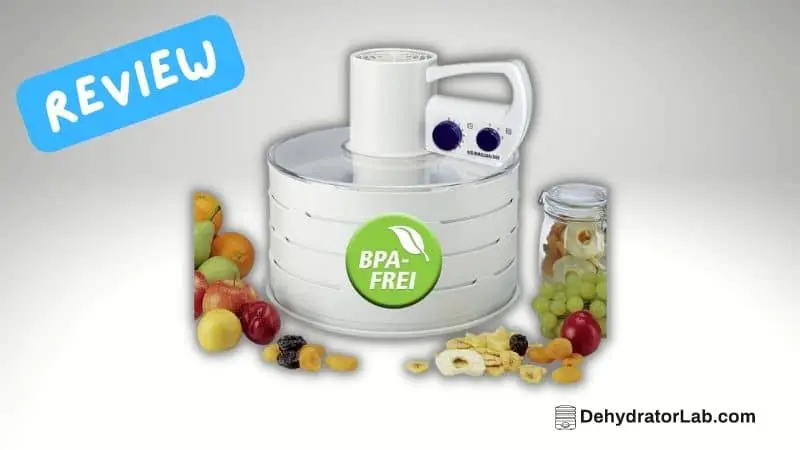 As an Amazon Associate, I earn from qualifying purchases. If you make a purchase after clicking on a link I may earn a small commission at no extra cost to you if items are purchased.
Nesco FD-75PR Food Dehydrator Overview
It features a top-mounted heater and fan unit that does away with the problem, found in Dehydrators with the heater – fan unit located underneath the unit, of damage to the mechanism caused by liquids, small bits of food, or seeds falling into them.
The NESCO FD-75PR 5-Tray Snackmaster® Pro Food Dehydrator has a variable temperature control, but does not have a timer or on – off switch.
The unit is delivered with five circular trays; a further seven trays may be purchased to bring the total number to 12. Tray inserts that come as part of the package allow smaller food items such as herbs and spices, as well as liquids and purees, to be dried in the dehydrator.
The stackable trays are easy to assemble and disassemble, allowing for ease of preparation and cleaning.
The Snackmaster® Pro represents a compact, lightweight dehydrator unit that is versatile and relatively easy to use.
1. Safety
The exterior walls of the NESCO FD-75PR Snackmaster® Pro Food Dehydrator trays are made of opaque 'Vita-save®' material that prevents light reaching and affecting the nutrient content of the food being dehydrated.
According to NESCO, the Dehydrator's food contact surfaces are made of BPA-free ABS plastic. Racks can be cleaned in the dishwasher (take trays out before the drying cycle).
Although the Dehydrator is modular from 1 to 12 trays, the User's Manual recommends that the unit not be operated with less than 4 trays in place.
2. History
The National Enameling and Stamping Company, NESCO, had its origins in Wisconsin in the1930's and has been a trusted household name for many years. In 1981, NESCO was purchased by The Metal Ware Corporation, which also originated in Wisconsin in the 1920's, and has a history of manufacturing quality electrical cooking appliances.
The NESCO Food Dehydrator is manufactured in China, and is an affordable appliance that is built to US standards.
3. Warranty
The NESCO FD-75PR Snackmaster® Pro Food Dehydrator has a one year limited warranty, with no extended warranty available.
4. Capacity
The NESCO FD-75PR Snackmaster® Pro Food Dehydrator is shipped with five trays.
Each tray has a diameter of 13.5 inches, with a drying area of approximately 1 sq. ft.
The total drying area is thus 5 sq. ft., with the opportunity to increase to 12 sq. ft. if the maximum number of twelve trays is used.
5. Features:
Converga-Flow® Drying System
The Snackmaster® Pro's patented Converge-Flow® drying system forces air down through the exterior pressurized chamber, then horizontally across each tray into the center column, rather than down through the trays. This prevents flavor-mixing, reduces drying times, and does away with the need to rotate trays.
Clean-A-Screen®
The Clean-A-Screen® flexible screens can be flexed to enable easy removal of sticky fruits, and can hold small items like spices and herbs that would fall between the spokes of the tray.
Fruit Roll Sheets
Fruit Roll Sheets with their 'no-spill' lips can be used to dry liquids and semi-liquids such as pureed fruit to make fruit leather. It is recommended that they be lightly oiled before use to make the 'fruit leather' easier to remove.
Expandable
The unit is expandable from the 5 stackable trays supplied to a maximum of 12 trays (the extra trays are sold separately). The space between trays is about 1", but spokes in some of the trays are removable in order to provide vertical space for small jars and large food items.
Lightweight and Portable
The Snackmaster® Pro weighs only 8.4lb and has a folding handle on its top making the unit easy open to view or remove the contents. The handle folds down into a recess so that it lies flush with the body when not needed.
Included in Shipping
The shipped package includes 2 Fruit Roll Sheets, 2 Clean-A-Screens, 2 jerky spice flavor and cure packs, as well as a combined user's manual and recipe book.
6. Thermostat Range
The NESCO FD 75PR Snackmaster® Pro Food Dehydrator's thermostat has a temperature range of 95°F to 160°F. The high end of the temperature range allows the safe dehydration of meat to produce jerky (155°F – 160°F).
7. Power Consumption
The NESCO FD 75PR Snackmaster® Pro Food Dehydrator's heating element has a power rating of 600W, and, including the fan, the whole unit is rated at 650W.
The appliance is designed to run on the North American supply voltage of 120V AC.
8. Dimensions and Color
The NESCO FD 75PR Snackmaster® Pro Food Dehydrator has the following dimensions:
Height: 21"
Width: 14"
Depth: 14"
The total drying area of the unit using five trays is approximately 5 sq. ft.
The unit is only available in White Granite Speckle with Grey trim.
9. Pros and Cons
PROS
Expandable to 12 trays
Costs less than $100
Top mounted fan for safety from dripping liquids
Versatile with provision for dehydrating large and small foodstuffs, as well as liquids
Easy to assemble and disassemble
Easy to clean
Quiet operation
CONS
No timer or automatic shut off system
No on-off switch, the unit must be unplugged after use.
Need to lift stackable trays to monitor food, interrupting the airflow.
Not suitable for heavy-duty use
10. Customer Reviews
Customer reviews for the NESCO FD 75PR Snackmaster® Pro Food Dehydrator have generally been very good, with buyers appreciating the ease with which the unit can be taken apart and cleaned, its quiet operation, its versatility and its compactness.
They also liked the fact that the heater-fan assembly is located on the top of the unit, so as to avoid having bits of food falling into it and causing problems.
Some buyers, however, have complained that the heater/fan has stopped working within two to three years. This is after the expiry of the warranty period, and is unfortunate as other reviewers have had NESCO Dehydrators for much longer periods without experiencing problems.
The lack of a timer was mentioned as a concern by most customers, even those who gave the dehydrator a good review. A solution given for this problem is to buy a plug-in timer unit for the wall plug, and to plug the dehydrator into the timer unit.
Similarly, the absence of an on-off switch was raised by almost all customers as an inconvenience. One solution suggested was to plug the dehydrator into a power strip with its own on-off switch. Alternatively, the plug-in timer mentioned above can also be used to switch the appliance on and off.
There have been several comments to the effect that the time take to dehydrate some foods is longer than that indicated in the user's manual, but also that the times taken are much shorter than with other models of dehydrator.
11. Conclusion
The NESCO FD-75PR 5-Tray Snackmaster® Pro Food Dehydrator is an affordable, reliable, easy–to–use option for drying a wide variety of foodstuffs, including fruit, vegetables, herbs, spices and meats.
Its stackable tray system provides versatility and expandability, is simple to assemble and take apart, and easy to clean. With the ability to add trays to the dehydrator, it is possible to significantly increase the amount of food processed as one becomes familiar with the unit's capabilities.
The top-mounted heater–fan assembly avoids the problem of bottom–mounted assemblies where items can fall into the works.
A powerful 650W heater-fan combined with the patented Converge-Flow® drying system creates horizontal air flow across each tray, ensuring an even distribution of dehydration on each layer.
This dehydrator is packaged with useful items including two Clean-A-Screen® flexible screens for finer food items such as herbs and spices, two Fruit Roll Sheets with 'no-spill' lips for drying of liquids or semi-liquids such as purees, and 2 jerky spice flavor and cure packs, as well as a combined user's manual and recipe book.
Apart from the lack of an on-off switch and timer, most reviewers have given very positive recommendations for this food dehydrator – a real good purchase at an affordable price.
Eric is the owner, author, content director and founder of dehydratorlab.com. He is the lead architect and the main man in matters concerning dehydrators, their accessories, guides, reviews and all the accompaniments.Whenever he is not figuring out simple solutions (hacks) involving cookery and their eventual storage, you will find him testing out the different types of dehydrators, to bring us the juicy details regarding these devices.He is a foodie enthusiast, pasionate about making jerky has a knack for healthy and tasty food and won't hesitate to share out any ideas that might be of value around this subject.