Looking for the best Ronco food dehydrator for 2022? Ronco certainly offers you an array to select from. Here, most, if not all, of your preferences are well taken care of.
Ronco is a US-based company that has been in existence since 1964 and churns out a wide range of products. It is best known for its innovative kitchen devices that are also very popular, efficient and time-saving.
So, when it comes to dehydrators, you can rest assured that Ronco manufactures some of the best in the market.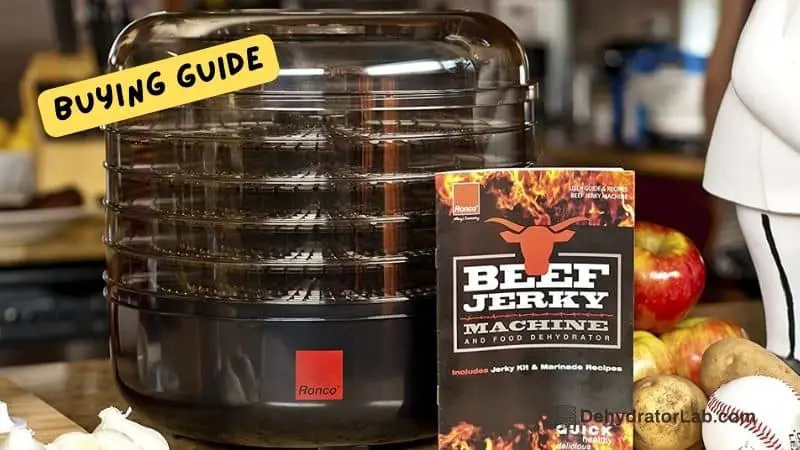 As an Amazon Associate, I earn from qualifying purchases. If you make a purchase after clicking on a link I may earn a small commission at no extra cost to you if items are purchased.
Best Ronco Dehydrator –Ronco 5-Tray Beef Jerky Machine
Comparing our top 3 picks, you'll realize that they are similar in one way or the other. Nevertheless, there are some subtle features worth noting that set them apart. From my perspective, I feel Ronco 5-Tray Beef Jerky Machine carries the day.
Though costlier than the Ronco 5 Tray Electric Dehydrator, the fact that Ronco 5 Tray Electric Dehydrator requires constant rotation of the trays isn't an attractive idea.
The Ronco 5-Tray Beef Jerky Machine also comes with the beef jerky starter pack that both Ronco 5-Tray Electric Dehydrator and the Ronco EZ Store Turbo Food Dehydrator don't have. Again, don't you find this specialization in the popular beef jerky quite thrilling? I bet you do.
Again, the fact the 5-Tray Beef Jerky machines uses the noiseless convection method for drying makes it much more preferable to the rather noisy Ronco EZ Store Turbo Food Dehydrator.
The 'fanciful' Ronco EZ Store Turbo Food Dehydrator is also costlier than the preferred Ronco 5-Tray Beef Jerky Machine. It might, therefore, not be the best purchase for homeowners who are not ready to spend top dollar.
The most crucial advantage the EZ Store Turbo has over the 5–Tray Jerky machine is the adjustable temperature feature. This is an important factor when shopping for an ideal dehydrator.
Nevertheless, this advantage is canceled out by the lack of an on/off button on this EZ Store Turbo Dehydrator. An on/off button isn't just a simple item that a dehydrator can do without.
Our Top 3 Picks
As an Amazon Associate, I earn from qualifying purchases. If you make a purchase after clicking on a link I may earn a small commission at no extra cost to you if items are purchased.
Please spare a couple of minutes and go through these Ronco food dehydrator reviews for a guide to the best Ronco food dehydrator.
1. Ronco 5-Tray Beef Jerky Machine –
Best Ronco Dehydrator For Jerky
This Ronco five-tray food dehydrator, just as its name goes, is ideal for drying meat for jerky. This machine comes with a 5-piece jerky kit, an instructional book plus marinade recipes offering you a "meaty" solution in one fell swoop.
It offers you quite some substantial space to dry lots of food with its 5-tray capacity compared to the 4-tray dehydrators. The 5-trays can comfortably hold meat for jerky, fruits, herbs and veggies for trail mix, dehydrated treats and many more.
On top of that, it comes with a see-through tray cover allowing you to monitor the dehydration process easily.
The trays are FDA-approved and are also dishwasher safe. Here, health and cleaning plus durability concerns are well taken care of. Their cylindrical designs ensure consistent drying by allowing hot air circulation through convection process.
I am sure the last thing you'd wish to hear when dehydrating your yummy foods is the irritating noise from the dehydrator. Worry not about that as this Ronco food dehydrator 5-tray produces almost zero noise when drying your food. This happens because, as I said earlier, the convection airflow technique it uses does not need a fan for air circulation.
If you're a camping enthusiast, then this dehydrator would be ideal for camping and even game day as it brings along snacks which are non–perishable add more fun to the events.
In addition to these exciting features, this dehydrator requires very minimal maintenance which is a plus on your side.
I wouldn't call this the best compact Ronco food dehydrator. But its size (13 (L) x 13 (W) 11 (H) doesn't make it so hard to store.
Lastly, it comes with a 1-year warranty from the manufacturer to guarantee you its security.
Features
5-tray capacity
Runs on 100 watts of electricity
Uses convection airflow method for drying
Can sustain internal temperatures of up to 133℉
FDA-approved and dishwasher safe trays and lids
See-through cover
Comes with 5-piece jerky kit
Accompanied by instructional book and marinade recipes
1-year warranty
Measures app 13 L x 13 W 11 H
Black in color
Pros
Quite spacious compared to 4-tray
Energy efficient
Can dehydrate jerky without killing the important enzymes at 133℉. In addition to that, it comes with a 5-piece jerky kit (check out more jerky guns)
It doesn't cause health worries as it is FDA-approved
Bolsters your knowledge and ideas with the marinade recipes and instructional book
Easy monitoring of food made possible by its clear lid
Not noisy courtesy of the convection airflow technique that requires no fan
Enhanced airflow courtesy of two the vents
Not so expensive
Cons
Hard to clean though it is dishwasher safe
A few customers reported of the trays melting or cracking
Has a smaller capacity compared to the 9-tray dehydrator
The trays aren't ideal for fruit leather and for dehydration of some certain types of fruits. For these, you'll have to acquire some liner sheets at your own cost.
2. Ronco 5-Tray Electric Food Dehydrator – Best Ronco Dehydrator For Portable Snacks
This one too comes at a relatively affordable price for families that want a spacious dehydrator that won't cost them a bomb. If energy efficiency and sustainability top you your must have lists, then you'll be impressed that it uses only 125 watts of electricity.
The 125w electrical heating coils employ convection airflow technique ensuring even drying of your food items. Another advantage of this method is that it doesn't require a fan for air circulation. No fan means no noise during dehydration.
The trays are interchangeable so you won't have to sweat it out arranging them. This also lets you shuffle the trays as you wish. However, a few customers complained of the fact that you have to rotate the trays every 2 – 4 hours so to prevent them from melting. This, to them, is energy sapping.
With up to 133℉ internal operating temperature, it guarantees you accuracy and efficiency in drying various food items. The temperature is also high enough for that perfect jerky.
Another awesome feature of this device is the Ronco 5-tray food dehydrator instruction manual together with recipes that come with it. Here, your knowledge and ideas are automatically bolstered especially if you are just starting out.
What sets it apart from the Ronco 5-Tray Beef Jerky Machine above?
You must be wondering why this Ronco 5–tray Electric dehydrator is cheaper than the 5–tray Beef Jerky Machine yet they have almost similar specifications.
Though they have an avalanche of similar specifications, you'll note that the 5–tray Electric Dehydrator needs the rotation of the trays every 2–4 hours during the dehydration. This can be demanding and quite tiresome especially if you have other things to do.
The fact that this 5–tray Electric Dehydrator has a no on/off switch is also another issue to ponder about. This means that you have to plug it off manually once the drying session is over. I bet you already know how arduous this task can be.
The 5–tray Beef Jerky Machine also comes with a starter pack of beef jerky kits. 5 pieces beef jerky kits! This gives it an upper hand as far as the making of the popular beef jerky is concerned.
The base of the 5-tray Electric Dehydrator is quite bigger than that of the 5–tray beef Jerky Machine. This is a drawback as most users prefer a compact and convenient machine.
The only outstanding advantage the 5–tray electric Dehydrator has over the 5–tray Beef Jerky Machine is the fact that its trays are interchangeable.
Features
Runs on 125 watts of electricity
Comes with a 10-year limited warranty
Comes with a Ronco 5-tray food dehydrator instruction manual with recipes
Employs convection airflow method in drying
Up to 133℉ operating temperatures
A 5-Tray dehydrator expandable to 7 trays
The trays are FDA-approved
The trays are also interchangeable
Measures 13 x 13 x 12-1/2
White in color
Pros
Dries your food evenly and consistently courtesy of the convection airflow method
Easy to monitor food during the dehydration process thanks to its white base and clear lid
No noise when using this 5-tray dehydrator because it uses no fan for air circulation
Interchangeable trays save you energy in setting it up and you can shuffle them freely
Guarantees you accurate results courtesy of the up to 133℉ temperature
More ideas and knowledge addition as it comes with the instruction manual and recipes
Cost-effective compared to its counterparts
Cheaper than the 5-tray beef jerky machine
Cons
For fruit roll-up and herbs, you'll need to acquire fruit roll-up trays and herb screens at your own cost
The plastic trays break and melt easily
Energy-sapping as you'll be required to rotate the trays every 2-4 hours
Quite demanding as it has no on/off switch
3. Ronco EZ Store Turbo 5 Tray Food Dehydrator – Best Ronco Dehydrator For Fruits And Vegetables
Ronco EZ Store Turbo 5-tray food dehydrator comes in a lovelier, convenient, compact shape and design. The beauty though does come at a price as it is the costliest of the three.
The trays and lids are dishwasher safe assuring you of easy cleaning and durability. They are also quite spacious compared to the 4–tray dehydrators hence you can comfortably dry a variety of food items. For easy storage of this dehydrator in your kitchen cabinet, you simply nest the trays thereby reducing their height by a 1/3.
This dehydrator also prides itself in unparalleled speeds as it can dry your items about 2–3 times faster. The adjustable temperature control gives you full control over the temperature, adjusting it to dry various food items quickly but consistently. The temperature range is between 90℉ and 165℉, ideal for herbs, fruits, jerky etc.
Other exciting features of this dehydrator are the Ronco 5–tray food dehydrator instruction manual and recipe book. These of course help ramp up your knowledge and ideas.
Worth noting, this machine also comes with a powerful turbofan for efficient, even air circulation from the bottom, assuring you of consistent, accurate results.
Features
Has an adjustable temperature control
Temperature range of 90℉ to 165℉
Comes with a turbofan, boosting the speed 2-3 times faster
Height can be reduced by 1/3 for easy storage
Lid and trays are dishwasher safe
Ronco food dehydrator instruction booklet and recipe
Measures 13 x 8 x 12.8
Comes with a 1 – year manufacturer's warranty
Runs on 240 watts' power
Has a cool touch exterior
Pros
Conveniently small and compact but versatile and effective
Adjustable temperature gives you total control
2-3 times faster and also consistent
Easy to use and much easier to store as you can nest the trays to reduce their heights by 1/3
Dishwasher safe trays and lid
Safest because of its cool touch exterior
Clear lid and trays allow you to easily monitor your food items
Cons
A bit noisier as it uses a fan for air circulation
Doesn't come with fruit roll-up trays and herb sheets like other dehydrators hence need to acquire them separately at your own cost
Has no on/off button
Costlier compared to its counterparts
Has a limited capacity of 5-trays. Too bad if you wanted to expand it.
Why Ronco Food Dehydrators?
Using a Ronco food dehydrator offers you an opportunity to safely preserve your surplus food items and save for the future. You won't have to worry too about the dubiously preserved, unhealthy foods from the shops.
Again, dehydrating your own food at home using the Ronco dehydrator is way cheaper than buying the expensive ones at the shops.
Ronco food dehydrators are generally affordable and sustainable. Compared to their counterparts, they are quite cheaper and most of them are energy efficient, using between 100 – 125 watts of electricity only in powering them.
They are also easy to work with. When it comes to storage, they don't occupy much space. Actually, some come with the option of nesting the trays to further reduce their sizes for storage.
The convection airflow technique employed by Ronco dehydrators in drying your food items is the real game changer. This unique method used in a majority of Ronco dehydrators is wonderfully simple but fully safe. And since it requires no fan for air circulation, it gives Ronco dehydrators that advantage of not being noisy dehydrators.
Ronco dehydrators that don't use this convection airflow method do come with a powerful turbo fan that is so efficient, accurate and fast. So whichever Ronco dehydrator you choose, I believe the results would still be terrific.
Another important point to note about Ronco dehydrators is the fact that the trays and lid are BPA – free. Hence, you won't have any health worries. In addition to that, they are also top-rack dishwasher safe and this means they are easy to clean and also durable.
Who Is Best Suited To Use These Ronco Dehydrators?
Ronco food dehydrators can be used by pretty much anyone wishing to have healthy, homemade non – perishable snacks. However, there is a small issue with its capacity.
Being 5-tray food dehydrators, they are ideal for small to medium-sized families, probably with small gardens. They can dry quite a copious amount of food compared to the 4-tray dehydrators and this gives you an opportunity to dry various food items comfortably.
However, for larger families and larger gardens, these 5-tray dehydrators would be limiting. In such case, perhaps a model with, let's say, 9 trays might come in handy. Check out our best Excalibur food dehydrators.
If you are willing to spend just a modest amount of cash for a dehydrator, then Ronco has some of the most affordable food dehydrators on the market.
Conclusion
In conclusion, it is doubtless that Ronco offers a range of products for your food items dehydration. Depending on what you prefer, you can always get your Ronco food dehydrator with wonderful features at an affordable cost.
With Ronco, you'll not have to worry about the fate of your surplus foods and other foods preserved in an unhealthy manner.
To enhance their performance, these Ronco five-tray food dehydrators come with an assortment of accessories such as round herb screens, fruit leather trays, beef jerky machine dehydrator tray, square herb screens among others. Some of these accessories also come in handy in case you need to replace anything in your dehydrator.
However, you'll realize that due to the size and nature of each of the above Ronco five-tray food dehydrator, their usage is limited to small families probably with small gardens.
If you are looking for dehydrators for, let's say, larger families, larger gardens or for dehydrating excessive quantities of food items, then you can try Ronco food dehydrator 7-tray.
The 7-tray dehydrators are much spacious and probably more powerful. For much larger families and gardens, you can try the Excalibur food dehydrator 9 tray.
Lastly, the use of dehydrators isn't limited to the dehydration of food items only. They can also do a terrific job in jewelry, ornaments and also drying flowers.
Eric is the owner, author, content director and founder of dehydratorlab.com. He is the lead architect and the main man in matters concerning dehydrators, their accessories, guides, reviews and all the accompaniments.Whenever he is not figuring out simple solutions (hacks) involving cookery and their eventual storage, you will find him testing out the different types of dehydrators, to bring us the juicy details regarding these devices.He is a foodie enthusiast, pasionate about making jerky has a knack for healthy and tasty food and won't hesitate to share out any ideas that might be of value around this subject.