Picture this: you're in the great outdoors, the aroma of a campfire filling the air, and you're about to enjoy a piece of homemade, flavorful ground jerky, made possible by your best jerky shooter.
Sounds enticing, doesn't it? Choosing the best jerky gun kit from the myriad of options available can be daunting, but don't worry, we've got you covered.
We've researched, compared, and tested to bring you detailed reviews of the top three jerky cannons on the market, ensuring you find the perfect tool to create your own delicious beef jerky snacks.
Read our jerky gun reviews to find out what's the best beef jerky gun in 2023!
2023 Update: Judge Gun replaced by LEM 468 Jerky Gun as top editor's choice. New products reviewed.
After careful consideration and thorough scrutiny of all the models we've reviewed, we've had to change our top picks due to availability issues. Regrettably, The Judge – Beef Jerky Gun 2.7Ib, which was previously our top choice, is no longer available.
However, we're excited to announce that the LEM Products 468 Jerky Cannon has taken its place in our top three for 2023. This model, like all the others we've reviewed, is an excellent choice for any jerky enthusiast.
The LEM 468 Jerky Cannon is the best jerky gun due to its ease of use, durability including seasonings, and its ability to work with any ground meat, offering great value for money. Its meat chamber can hold up to one and a half pounds of ground beef, which is enough for a family.
Our Top 3 Jerky Guns Picks
Here is our top three best beef jerky gun: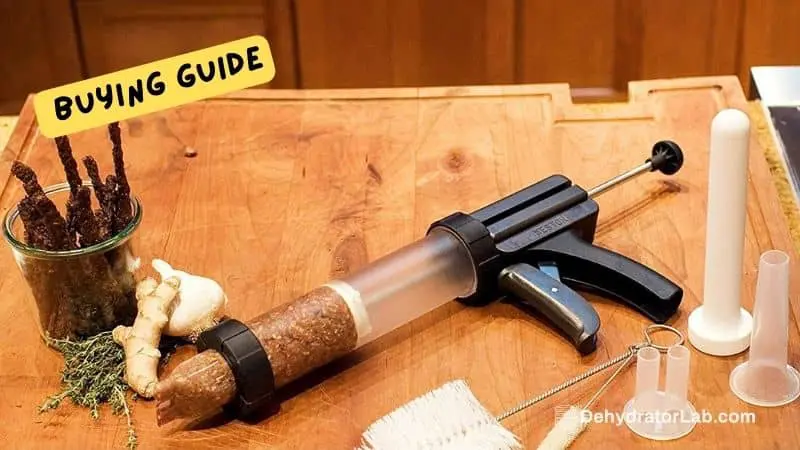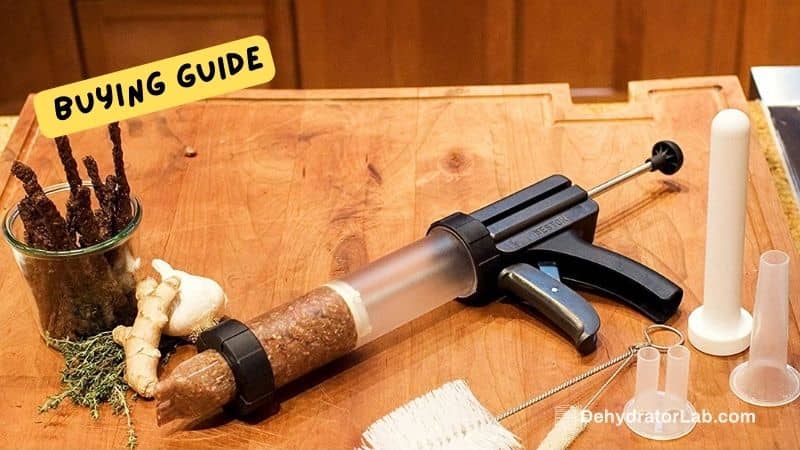 As an Amazon Associate, I earn from qualifying purchases. If you make a purchase after clicking on a link I may earn a small commission at no extra cost to you if items are purchased.
First on our list is the Lem 468 Jerky Cannon. Just like its name, this beast can spit out meat with relative ease thanks to the heavy plastic piston comprising of a steel stainless-still rod. It is also built to last for a lifetime due to the quality of aluminum and stainless steel components.
It comes along with a snack stick and original jerky seasoning packets which have simple to follow instructions. This takes your fun a notch higher, you can quickly come up with the yummiest bites.
Its flared barrel makes it convenient to use. You can easily feed it with ground beef meat without a hassle. Also, the brush that comes with it alongside its quality materials makes it easy to clean.
Comparing its price with the features and functionalities; we bet that it is a good bang for your dollar.
The Lem Beef Jerky Gun is ideal for any soul out there who wants to have memorable treats and it amazingly works with any ground meat.
Features
Anodized aluminum barrel
A heavy plastic piston comprising of a steel stainless still rod and a plastic-coated steel handle
Two stainless nozzles
Pros
Comes with two bags of seasoning for your treats
Quality materials that make it durable
Holds up to one and a half pounds of meat, which is enough for a family
Flared barrel endings for easy loading
Easily attaching nozzles
Easy to clean
Cons
May not be suitable for larger quantities of meat for instance above 20lbs, you may need to purchase a model with a higher capacity.
Comparing the LEM 468 with other models like the XINQIAO Jerky Gun and the Axansiho Jerky Gun, there's a noticeable difference. LEM is a stainless steel jerky gun that offers a more comprehensive solution, providing not only the means to create jerky strips but also the capability to dehydrate them. The XINQIAO and Axansiho guns are specialized tools for shaping the meat, but you'll still need a separate dehydrator.
Although these jerky guns have a lower price point, the LEM 468's superior functionality and versatility make it a worthy investment for jerky enthusiasts. With the LEM 468, you're not just buying a dehydrator; you're embarking on a journey into the delightful world of homemade jerky.
Read our full LEM jerky gun review
---
2. Axansiho Jerky Gun – Best Value Jerky Gun & Amazon's Choice
The Axansiho Jerky Gun is a powerhouse when it comes to capacity. It can hold up to 1.57 pounds of ground meat, significantly reducing the need for refills during the jerky preparation process. This feature alone saves me a considerable amount of time and effort. The gun handles large quantities of meat with ease, maintaining smooth operation throughout its use.
One of the standout features of the Axansiho Jerky Gun is the selection of five different nozzles. Each nozzle provides a different shape and size for the jerky, catering to the varied preferences of jerky enthusiasts. Whether you're in the mood for thin strips or round sticks, this jerky gun has got you covered.
Axansiho Beef Jerky Gun is the best value jerky gun for anyone looking to make their own homemade jerky. It's a perfect blend of practicality and versatility, capable of handling a range of meat types and delivering uniformly excellent results. The product is an investment that has greatly improved my jerky-making experience, and I wholeheartedly recommend it to anyone in the market for a jerky gun.
Features
The impressive capacity of 1.57 pounds
Five different nozzles for varied jerky shapes and sizes
Five cleaning brushes for easy and thorough cleaning
Robust construction with stainless steel
Pros
High capacity reduces the need for refills
The variety of nozzles caters to different preferences
Cleaning brushes make maintenance easy
Durable and long-lasting construction
Cons
Cleaning the base can be tricky without clear instructions
Not ideal for larger quantities of meat (above 20lbs)
What sets the Axansiho Jerky Gun apart from competitors like the LEM Products 468 and the XINQIAO Jerky Gun is its selection of five different nozzles. Each nozzle provides a different shape and size for the jerky, catering to the varied preferences of jerky enthusiasts. Whether you're in the mood for thin strips or round sticks, this jerky gun meets all your needs.
---
From the seasoned jerky connoisseur to the novice exploring new culinary grounds, the XINQIAO Jerky Gun is a standout addition to any kitchen arsenal. With your very own XINQIAO, you're not just making jerky strips; you're curating an experience.
The gun's intuitive design is a very good choice for individuals struggling with weak or arthritic hands, and loading the device is a breeze thanks to the included funnel and plunger. While getting the funnel lined up may initially seem tricky, the result is a hassle-free, efficient loading process that ensures your jerky-making sessions are more about the joy of creation and less about tedious setup. A word to the wise: remember not to overfill the tube, lest you'll be unable to attach the desired nozzle.
Speaking of nozzles, the XINQIAO kit is generous in its offerings, providing flat, round, and double-round nozzles for a spectrum of jerky styles. The meat squeezes out smoothly with a simple press of the trigger handle, promising an easy operation that's almost as satisfying as tasting the finished product.
Features
1 LB Jerky Maker
4 Stainless Steel Nozzles
2 Cleaning Brushes
User-friendly Design
Sturdy and Durable Construction
Easy Load Funnel and Plunger
Convenient Storage Bag
Pros
Easy to load and operate, even with weak or arthritic hands.
The included nozzles offer a range of styles.
Cleaning brushes and storage bags add to the ease of use.
Budget-friendly without compromising on quality.
Efficient design handles multiple refills for large batches.
Cons
The funnel can be challenging to attach initially.
Some meat may get stuck in the nozzle crease or behind the plunger.
The design could benefit from a one-piece nozzle.
The plunger tip and the small drawback/reload handle may need readjustment.
Compared to the LEM Products 468 Jerky Cannon, the XINQIAO Jerky Gun is an unbeatable budget choice. While both are sturdy and easy to use, the XINQIAO offers a slightly more hands-on, user-friendly experience, especially for those with limited hand strength. The added brushes and storage bag also make cleaning and storing the XINQIAO Jerky Gun a cinch.
Whether you're preparing a delectable snack for yourself or making dog treats for your beloved pets, the XINQIAO Jerky Gun is a stellar, budget-friendly choice that doesn't skimp on quality. Unleash your inner chef and revolutionize your jerky-making process with this reliable kitchen companion. Happy jerky making!
Other Models Worth Mentioning But Depending on Stock
Weston Original Jerky Gun (1.5lbs Easy Squeeze Trigger) – Great For Hiking, Camping, Road Trips
Next in line is the Weston Jerky Gun, the original. It has a lesser capacity compared with The Judge, but with the same sturdiness and longevity, having been crafted from anodized aluminum. Its smaller size makes it portable; you can carry it along wherever you want to go.
It has a capacity of one and a half pounds, which makes it possible to provide enough jerky for a family. Get lots of love from your better half and kids as they happily munch away on scintillating pieces of goose jerky, sausages, or any favorites out there.
It is designed with a stomper and easy-to-press trigger that makes the squeezing process a breeze. This means that there'll be no need to hassle around trying to empty your gun.
Moreover, cleaning it is a walk in the park courtesy of the two sets of brushes and the stainless-steel accessories.
It comes at an affordable price which can enable you to have fun and avoid paying tons of money for your favorite jerky treats at the stores. This makes a perfect way of stacking up some bucks for other engagements.
Also, you can make a wide variety of treats such as jerky, sausage, and snack sticks among others.
Even better, it comes with Weston's jerky seasoning which makes it overkill.
It is an excellent bargain for the outdoor lovers. You can grab it for your hiking endeavors, road trips, and camping sprees.
Features
Aluminum tube
Holds up to 1.5lbs of ground meat
Easy trigger
Stomper
Two jerky attachments
Stainless steel double jerky strip
A two-piece cleaning brush set
Pros
Cons
The size of the needle is small and might cause some hindrance while pressing out the beef
May not drain all the beef from the barrel
The quality of plastic used isn't up to par and can crack if a lot of force is used
7Penn Beef Jerky Maker provides a sturdy, aluminum beef jerky shooter – a real-time-saver that significantly simplifies the process of creating those tasty bites of dried, seasoned meat we all love.
Not only is it great for making beef jerky, but it's also a godsend for those looking to whip up healthy, meaty treats for their four-legged friends. Just imagine – making twice the amount of treats in half the time. With this nifty gadget, all you need to do is extrude neat rows onto a baking sheet, then cut and bake to perfection.
For ease of use, the 7Penn Beef Jerky Maker Kit takes the cake – or rather, the jerky. It feels robust in your hands, and yet, when shooting the meat, the operation is as smooth as butter. A tip? Form your meat into a 'noodle' smaller than the tube diameter to reduce mess and avoid air pockets.
Features
Easy to use, easy to clean.
Heavy-duty aluminum construction ensures longevity.
Suitable for a variety of applications, not just jerky!
Priced affordably, offering excellent value for money.
Comes with a dual-nozzle attachment for extra efficiency.
Pros
Multi-purpose: Excellent for beef jerky, dog treats, and even filling jelly donuts!
Time-efficient and easy to clean.
Strong and durable, yet affordable.
Cons
The screw-on end is plastic, which may wear over time.
The double nozzle may be challenging to clean.
When comparing it to similar products like the LEM Products 468 and the Axanshio Jerky Gun, while the LEM is equally sturdy, it doesn't offer the same versatility. On the other hand, the Axanshio might be a bit cheaper, but it doesn't match the robustness and ease of use of the 7Penn.
This is the sturdy and indomitable Beef Jerky Gun 2.7lb aka The Judge Gun. It is crafted from durable aluminum and stainless steel with a commercial-quality standard. This enables you to enjoy tons of sumptuous beef jerky together with your family and friends.
A significant advantage of this beef jerky gun is its double capacity. It can gobble up to 2.7lb of meat, which eliminates the need for constant refilling during the dehydration process. I bet none of you likes messing up your hands severally during the dehydration phase. Spend more time enjoying the jerky-making process.
This Jerkyspot Jerky Gun is a breeze to clean up this piece of equipment, thanks to the anodized aluminum body and stainless-steel nozzles. It is also accompanied by a long brush that quickly removes any dirt and residue inside the barrel.
More so, it has Jerkyspot Guarantee, which is a world-famous beef jerky store. There are no worries since you got assurance from the experts making it a safe bet. If you get any problems with the gadget, you can return it for a full refund.
It's premium for the carnivals whether you are a farmer, chef, or paleo snacker, it doesn't matter. You got covered.
Features
Aluminum and stainless-steel nozzles
Two stainless steel attachments are the round and flat ones
Pros
You can make a wide variety of jerky depending on your taste
Durable because of the high-quality materials
You can easily twist the attachments to ease your process
It is corrosion resistant
Double capacity eliminates the need for refills which makes it convenient to use
Easily be cleaned
Prepares a wide variety of meat including beef, turkey, and chicken among others
Cons
You need to make sure that the nut on the plunger is tight lest it comes apart
Jerky Gun Buying Guide
When it comes to making jerky at home, a quality jerky gun is an absolute necessity. To help you select the best one for your needs, we've put together this comprehensive buying guide.
First, let's address the basic question:
What Is a Jerky Gun?
A jerky gun is a tool for making jerky by extruding seasoned meat through a nozzle. It's a cylindrical device (squeeze tube gun) with a nozzle and plunger used to shape and extrude seasoned meat onto a drying surface.
This simplifies the jerky-making process, especially for ground meat, by ensuring uniform strips for drying and preserving.
1. Material Construction
One of the key factors to consider when buying a jerky gun is the material it's made of. Look for jerky guns constructed with high-quality, food-grade materials like stainless steel or heavy-duty plastic. This ensures longevity, safety, and ease of cleaning.
2. Capacity
The capacity of the jerky gun refers to how much meat mixture it can hold at once. If you plan on making large batches of jerky, consider opting for a jerky gun with a larger capacity. This can significantly speed up the process.
3. Nozzle Variety
Different nozzle types allow for different jerky shapes and sizes. Some jerky guns come with multiple nozzle attachments for added versatility. Consider your preference for jerky thickness and shape when looking at the nozzle variety.
4. Ease of Use and Cleaning
Making jerky should be fun, not a chore. Look for jerky guns that are easy to use, assemble, and disassemble for cleaning. Models that are dishwasher safe or have easily removable parts are especially handy.
5. Durability
Just like any other kitchen tool, durability is crucial when it comes to buying a jerky gun. Choose a jerky gun that has a reputation for durability and long-lasting performance. Reviews and ratings from previous customers can be a good indicator of this.
6. Price and Warranty
Last but certainly not least, price and warranty are important factors. Compare prices among different models and brands, and consider the warranty terms. A good warranty can save you from potential future costs and indicates the manufacturer's confidence in their product.
Conclusion
A jerky gun comes out as a necessary tool for any person who wants to have a quality piece of ground jerky. It enables you to come up with various forms of jerky or meat to break up any monotony you might develop.
Other than a jerky cannon, remember that you can also use a food dehydrator for your jerky. If you're looking for something else, remember to go through our other reviews of dehydrators and see what these models can do.
Eric is the owner, author, content director and founder of dehydratorlab.com. He is the lead architect and the main man in matters concerning dehydrators, their accessories, guides, reviews and all the accompaniments.Whenever he is not figuring out simple solutions (hacks) involving cookery and their eventual storage, you will find him testing out the different types of dehydrators, to bring us the juicy details regarding these devices.He is a foodie enthusiast, pasionate about making jerky has a knack for healthy and tasty food and won't hesitate to share out any ideas that might be of value around this subject.