The Presto 06300 Dehydro Electric Food Dehydrator is a very attractive yet simple to operate dehydrator of moderate capacity.
It offers good quality for its price range, but lacks many of the features found in models in the same price bracket.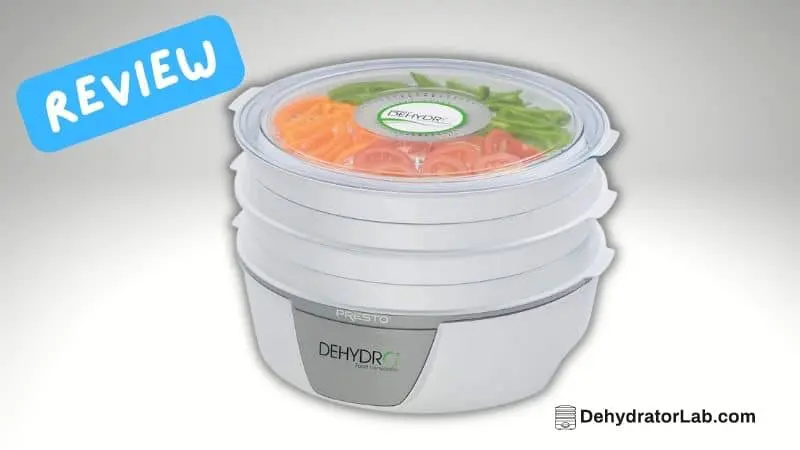 As an Amazon Associate, I earn from qualifying purchases. If you make a purchase after clicking on a link I may earn a small commission at no extra cost to you if items are purchased.
Presto 06300 Dehydrator Overview
This, however, appears to be a case of sacrificing extras in order to provide better quality at an affordable price.
The basic appliance can be expanded from the 4 trays initially supplied up to a maximum of 8 trays, while tray inserts for producing 'fruit leather' by dehydrating fruit puree can also be purchased separately.
The clear cover allows the top tray to be monitored during the operation of the dehydrator, and the trays themselves can be inverted to reduce the height of the dehydrator for easy storage when it is not in use.
As an entry level dehydrator it does a great job, looks good, and you can add features to it as affordability allows.
1. Safety
This top dehydrator does not have any external controls, and so it could be said that there is less that could cause problems.
The base and cover of the dehydrator are made of polycarbonate which, in earlier models, may have contained trace amounts of BPA.
In response to concerns expressed by some customers, Presto Customer Service Department responded in May 2016 with the following statement:
"Current production of all Presto Dehydrators no longer contains BPA. If there are any questions or concerns, please reach out to Presto Customer Service Department M-F 8-4:15 CT at 1-800-877-0441 or [email protected]."
Note: Prior production contained BPA in the cover, the indicator light, and an internal fan. Keep in mind that none of these parts come into contact with food.
2. History
Presto originated from the Northwestern Steel and Iron Works, a maker of pressurized steel canners, established in Wisconsin in 1905.
The name 'Presto' was the trade name of the first saucepan-style pressure cookers that the company produced, and this became such a widely recognized household name that in 1953 the company changed its name to the 'National Presto Industries, Inc.', now more commonly known simply as Presto®.
With a pedigree like this, Presto is a highly respected brand with a reputation for quality products.
3. Warranty
The Presto 06300 Dehydro Electric Food Dehydrator has a one year warranty.
4. Capacity
Four round trays at approximately 14" diameter gives a drying area of approximately 1 sq. ft. per tray, or 4 sq. ft. when all four trays are used. The unit is expandable to a maximum of eight trays, increasing the total drying area to about 8 sq. ft.
5. Features:
Nestable Trays Can Be Inverted To Save Space
The Presto 06300 Dehydro Electric Food Dehydrator trays stack onto each other to form the dehydrating structure, but, when the dehydrator is not required, they can be installed upside down so that they nest snugly into each other in their inverted position to reduce the overall height of the appliance by 2", thereby allowing for easier storage.
Power Cord Can Be Stored In The Base
In addition to the nesting dehydrating trays, storage of the appliance is made easier by the provision of space in the base for storage of the power cord when the machine is not being used. The power cord can simply be wound around the raised fan and heater housing so that it is out of the way when the unit is put away for storage.
Clear Cover
The clear cover on the dehydrator allows for monitoring of the top layer of food in the machine during the dehydration process.
6. Thermostat Range
Presto Dehydro Manual
In response to a customer query, Presto Customer Care gave the following comment in June 2016:
"Your dehydrator operates at a temperature of 165 degrees. All recipes/times listed in your instruction manual are for 165 degrees."
7. Power Consumption
The Presto 06300 Dehydro Electric Food Dehydrator is rated at 600W.
It is powered by plugging into 120V AC mains supply, for North American use only.
8. Dimensions and Color
The Presto 06300 Dehydro Electric Food Dehydrator has a base, four round trays, and a cover.
The appliance's dimensions are as follows:
Height: 9.56", but 7.5" when the trays are 'nested'.
Width: 15.37"
Depth:15.37"
9. Pros and Cons
Pros
Sturdy but stylish design
Simple to use
Expandable from 4 trays to 8 trays
Trays can be inverted to reduce height for storage
Power cord can be stored in the base during storage
Trays said to be dish-washer safe
Clear cover to monitor dehydration progress
Cons
No timer or on – off switch
No temperature control
Fruit Roll-up Sheet not included
Large gaps in tray grids
Vertical airflow may cause mixing of flavors
10. Customer Reviews
For its low price and lack of features, the Presto 06300 Dehydro Electric Food Dehydrator has received overwhelmingly positive reviews. Most negative comments relate to the lack of a temperature control, timer and on/off switch, but even most of the customers making these points still view the performance of the appliance in a very positive light.
There were some comments to the effect that the dehydrator runs too hot and that it had over-dried certain foods.
However Presto Customer Service Department pointed out that the accompanying booklet contains instructions on how to prepare and process food using the single preset temperature. The relatively high temperature at which the dehydrator is set is ideal for making jerky, but too high for drying 'natural' foods, i.e. below 118°F.
The appliance is shipped without fine mesh tray inserts for smaller food portions, or fruit roll-up sheet inserts that are necessary for drying small or liquidized foodstuffs.
Caution must be exercised when setting out food portions on the trays, as the gaps between spokes in the trays increase towards the outer rim, and small food portions that shrink as they dry can fall between the spokes.
Fruit roll-up sheet inserts can be purchased separately, but it would have made a lot of customers happier if at least one insert had been included.
So, when you buy your Presto Dehydrator, you'll know that there is someone there waiting to assist you, should you have any problems!​
11. Conclusion
It is clear that National Presto Industries, Inc., have been listening to their customers, unlike several other manufacturers. The removal of any traces of BPA from the dehydrator's casings, and the taking on of a customer relations person are evidence of the company's responsiveness to customer concerns.
And while their Presto 06300 Dehydro Electric Food Dehydrator may not come with all the bells and whistles of other makes, it is well-made, stylish, expandable, and easy to use and handle.
Its price makes it attractive to customers who would want to start with an entry level dehydrator that can be added to from time to time.
The fact that it has only one temperature setting will be viewed as a drawback by potential buyers who might want more versatility from a dehydrator, but if one is not too concerned about keeping food 'natural', then there is little to fault with this unit.
Eric is the owner, author, content director and founder of dehydratorlab.com. He is the lead architect and the main man in matters concerning dehydrators, their accessories, guides, reviews and all the accompaniments.Whenever he is not figuring out simple solutions (hacks) involving cookery and their eventual storage, you will find him testing out the different types of dehydrators, to bring us the juicy details regarding these devices.He is a foodie enthusiast, pasionate about making jerky has a knack for healthy and tasty food and won't hesitate to share out any ideas that might be of value around this subject.