Presto has a collection of awesome dehydrators for food dehydration enthusiasts. Having been in the market for quite some time now, we could say that they are well versed with the needs of the consumers.
However, as it has always been the case with buying the best food dehydrators for the money, selecting an ideal Presto for your needs won't be easy peasy lemon squeezy. But that's where our informative guide of the best Presto food dehydrator reviews now comes in.
Take a read and enjoy!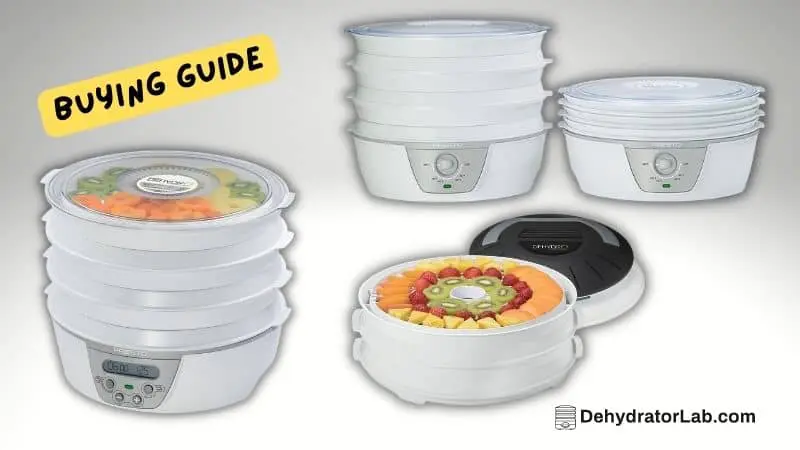 As an Amazon Associate, I earn from qualifying purchases. If you make a purchase after clicking on a link I may earn a small commission at no extra cost to you if items are purchased.
Best Presto Dehydrator Overall –Presto 06301 Dehydro Digital Electric
Well, you could go for the inexpensive Presto 06302 and purchase a timer for it later. However, considering the price difference, I would recommend you to pull the trigger and go for the Presto 06301 (buy on Amazon) with that has a built-in timer right off the package.
If the timer is not convincing enough, perhaps the Start/Stop button of the 06301 will do. Unlike with the 06302, this button means that you can stop the dehydration process without necessarily plugging out the cord from socket.
Our Top 3 Picks
Rank
Model
Verdict
Editor's Rating
Timer
Trays
Material
Power
Warranty
Temp
1.
Presto 06301
Best Presto Dehydrator With Timer

(Our Pick)

9.4/10
Yes
6-12
Plastic
750 watts
1 year
90-165 °F
2.
Presto 06300
Best Affordable Presto Food Dehydrator
9.1/10
No
4-8
Plastic
600 watts
1 year
165 °F
3.
Presto 06302
Best Presto Food Dehydrator With Adjustable Thermostat
9/10
No
6-12
Plastic
750 watts
1 year
95-160 °F
1. Presto 06301 Dehydro Digital Electric Dehydrator –
Best Presto Dehydrator With Timer
The Presto 06301 Dehydro is a 6–tray digital dehydrator that offers you a substantial space to dry your food items.
This model derives its sophistication from its digital design. It has a digital thermostat and timer to ensure precise drying time under precise temperature. You have the liberty to choose the perfect drying temperature for your different foods ranging from 90℉ to 165℉.
This temperature range allows you to comfortably make the best possible jerky from beef, seafood, and poultry and at the same time do the same for fruits and vegetables.
Talking of convenience, this Presto food dehydrator 06301 has sensational features such as a starter pack of a sample of real jerky spice together with a cure.
Again, you won't have to sweat it out rotating the trays during the drying process. There is consistent air flow to secure optimum drying thanks to the heating element and bottom–mounted fan. This enhances efficient, even air circulation from bottom to top.
Despite being a 6–tray dehydrator, you can easily expand the trays to 12. Here, capacity has been fully, and I mean fully, taken care of. These trays do nest when not in use causing about a 40% reduction in storage space.
This thrilling Presto dehydro electric food dehydrator 06301, in addition to all those features, also comes with 2 fruit roll sheets. You also get 2 non-stick mesh screen trays and a see-through cover for easy monitoring of the drying progress.
Worth mentioning is that all these are dishwasher safe and fully immersible.
Dehydration using this device maintains the foods' natural vitamins and minerals. This happens naturally requiring no additives or preservatives.
To sum it up, this dehydrator can be said to be of an average price compared to its alternatives with similar specifications.
Features
It comes in white colour
Six-tray system expandable to 12-tray
Digital thermostat and a timer
Temperature range of between 90℉ and 165℉
Bottom – mounted fan
Bottom – mounted heat element
Comes with two fruit roll sheets
Two mesh screens trays that are non-stick
Fully immersible and dishwasher
Runs on 120 V
Pros
Easy to clean and store
Offers a wide range of dehydrating thanks to the digital thermostat
Affordable
Has a start/stop button for convenient operations
Great amount of space allows you to dry large amounts of food items
Dries evenly
Saves you energy as you don't have to rotate the trays
Cons
Quite loud since it uses fan for air circulation
Not very fast as expected of digital machines
For more detailed information check our extended review of Presto 06301 digital dehydrator.
2. Presto 06300 Dehydro Electric Dehydrator –
Best Affordable Presto Food Dehydrator
Need a small dehydrator for a smaller family or small garden? Then this Presto food dehydrator might serve you well.
The thing with the Dehydro 06300 is that while being a 4-tray dehydrator, it is also expandable up to 8–trays. This means that it can purchase it for your small family and upgrade it to offer large quantities of food as your family expands.
Nonetheless, you'll need to cough extra coins for these extra trays. These trays require no rotation and this saves you from unnecessary engagements during the dehydration.
With its see-through cover, you can easily monitor your drying progress via the top tray. Both the cover and the trays are dishwasher safe and fully immersible.
Using Presto 06300 hydroelectric food dehydrator assures you of perfect end results. It evenly dries your food items thanks to its bottom-mounted fan and the heating element. The location allows consistent airflow to achieve optimum drying.
Another exciting feature of this dehydrator is the vast array of accessories accompanying it. The package comes with fruit roll sheets for the yummy fruit rolls or fruit leathers. It also has non-stick mesh screens to ensure your food doesn't stick to the trays during dehydration.
Even better, there is a jerky gun and sizzling jerky spice to aid in preparing perfect jerky with that magic taste.
When it comes to its storage, you need not sweat about excess space since you can easily nest the drying trays while the cord stores easily in the base.
The Presto Dehydro 06300 Electric Dehydrator dries at a maximum temperature of about 165℉. It's also quite easy to maintain considering that its heater element runs on 120V.
Read the full review of Presto 06300.
Features
4-tray dehydrator expandable to 8-tray
Comes with a see-through lid
Dishwasher safe and fully immersible
Bottom mounted fan and heat element
Accessories: Fruit roll sheet, non-stick mesh screens, Jerky gun, and Jerky spice kits
Heater element runs on 110V and 600 watts rating
Pros
Sturdy enough hence its durable
Spacious enough to hold a variety of food items
Comes with extra accessories, non-stick mesh screens, jerky gun, jerky spice kits
Can be used for both smaller amounts of food and larger amounts thanks to its expandable design
Easy to store. You just nest the drying trays and store the cord in the base
Cheaper compared to its counterparts
Easy to clean
Cons
Offers you no control over the temperature as the temperature is already preset. This hinders efficiency as not all food items require same temperature levels for dehydrating.
Has no timer hence strict monitoring is required
Has no on/off switch. You just plug it off from the socket
Quite noisy though most customers felt the noise is tolerable
3. Presto 06302 Dehydro Electric Food Dehydrator –
Best Presto Food Dehydrator With Adjustable Thermostat
The Presto 06302 Dehydro is one of the best Presto dehydrators with adjustable thermostat. This is a six tray system ideal for middle-sized families. Similar to the Presto Dehydro 06300 above, the 06302 is expandable as well only that it expands to up to 12 trays.
The additional trays are available but you'll have to dig deeper in your pockets.
This dehydrator has an adjustable thermostat that enables you to choose drying temperatures from 95℉ to 160℉. Unlike the Presto Dehydro 06300 above, the adjustable thermostat with the 06302 means that you can set the temperatures right for virtually any food.
The fan and heating element are strategically bottom-mounted allowing constant air flow. You don't need to rotate the trays like in other dehydrators.
You can also monitor the drying progress of your food easily courtesy of the top tray see-through cover.This Presto food dehydrator 6302 comes with exciting accessories: 2 non–stick mesh screens that can be used for drying small foods and also sticky fruits.
There are also two fruit roll sheets to aid you in making healthy fruit rolls. Accompanying it too are the starter packs of jerky spice together with cure.
This machine is also super easy to store since similar to its siblings, you could nest the drying trays while the cord stores easily in the base and thereby reduce the storage space by 40%.
Features
6-tray system
Expandable to 12 trays
Bottom-mounted fan and heating element
95℉-160℉ operating temperature range
Adjustable thermostat
Pros
Adjustable thermostat makes dehydrating different types of food easy
Its big racks are dishwasher safe
Plug and play operations make it easy to use for everyone
Wide operating temperature range accommodates a wide array of food
Cons
Can get a little bit noisy
Lacks on/off switch (this can be quite inconveniencing at time)
Does not have a timer (you could connect one though)
Comparing the Presto 06301 vs 06300 vs 06302
Any list of the best Presto Food Dehydrators would definitely have to include the Presto 06300, 6301, and the 06301.
There are a few things that make these models worth going for today. To begin with, their expandability design means that you don't have to spring a huge amount of money for a spacious Presto food dehydrator at once. Rather, you can purchase a smaller model and expand the available space down the road.
These dehydrators also feature a down-mounted fan that is known to ensure faster drying processes. In addition, compared to rear-mounted and top-mounted fan models, base-mounted dehydrators such as the Presto food dehydrators are way much affordable.
While any of the units in our picks of the best Presto Food Dehydrator will fit the bill for most homes, there are a few distinct differences that you might want to understand before committing to one.
For instance, if you are strapped for cash, then the 4-tray Presto 06300 Dehydro might make a good choice. The good news is that similar to its siblings, this model has an adjustable design. Thus, you can expand it all the way up to an 8-tier dehydrator with time.
This machine has a catch though: it operates at a preset temperature of approximately 165 degrees. What this means is that regardless of what you are trying to dehydrate, you'll have no control over the drying temperatures.
This is not only a hassle to use, but it can also be quite inconveniencing and limiting.
Having struck the 06300 out of the list, we are left with the 06301 and 06302. These are 6-tray dehydrators that can expand to a 12-tray drying system.
Unlike the Presto 06300 above, these 2 have an adjustable thermostat that offers you total control over the drying temperatures of any type of food. This means that you can now select just the right amount of heat to dehydrate anything ranging from poultry to veggies.
But what makes the Presto 06301 considerably pricier than the 06302? I bet that boils down to the construction design and performance.
It's not any hard to realize that the 06301 has a slightly different control interface compared to the 06302.
While each of the 2 has an adjustable thermostat, the 06301 has a digital interface with a few buttons and a display that shows the selected temperature and time.
This is quite different from the 06302 that uses a traditional knob.
So, what difference do these 2 types of thermostats make?
First, the digital display of the 06301 means you can as precise as possible with the temperature and time of drying the foods.
We can't say the same of the 06302. While it has a scale with clearly labeled temperature readings, there are some grey areas between any 2 readings on the scale. This means that you'll never be able to get as precise as possible.
Another interesting feature that makes the 06301 the best Presto Food Dehydrator here is its digital timer.
This is another must-have feature that eliminates constant checks and all your worries of over-drying the food. Double it with the digital adjustable thermostat and you have a versatile dehydrator for perfectly dehydrated foods all the time.
Eric is the owner, author, content director and founder of dehydratorlab.com. He is the lead architect and the main man in matters concerning dehydrators, their accessories, guides, reviews and all the accompaniments.Whenever he is not figuring out simple solutions (hacks) involving cookery and their eventual storage, you will find him testing out the different types of dehydrators, to bring us the juicy details regarding these devices.He is a foodie enthusiast, pasionate about making jerky has a knack for healthy and tasty food and won't hesitate to share out any ideas that might be of value around this subject.