Nesco a world re-known brand is home to a broad category of home products and kitchen appliances. Of most importance is the Nesco dehydrator that they have.
There are a few definite advantages that ranks this brand's models among the best dehydrators for this year: they are easy to use and maintain, versatile and durable.
Unfortunately, it can be quite difficult to pick out just one dehydrator from all the options available on the market today. Not to worry though.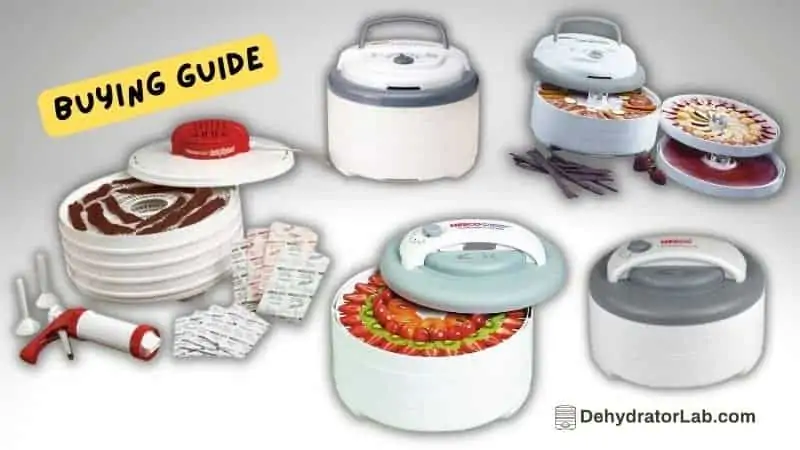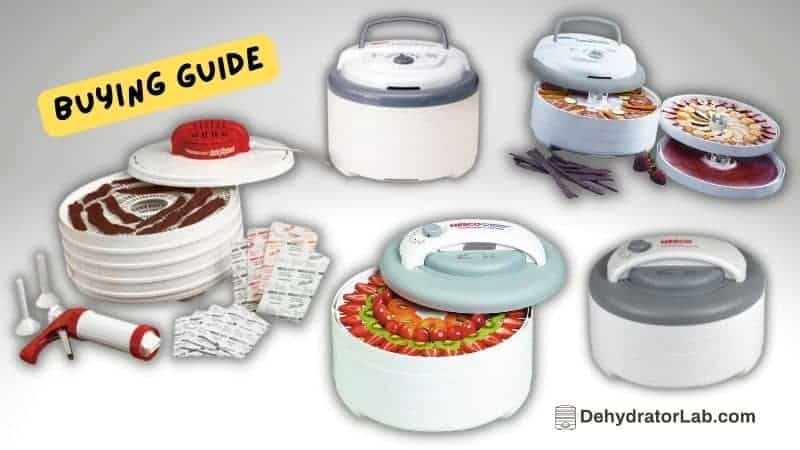 As an Amazon Associate, I earn from qualifying purchases. If you make a purchase after clicking on a link I may earn a small commission at no extra cost to you if items are purchased.
In this article of the best Nesco food dehydrator reviews, we do the heavy lifting to provide you with all the info that you need to narrow down to the best food dehydrator for your kitchen.
Best Nesco Food Dehydrator Overall – Our Choice
In our opinion, we recommend the Nesco Snackmaster Express as the best nesco food dehydrator among the rest. We feel that this model poses all the characteristics of an excellent food dehydrator.
Among the features that make it a favorite to us, is the powerful 500 watts drying power that minimizes the processing period. We also like the quality materials that make it durable, hence a good investment for your cash.
We also have a few top picks that, in our opinion, are worth your money. Let's dive in!
Our Top 5 Picks
Rank
Model
Verdict
Editor's Rating
Timer
Trays
Thermostat
Material
Power
Warranty
Temp
Brand
1.
Nesco FD-75A Snackmaster Pro
Best Nesco Dehydrator For Different Foods
8.8/10
No
5-12
Adjustable
Plastic
600 watts
1 year
95-160 °F
Nesco
2.
Nesco FD-61WHC Snackmaster Express
Best Nesco All In One Kit With Jerky Gun
8.8/10
No
5
Adjustable
BPA Free Plastic
500 watts
1 year
165 °F
Nesco
3.
Nesco FD-60 Snackmaster Express
Best Nesco 4-Tray Dehydrator

(Our Pick)

9.2/10
No
4-12
Adjustable
Plastic
500 watts
1 year
95-160 °F
Nesco
4.
Nesco FD-28JX Jerky Xpress
Budget Nesco Dehydrator For Jerky
8.4/10
No
4-7
Adjustable
Plastic
350 watts
1 year
160 °F
Nesco
5.
Nesco FD-75PR
Best Nesco 5-Tray Dehydrator
9/10
No
5-12
Adjustable
Aluminum
600 watts
1 year
95-160 °F
Nesco
These 5 models are among the best Nesco food dehydrators on the market. Though we don't restrict you to them, you can always look out for more by doing some more research over the net or visiting your favorite stores.
But for any good products out there, there exists some that you should avoid so that you won't incur any losses with their purchases.
For instance, while the Nesco brand poses some excellent dehydrators under its wings, you should avoid the 2D75PR model that gets easily overheated and costs a dime compared to the other Nesco types.
As an Amazon Associate, I earn from qualifying purchases. If you make a purchase after clicking on a link I may earn a small commission at no extra cost to you if items are purchased.
1. Nesco FD-75A Snackmaster Pro
The Nesco FD-75A snackmaster pro is a favorite among the nesco food dehydrators. What makes it tick with most of its users is the ability to dry a wide range of foods, thanks to its full temperature range (95 to 160 degrees Fahrenheit). You can dehydrate anything on it, ranging from herbs, snacks to the famous beef jerky.
This model comes with a top-mounted fan that aids in the efficient distribution of heat making the food to dry uniformly.
Of equal importance are the handy accessories that make your drying process a walk in the park. It comes along with a recipe book, solid sheets, and mesh sheets. You can be able to dry even the small stuff such as herbs, garlic and fruit rolls without a worry.
Even better, you can expand the capacity from 5 to 12 trays if in need of more space. You can process large quantities of food at a go. This eliminates the need for various dehydration processes. Therefore, you get to save tons of time and electricity consumption.
Its powerful 600 watts drying power makes it ideal for a wide range of foods. It is a suitable device for those in need of power and functionality at the same time.
Features
Top mounted fan
Five trays which can be increased to 12
Opaque vita-save exterior surface
Two fruit rolls
Two clean-A-screen flexible screens
A 52-page recipe book
Three jerky spice packets
Pros
Its vast temperature scale enables it to dry a wide variety of food
Easy to use and clean
Safe to use since it is made of BPA free plastic
Efficient distribution of heat courtesy of the top mounted fan
Cons
Has no power switch
The trays aren't durable
Limited space in between the trays
Takes way too long to get your food ready
An awful rubber like smell sometimes emanates from it while working
2. Nesco FD-61WHC Snackmaster Express – All In One Kit With Jerky Gun
The Nesco Snackmaster express model brings in a new and sleek design to the nesco brand. It is manufactured with five trays which can be used to dry any food. Its top mounted fan prevents liquids from dripping into the heating chamber thus ensuring a smooth and event-free drying process.
You can also like the fact that it utilizes a converga–flow drying system that uniformly and efficiently dries your food. You don't need to rotate the trays. An evenly spacing out of food, to allow smooth movement of air is the only thing that is needed.
Moreover, an adjustable thermostat allows you to dry your food at the correct temperatures. These results in evenly cooked foods without the loss of minerals and vitamins and more so, you only need a few hours to dry your food; not days.
The only downside plaguing this gadget is the lack of a power switch; you have to pull a plug to switch it off.
This might not be welcoming, since most decent electricals do have an on and off mechanism. It is perhaps a glaring oversight that needs to be looked into by the manufacturer.
Also, the lack of timer makes it a bit inconveniencing since you have to keep an eye on it as it dehydrates your food.
We have a more in depth review of Nesco FD-61WHC Snackmaster Express food dehydrator.
Features
Top mounted fan
Five trays
500 watts drying power
Jerky gun with three tips (check out our jerky gun reviews)
Two Fruit roll sheets
Recipe guide
Two clean a screen for drying sticky fruit or herbs
Speckled grey color
Pros
Easy to use and dries your vegetables, fruits, and jerky in a fast and even manner
Comes with a number of flavoring packets
The fan blows the air around therefore no need to rotate the trays
You can be able to buy extra trays
The food dries uniformly
Quality material used for its manufacture
Cons
There is no switch to turn it on or off
Does not have a timer
3. Nesco FD-60 Snackmaster Express – 4 Tray Food Dehydrator
If you needed a compact yet spacious dehydrator, then the Nesco FD-60 Snackmaster express would suffice. It comes with four fourteen inch trays that can be expanded up to 12. This means a small footprint but with an average holding capacity.
Like its other siblings, it utilizes the converga-flow heat system that ensures a horizontal flow of hot air over the food that evenly dries it up. Also, there won't be any need of waiting days on end for your food to dry, just a few hours, thanks to the powerful 500 watts drying power.
The user guide that comes along with it contains some of the great recipes that you might not have considered. From pet treats to your favorite snacks. More so the temperature chart located on the lid is convenient to use.
This dehydrator does not allow the mixing of food flavors courtesy of the horizontal flow of air. Therefore, you can stay happy that your fruit or vegetable isn't going to pick up some other smell or flavor.
On the flip side, it doesn't have a timer. So, you have to be alert when this machine is dehydrating lest your fruit or food gets over dehydrated.
This machine is the best bet for those needing a 4 tray nesco food dehydrator.
Features
500 watt drying power
4 tray food dehydrator
Opaque vita-save exterior
Adjustable thermostat
Top mounted fan
Converga-flow drying system
Fruit roll sheet
Two original flavor jerky spices
Cure packets
Pros
Expandable up to 12 trays
Fast and uniformly dries food
Adjustable thermostat for you to choose the appropriate temperature
Even distribution of heat eliminating the need to rotate the trays
Its opaque exterior blocks out the harmful light that can destroy the minerals
Cons
The smell gets stuck on the plastic especially if dehydrating foods such as onions or garlic
No power button
The trays might not fit into the dishwasher or sink flat
4. Nesco FD-28JX Jerky Xpress – Food Dehydrator Kit With Jerky Gun
If you wanted a machine for your jerky needs, then you wouldn't miss one on the Nesco FD-28JX Jerky Xpress; either as a new entrant or a seasoned fellow.
With a fan flow technology in place, you don't need to rotate the trays for even drying of your jerky. Moreover, easy to operate by a beginner thanks to the one button operation which eliminates the need for a learning curve, you only need to flip on the switch and you are good to go.
To run it, you don't need tons of energy. With a 350 watt element you got your jerky ready in a matter of a few hours. That means you get to save a lot regarding power bills. You might also like that it is a quiet model while working, thus giving you a peaceful environment to work in.
Cleaning this dehydrator is a breeze courtesy of the top detachable.
It has a compact and lightweight design, which makes it suit any small counter space without worry. More so carrying it around isn't a great deal either. You can have the convenience of taking it around wherever you go.
The only downside of this gadget is the lack of temperature controls; therefore, making it suitable for jerky and not a wide range of food.
Because of its fair price in comparison to its functionality, it's a best bang for your buck.It is an ideal bargain for meat eaters and those who like something spicy about their meal. Ultimately best dehydrator for jerky.
Features
A power head
Four trays
Jerky gun with three tips
350-watt heat element
Pros
Lightweight
Uses less power
Simple and easy to make jerky
The spices are nice
Works great and isn't too loud
Has easy to follow directions
Easy to clean
Affordable
Comes with spice and cure packs
Cons
Has no temperature controls
5. Nesco FD-75PR Food Dehydrator – 5 Tray Dehydrator
The Nesco FD-75PR like the other models in the nesco brand utilizes the patented converge-flow drying system. The method makes sure that air is forced down the dehydrator then in a horizontal manner against each tray. This ensures that the food is evenly dried and rules out any need to rotate the trays.
It has an opaque vita-save exterior that helps in preventing harmful lights that can destroy nutrients, hence guaranteeing you healthy meals afterwards.
You can expand the capacity of this dehydrator from five trays to twelve if you had a lot of food to dry. So, no more excuses about getting your food store in order.
Also included in the package, is two fruit roll sheets that come in handy especially when drying semi-liquids like sauces. These sheets enable you to hold such kind of foods without a hassle.
Moreover, the clean-A-screen flexible screens help to hold up small things such as herbs without them falling through.
You may also like that, and the system comes with a fifty-two-page recipe book that gives you instructions on how to prepare different treats. You don't need to stick around with a few known options.
Because of its sturdy design, we are sure of its durability just as most of the reviewers have attested. You are welcome to see our full review of FD-75PR Nesco food dehydrator.
Features
Five-tray dehydrator
Adjustable thermostat
Top mounted fan
Two solid sheets
Two mesh sheets
Two fruit roll sheets
Pros
Comes along with a recipe book to guide you
Food flavors don't mix
Comes with three original flavor jerky spices and three cure packets
Easy to use
Easily available accessories
Compact design making it fit comfortably into your kitchen counter
Has a temperature control
Cons
No timer
No power button
The electric cord is not sufficient, only two feet long
Juices can leak out through the air vents at the bottom if the food has lots of juice
Conclusion
In general, Nesco food dehydrators have proved to be versatile and reliable on several fronts. Not only do they cut the time needed to dry foods but they are also durable.
As a potential buyer of these devices, you should consider issues such as the cost of purchase, ease of use, ease of cleanup, versatility and the need for rotating the trays. As a brand with a strong reputation, we believe that Nesco will deliver on your dehydration needs.
Eric is the owner, author, content director and founder of dehydratorlab.com. He is the lead architect and the main man in matters concerning dehydrators, their accessories, guides, reviews and all the accompaniments.Whenever he is not figuring out simple solutions (hacks) involving cookery and their eventual storage, you will find him testing out the different types of dehydrators, to bring us the juicy details regarding these devices.He is a foodie enthusiast, pasionate about making jerky has a knack for healthy and tasty food and won't hesitate to share out any ideas that might be of value around this subject.