More expensive than many stackable food dehydrators, but less than half the price of similar box shaped fan-at-rear dehydrators, the Aroma Dehydrator Housewares Professional AFD-815B 6-Tray is very affordable and has enjoyed mostly glowing customer reviews regarding its capacity, performance and reliability.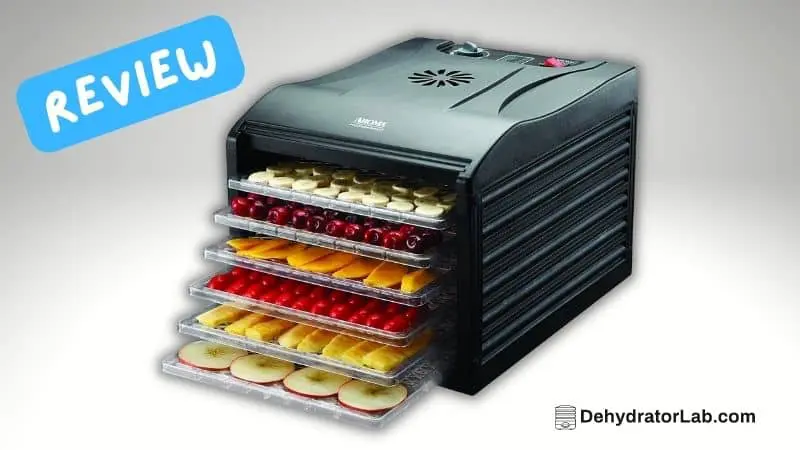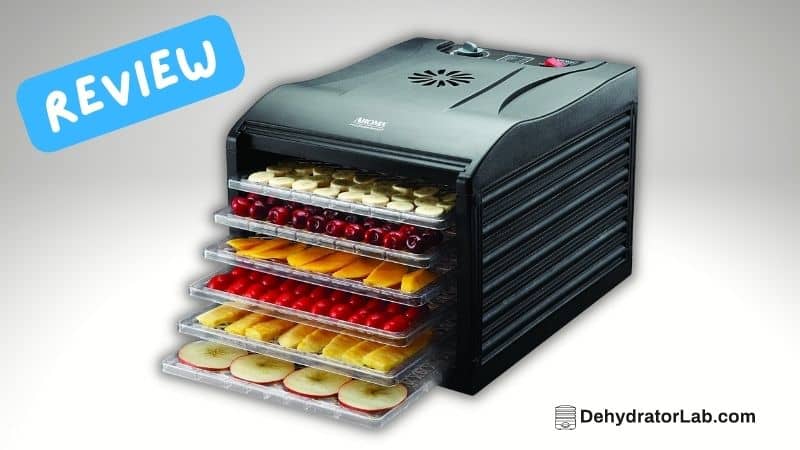 As an Amazon Associate, I earn from qualifying purchases. If you make a purchase after clicking on a link I may earn a small commission at no extra cost to you if items are purchased.
It's worth the extra cost for this stylish, versatile and easy to use dehydrator, which has a rear-mounted fan and heater unit to produce even dehydration across all six trays.
​For drying thicker food slices or even making yoghurt in jars, the flexibility of being able to remove shelves to suit the space required makes this type of dehydrator so much more useful than the stackable type.
Sporting a built-in on-off switch and adjustable temperature control, this dehydrator provides everything except a built-in timer. But if you really need a timer, you can, for one-third more, purchase the same unit in white (Model NFD-815BD at Amazon), it comes with digital controls including a 10-hour timer.
The clear, removable door makes it possible to monitor the food as it dehydrates, and is also easy to remove for cleaning.
Although the Aroma Housewares Professional AFD-815B 6-Tray Food Dehydrator may take up more counter space than a circular stackable model, it is light and easy to move, or to pack away when not in use.
For the serious food dehydrator with a limited budget, this model is one of the leaders in its field.​
1. Safety
According to the manufacturer, the door and trays and mesh sheets are made of BPA free plastic. The trays are not dishwasher safe, and need to be hand-washed.
This is not a major drawback, as even with 'dishwasher safe' trays it is best to remove them before the drying cycle, since there is always a chance that they will warp at high temperatures.
2. History
The fact that the company is prepared to offer a 5 year warranty on the product indicates that, whereas the label states that the unit is made in China, high standards of material and construction are required.​
3. Warranty?
The Aroma Housewares Company provides a warranty of five years on materials and workmanship for five years from provable date of purchase in the USA only.​
4. Capacity​
The Aroma 6 Tray food dehydrator contains 13" x 12" racks, with each rack having a useable area of 12" x 11". This provides .09 sq. ft. of useable area per rack, or 5.4 sq. ft. of useable capacity when all six racks are used. If you are looking for other 6 tray dehydrators, check out L'Equip 528 which can go up to 12 trays or Samson Silent Dehydrator or Magic Mill Pro 6-Tray
Each tray is capable of supporting 1lb of food.​
This dehydrator contains extra rack holders so that the vertical distance between trays can be varied by different combinations of placings, or even additional trays can be inserted, although this is not recommended. The standard vertical distance between trays is about 1", and the minimum distance between trays is ½".​
5. Features
5.1. Automatic Fan
The Aroma food dehydrator is fitted with an automatic fan that promotes even drying of food on the trays. Its automatic stop – start mechanism helps to prevent overheating that can lead to loss of the nutrients and enzymes contained in the food.
5.2. Clear Door
The clear door on the front of the dehydrator allows you to monitor the state of the dehydration process on all six trays without having to interrupt the air flow by opening the door.
5.3. Top Vent
The dehydrator has a vent in the top of the casing to help in maintaining an even temperature and pressure within the unit.
5.4. Variable Tray Spacings
The Aroma Professional Dehydrator contains extra rack holders so that the vertical distance between trays can be varied by different combinations of placings, or even additional trays can be inserted, although this is not recommended. The standard vertical distance between trays is about 1", and the minimum distance between trays is ½".
5.5. Drip Tray
The inclusion of a drip tray to catch residue during the dehydration process is an added bonus that makes it easy to keep the inside of the dehydrator clean. It may also be possible to use the drip tray to make fruit leather, since Aroma does not provide or sell fruit roll-up trays.
Just be sure to place a sheet of aluminum foil or parchment on the drip tray, since it may not be food-grade plastic, and wipe with some cooking spray to prevent food sticking to the sheet.
6. Thermostat Range
The Aroma Housewares Professional 6-Tray Food Dehydrator has an adjustable thermostat that ranges from 95°F – 155°F.
7. Power Consumption
The appliance, according to one of the authorized sellers, is rated at 400 Watts.
It operates on 120V AC 60Hz mains power for use in North America only.
8. Dimensions and Color
The Aroma Housewares Professional 6-Tray Food Dehydrator has the following dimensions:
Height: 13.58"
Width: 12.4"
Depth: 17.72"
The unit comes in only one color: Black.
Note that the white model of the Aroma Professional 6-Tray Food Dehydrator (Model NFD-815BD) has stainless steel racks, a digital 8-step thermostat control and 10-hour digital timer with 30 minute intervals, and retails for about one-third more than the non-digital black model (Model AFD-815B).
9. Pros and Cons
PROS
Rear-mounted fan–heater unit that provides for clean and quiet operation
No need to rotate trays
The unit has a built-in on–off switch and 8-step temperature control
Variable tray spacings
Removable trays to provide more height, for example for making yoghurt in jars
Rectangular trays make for easier arrangement of food than round ones
Has a drip tray for keeping floor of unit clean
CONS
No timer
Only 1 Mesh insert and no fruit roll-up sheets supplied (Aroma does not make fruit roll-up sheets).
Gaps in tray grids are relatively large.
Instruction booklet contains only 2 recipes.
10. Aroma Dehydrator Customer Reviews
There are very few customer complaints regarding the Aroma Dehydrator Professional 6-Tray . Purchasers appreciate its affordable price, quiet operation and versatility. making it one of the best food dehydrators for the money.
Some customers liked the fact that the clear front door slides into slots in the casing, rather than being hinged. This makes it possible to remove and clean the door, and also means that it is secure when closed.​
The lack of extras was also noted, but at the price, one cannot expect a lot more than the basic extras.​
The lack of a built-in timer on this model was considered a drawback by some, but it can be overcome by purchasing a plug-in wall timer to use with this appliance.​
Conclusion
Although the fan – heater unit of the Aroma Housewares Professional 6-Tray Food Dehydrator is only rated at 400 Watt, this is considered adequate for the drying capacity of the appliance. The fan operates very quietly compared with many other dehydrators.
The placing of the fan – heater unit at the rear of the dehydrator, combined with the relative large diameter of the fan itself, ensures a good spread of air for even dehydration, without the need to rotate the trays.
It is an attractive, efficient and versatile food dehydrator that comes at a very reasonable price, and will be a great purchase for many people who want a reliable, easy to use, mid-level dehydrator.
The tray grids are relatively large, but adequate for most food types. It is unfortunate that only 1 mesh insert is supplied, and those wanting to dry a load of smaller foodstuffs, such as herbs, it will be necessary to purchase more mesh inserts separately.
The rectangular food trays are a convenient shape and easy to load the food onto, and the extra tray guides in the dehydrator are useful for loading different thicknesses of food easily.
All in all, at its price, this is one of the best dehydrator that is hard to beat value for money.​
Eric is the owner, author, content director and founder of dehydratorlab.com. He is the lead architect and the main man in matters concerning dehydrators, their accessories, guides, reviews and all the accompaniments.Whenever he is not figuring out simple solutions (hacks) involving cookery and their eventual storage, you will find him testing out the different types of dehydrators, to bring us the juicy details regarding these devices.He is a foodie enthusiast, pasionate about making jerky has a knack for healthy and tasty food and won't hesitate to share out any ideas that might be of value around this subject.