Excalibur boasts the lion's share in the Science and Technology of food dehydration. Believe me, no compilation of the best food dehydrators would be without at least one model from this brand. Keep on reading this Excalibur 3900b review to see if it's a good choice for you.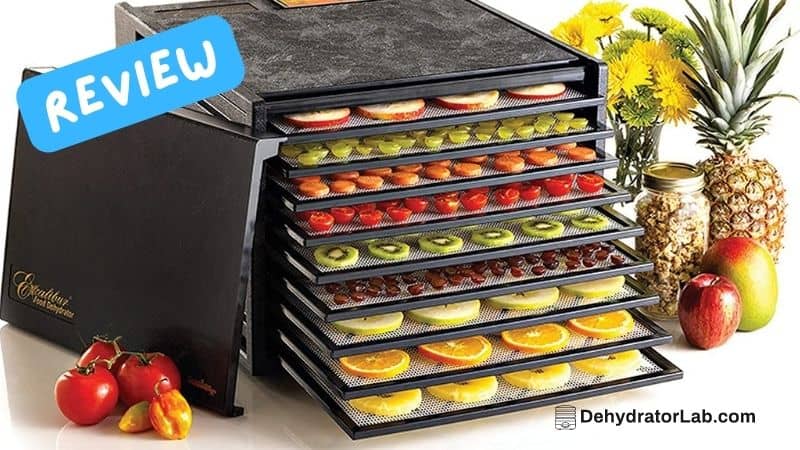 As an Amazon Associate, I earn from qualifying purchases. If you make a purchase after clicking on a link I may earn a small commission at no extra cost to you if items are purchased.
In my opinion, the Excalibur 3900B has most of the must-have features that make a kick-ass drying machine including an adjustable thermostat and an enormous drying capacity. I also find it quite reliable in terms of functionality and durability.
Unfortunately, this model lacks a few features that you might really not want to miss in a machine at its ballpark; a timer and expandability.
However, as its impressively high star-rating and positive reviews suggest, I'm sold this machine might still interest you big time.
But let's not jump into conclusions and see how it stacks up against its siblings and competitors.
1. Safety
Regarding safety, most people are concerned mostly about the material used for the trays. But as Excalibur shows, there's more to that.
The trays are made of a rigid BPA-free plastic. I have to note that even with their BPA-free design, they are a no match to steel trays. The best part, however, is that they make this dehydrator close to a hundred dollars cheaper than the steel tray models.
Again, they still serve the same function and are, in fact, super easy to get out of the dehydrator even when hot. I wouldn't say the same for hot steel trays.
Besides its construction materials, this dehydrator also has Excalibur's Hyperwave Fluctuation technology. What this means is that its drying temperatures fluctuate up and down to prevent creating a dry surface full of moisture inside your food. Excalibur says that such a situation might lead to yeast, mold, and bacteria growth (more about this later).
The fact that this manufacturer's dehydrators are wholly designed and made in the USA also adds a sense of safety to most buyers.
2. History
Excalibur has been crafting dehydrators for about 4-1/2 decades now. Having been established in 1973 in Sacramento, California, USA, this is with no doubts one of the most reliable manufacturers in this niche.
3. Capacity
The capacity of the Excalibur 3900B is simply fantastic if you like drying fruits, beef jerky, and vegetables in large amounts.
This unit features 9 trays and a total of 15 sq. ft in terms of drying area. For the jerky lovers, this space is enough to let you dry 9 pounds of meat at a go.
4. Warranty
This dehydrator is backed with a 1-year limited warranty. However, for US and Canada citizens, you could purchase a 10-year extended warranty for less than fifty bucks if you want more protection. During this extended warranty, you'll benefit from free repairs of any defective electrical part.
5. Dimensions
The 3900B Excalibur Dehydrator measures 12.5'' (H) x 17'' (W) x 19''' (Depth) and weighs around 22 pounds. While it is not the bulkiest of the lot, it is not small by any means. Thus, you might want to spare enough space for it in your kitchen.
6. Features
7-Inch 600-Watt Rear-Mounted Fan
True to Excalibur's tradition, the 3900B features a rear-mounted heating element and fan. A rear-mounted fan is said to outdo the top and bottom-mounted fans in terms of offering an even airflow.
This design involves cold air being drawn from the outside and pushed horizontally and evenly across the trays after heating.
Power
The 600-watt motor is also notably large enough to offer enough heat. Unfortunately, motors of this size tend to be a little bit loud as you'll find in the customers' review section below.
Adjustable Thermostat
An adjustable thermostat comes in handy if you'll be drying different types of food that require varying temperatures. This machine's thermostat offers you a temperature range of between 105℉ and 165℉.
This is quite a versatile range that makes it easy to dry each food at its required temperatures.
Opaque Walls And Door
Despite its importance in extending your surplus foods' shelf life, the process of dehydration has a toll on the nutrient value of your food items. Heat and light are the key culprits for this.
To minimize these effects, Excalibur opts to give most of its machines including the 3900B an opaque design to minimize the loss of important nutrients especially vitamins through the light.
Interestingly, its door comes off completely. While this makes cleaning easy, it also means that you can actually replace it with a clear door if you prefer monitoring how things are going on inside there!
7. Technology Used
Excalibur dehydrators edge the competition with its 2 unique and patented technologies; Hyperwave Fluctuation and Horizontal Parallex technologies.
These two exclusive designs aim at preventing case-hardening and microbial growth. In dehydration, case-hardening occurs when the outer shell of the food hardens and traps moisture on the inside. The hard outer shell makes it hard for the moisture trapped inside to dry.
Besides minimizing the efficiency of the drying process, this moisture travels across the thick layer over time to create a favorable environment for the growth of mold and yeast. This not only reduces the shelf-life of the food but it also makes it unfit for consumption and must, therefore, be tossed.
Hyperwave Fluctuation Technology. How Does It Work?
To alleviate this occurrence, most Excalibur dehydrators use Hyperwave Fluctuation technology that changes the heat intensity through the drying cycle. This ensures that both the inside and outside of the food items dry evenly.
It also keeps the temperatures inside low enough to ensure a favorable environment for the enzymes to remain active but the air temperature is kept high to curb the growth of mold and yeast.
Horizontal Parallex Technology
The patented Horizontal Parallex technology, on the other hand, takes care of the opaque walls and doors that don't allow you to see through.
This design promotes an even drying surface by ensuring an ensuring an even airflow across all the trays. This eliminates the need to rotate the trays during the drying process.
8. Ease Of Cleaning
The polycarbonate trays of this dehydrator are easily removable for cleaning. Although hand-washing them in soapy water is the most preferable way of maintaining their quality, you are free to toss them in the dishwasher too.
The door of the dehydrator also comes off completely to give you enough room to wipe the insides with a wet cloth easily.
9. What We Like/What We Don't Like
PROS
Hyperwave technology promises safer food items
Adjustable thermostat accommodates different types of foods
Back-mounted fan and a strong motor ensures even heat distribution
Has a massive drying surface
Made in the USA- looks and feels sturdy and it's well-built
The temperature control knob is precise
9 square tray make it easy to arrange the food items
CONS
You cannot add more trays
It's bulky and takes up a lot of space in small kitchens
Does not have a timer
An onboard ON/OFF switch could be a great relief
Some users find it a bit louder
10. Customer Reviews And Feedbacks
As the customers' reviews sections on most sites prove, the Excalibur 3900B is among the most highly praised dehydrators from this manufacturer.
This machine has received a lot of appreciation from homeowners with a lot of produce from their farms. A good number of them say that its 15 sq. ft. drying surface now makes the dehydration process so easy and fast for them.
Other buyers also love that they can dehydrate virtually anything on this machine from turkey jerky to vegetables. In fact, one farmer notes that he's now able to dry his excess eggs to make egg powder.
Regarding operations, most users say that the controls are straightforward to use and fabulous. A good number of them note that their food items are evenly dried. But what most people love the most is that they don't have to keep on switching the trays as most bottom-mounted-fan dehydrators require.
Any Negative Feedbacks?
Sure, we did come across several complaints regarding this dehydrator across the internet. The major complaints that keep on emerging are its lack of inbuilt timer and automatic ON/OFF switch.
What this means is that you'll need to be around to switch the dehydrator off after the drying time. Even worse, you'll need to time it manually. This might create a lot of inconveniences if there isn't anyone at home to switch if OFF. It might also deprive you of a good night's rest if you intend to dehydrate your food overnight.
If you really want to get a dehydrator with a timer and automatic ON/OFF switch, then the Excalibur 3926TB in our other list of the best Excalibur Dehydrators for 2019 might suit you better. Unfortunately, this will cost you close to a hundred bucks more.
If you are on a shoestring budget and really want the versatility of a timer and automatic switch though, a cheaper alternative might be to be fit a third-party timer to the economical 3900B. These timers cost less than $20 and work in a similar manner to onboard ones. I found this XDP timer on Amazon and I think that it might be of great help to you here.
Most people also report that they were surprised by this dehydrator's sheer size at first. At 12.5'' (H) x 17'' (W) x 19''' (Depth), the 3900B will surely grab real estates in your kitchen. In fact, several homeowners report that it couldn't fit on their kitchens' shelves. While some resorted to getting a separate table for the unit, others say that the only solution was to keep it either in the garage or basement.
11. Conclusion
As one of the buyers notes, the Excalibur 3900B dehydrator might be overkill if you intend to dehydrate a few slices of bananas only. However, if you garden and want a machine that will help you preserve your excess supply, I bet this machine will do.
Its enormous drying surface also makes it a perfect fit for a large family of active campers and hikers who prefer home-made fruit snacks and jerky for their trips.
But what make it one of the best dehydrators around are the patented Hyperwave and Parallex Airflow technologies in it.
These technologies not only cut off a few hours of the dehydration process, but they also ensure that the food items are dried at the right temperatures for long-term storage.
We really like dehydrators with a built-in timer and automatic switch at dehydratorlab.com. But honestly, we can't deny the Excalibur 3900B Dehydrator the thumbs up for two small features that you can either do without or add at a few bucks!
Eric is the owner, author, content director and founder of dehydratorlab.com. He is the lead architect and the main man in matters concerning dehydrators, their accessories, guides, reviews and all the accompaniments.Whenever he is not figuring out simple solutions (hacks) involving cookery and their eventual storage, you will find him testing out the different types of dehydrators, to bring us the juicy details regarding these devices.He is a foodie enthusiast, pasionate about making jerky has a knack for healthy and tasty food and won't hesitate to share out any ideas that might be of value around this subject.