Food dehydration is beneficial in a number of ways. Apart from allowing you to safely preserve seasonal produce, these unique machines also offer you the option of preparing healthy snacks without the added preservatives found in most of the snacks available in your local store.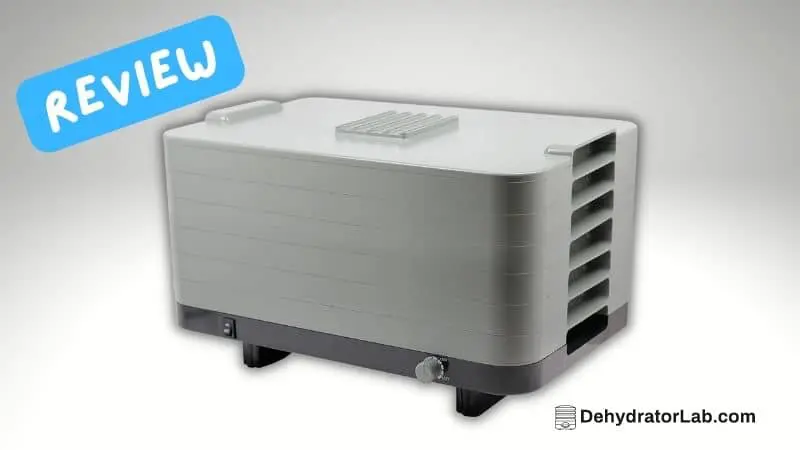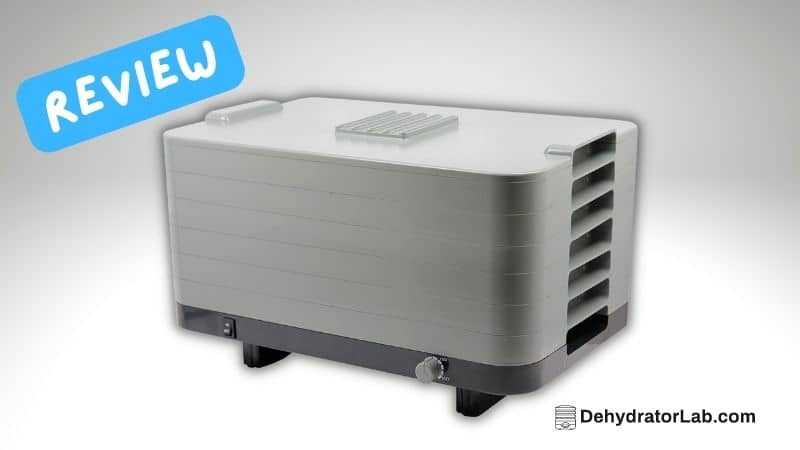 As an Amazon Associate, I earn from qualifying purchases. If you make a purchase after clicking on a link I may earn a small commission at no extra cost to you if items are purchased.
L'Equip Dehydrator Detailed Review
With the market flooding with these machines, our review team has highlighted the L'Equip dehydrator as one of the most sought-after machines for food drying.
As you'll soon find out, this model comes with impressive features that are mainly offered in more expensive models.
We are here to look at the different facts about this machine and hopefully, help you decide if this is a valuable addition to your kitchen or not.
1. Safety
The rectangular stacking food dehydrator is made up of BPA-free plastic. As far as we are concerned, they just got a point in the world of safe plastics.
2. History
L'Equip, a manufacturer and brand name of kitchen appliances was established in 1998. This is a global brand with a foothold in over 20 countries around the globe although its headquarters are in the USA and Korea.
This manufacturer is slowly but steadily becoming a respected brand in kitchen appliances and several of its food dehydrators, blenders, and juicers are currently a HIT in the market.
3. Capacity
TheL`Equip 528 ships with 6 trays each with a capacity to hold 1.2 square feet. This is to say when using all six trays, you have a base capacity of 7.2 sq. feet.
What's so impressive is that this model is built to expand to hold up to 12 trays providing you with a maximum of 14.4 sq. ft. of drying surface. It also comes with 6 mesh screens and 2 fruit leather trays (for making fruit roll-ups).
4. Weight And Dimensions
As for this models' dimensions, the basic design measures 17" by 10" by 11.8" and weighs 11 lbs., making it an appealing kitchen appliance as opposed to some higher capacity machine.
The height, however, will increase with each extra added tray and you should, therefore, consider the available space.
5. Design And Color
As stated earlier, the L`Equip 528 is a rectangular stacking food dehydrator made of BPA-free plastic.
The compact gray food dehydrator makes for quite an elegant and ideal addition to your kitchen that is a little more refined than most dehydrators out there. In addition, it has elegant fingertip heat adjustment knobs.
6. Warranty
The food dehydrator comes fully backed by a 10-year warranty. You might find conflicting warranty information on various websites but the L`Equip lists the warranty as 10 years.
It is important to note that the 10-year warranty is for the base of the dehydrator. For the other accessories (the trays), a 1-year warranty is offered.
7. Included In The Package
dehydrator
6 drying trays
6 mesh screens
2 fruit leather trays
8. Key Features
12 Trays
The L'equip 528 dehydrator ships with 6 trays from the factory. However, there is an option to add 6 more trays to take the total to 12.
If you have a large family of dry snack lovers, adding more trays might be a great way to increase the efficiency of the dehydrator.
Computer Controlled Temperature Sensors
This dehydrator is fitted with microprocessor computer controlled temperature sensors that ensure that the heat is evenly distributed all around the dehydrator.
It makes this possible by checking the temperature 60 times every second. This ensures that your foods are dried in a stable environment thereby leading to even results each time.
High-Quality Efficient Drying System
The L'Equip uses a 500-watt drying system which consumes almost half the amount of power that other dehydrators including the Nesco FD-1018A use.
The L`Equip 528 Dehydrator uses the "central flow" air design which guarantees consistent distribution of heat as opposed to just hot air from the beginning to the end of the drying process.
The fan and the heater are located on the base of the machine and blow and distribute the heated air through the trays.
This process is quite different from the Nesco stacking dehydrators where heated and pressurized air is forced up through a chamber that runs across the middle of the dehydrator, then forced horizontally across the food on the trays efficiently offering a unified and even drying.
Temperature Adjustment Knob And On/Off Switch
The L'Equip has a temperature control knob allows you to set the heat between 95-158 ℉. This is an impressively wide range that allows you to dry virtually any food with precision.
It also has a built-in ON/OFF switch that eliminates the hassle of having to pull the cord from the socket every now and then.
L'Equip Dehydrator Manual
Here you can find the direct link to the L'equip dehydrator manual in case you need it in digital form (pdf file).
9. What We Like/What We Don't Like
Pros
Very reliable
Quiet operations
Very versatile
Easy to clean
Very easy to use even for dehydrator newbies
It looks great
Good price
Cons
Does not have a timer
Lower wattage= longer drying time
Need to rotate the trays
Conclusion
The L'Equip 528 offers good value for money. Durable, effective, quiet and reliable are some of the phrases customers used to describe this high-end piece of an appliance for the kitchen.
If you are looking for something to help you extend and preserve the life of your garden produce, in-season herbs or fruits, or even make treats for your pets, this machine will provide the services you need and more.
Of course, it does come with a few drawbacks including the lack of a timer and the need to rotate the trays. But there's a whole lot of other things to like about it including its versatility, quiet operations, ease of cleaning, and overall reliability.
Eric is the owner, author, content director and founder of dehydratorlab.com. He is the lead architect and the main man in matters concerning dehydrators, their accessories, guides, reviews and all the accompaniments.Whenever he is not figuring out simple solutions (hacks) involving cookery and their eventual storage, you will find him testing out the different types of dehydrators, to bring us the juicy details regarding these devices.He is a foodie enthusiast, pasionate about making jerky has a knack for healthy and tasty food and won't hesitate to share out any ideas that might be of value around this subject.