The Samson Silent 6-tray is a 6.5 square feet dehydrator that's compact enough to be easily placed on top of most kitchen counters.
Get it today and you will always eat fresh and nutritious fruit leathers, pet foods, yogurt, trail mix berries and nuts, potpourri, spices and herbs, vegetables, and fruits.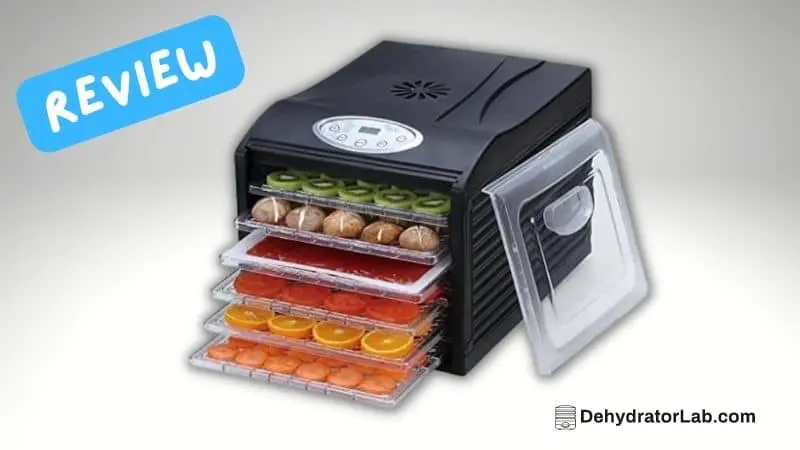 As an Amazon Associate, I earn from qualifying purchases. If you make a purchase after clicking on a link I may earn a small commission at no extra cost to you if items are purchased.
Samson Silent Dehydrator Overview
The Samson Silent 6-tray has a performance-oriented design and powerful power unit that gets it drying foods silently and efficiently.
It runs on an automated fan and lets you dry foods evenly and efficiently. The effectiveness of the fan prevents food overheating, which could make food to lose its taste and nutritious value.
As for the adjustable thermostat, it ensures that all the foods in the dehydrator are dried at the optimal temperature.
1. Security
Invented and manufactured by the Samson Brands, a USA-based company that's known for championing the creation of high-end products that support good health, the Samson Silent Dehydrator 6-Tray is the best dehydrator for people who want to enjoy safely dried food at home.
Created from high-quality and BPA-free plastic materials, this dehydrator gets your food drying fast and safely without worrying about poisoning from rust and other metallic byproducts.
2. History
The Samson Brands has been fully operative since 1992. The birth of the Samson Brands some 27 years ago brought about a new era in the dehydrator manufacturing industry.
Known for creating high-tech and powerful dehydrators that operate efficiently and safely, the Samson Brands aims to advance healthy living both at the household and commercial level.
3. Capacity
The Samson Silent 6-tray comes packed with 6 removable trays. The trays are 13 by 12 inches in size and can possibly dehydrate 6 ½ square feet of food that's enough for 1 to 2 people. If you're looking for a 6-tray alternative, check out L'Equip 528 Six Tray Food Dehydrator or Magic Mill Pro or Aroma Professional AFD-815B
4. Weight And Dimensions
In size, the Samson Silent 6-tray dehydrator is 17.75 inches long, 13.5 inches wide and 12.5 inches high. That's huge right? Of course, it's not one of the smallest dehydrators in the market but the large size allows for comfortable placement of all the relevant accessories and features.
The unit weighs 15.5 lbs., which makes it a bit heavier for a dehydrator of its kind.
5. Warranty Period
Buy this unit and get a 5-year limited warranty. The Samson brands trust in the work of their hands and that's why they give you a 5-year warranty as an assurance that what they are selling to you is a high-quality product that will serve you for a good number of years.
6. What's Included
The Samson Silent 6-tray is the best 6-tray dehydrator for money. It ships with tons of high-quality and performance-oriented features listed here being the main ones.
6 mesh liners for drying smaller items
removable clear door cover which slides smoothly over the front of the trays
a plastic drip tray placed conveniently at the lower end to help catch drippings and crumbs
instruction manual
a food preparation chart for preparing over 40 items
7. Key Features
7.1. Great And Compact Design
The Samson Silent 6-Tray dehydrator operates silently and quietly thanks to the outstanding design and power unit.
It cannot compare with other dehydrators when it comes to compactness and flexibility. Owing to its compact nature, it won't take up lots of your countertop spacing.
7.2. Temperature Decrease And Increase Buttons
The Samson Silent has 8 temperature settings that allow for easy temperature adjustment.
The digital decrease and increase buttons let you regulate the temperature from 95 degrees F to 155 degrees. That's great considering that different foods dry at different temperatures.
7.3. Powerful Fan
The Samson Silent 6-tray dehydrator has a powerful fan on its rear that allows for efficient heat distribution.
Due to its abilities, the fan allows for all-around distribution of air, which ensures that all foods in the dehydrator will be properly dried. You don't need to worry about issues with some foods not getting dried properly.
7.4. Super Silent Dehydrating Mechanisms
The superior internal mechanisms in this dehydrator let it operate smoothly and quietly. You won't need to worry about extremely high and unbearable noises.
You can use it to dry foods at night without needing to worry about overbearing noise.
7.5. Five Usable Push Button Control
This amazing dehydrating unit includes five fully usable push button controls which are placed conveniently on the topmost anterior area of the dehydrator. The buttons come with a huge LCD display. The LCD display allows for easy temperature control and timing.
You can easily set the timer to any time of your choice ranging from 30 minutes to 19 hours.
7.6. Strong And Durable
The Samson Silent is elegantly and durably designed. It comes in an attractive black plastic casing and rectangular design.
The high-grade materials used in Samson Silent construction makes it super durable and reliable. You are going to use it for decades before you need to get another one.
8. What We Like/What We Don't Like
Pros
Powerful and conveniently located fan
Digital controls
Easy to use and maintain
Low price
Operates silently
Removable trays
Cons
A bit large
Not very durable
9. Conclusion
The Samson Silent 6-tray dehydrator is a well-designed horizontal type of a dehydrator that has high-grade and durable accessories. The digital controls are efficient while the fan is conveniently located to guarantee even air distribution.
It's durable and reliable. It comes with a longstanding 5-year warranty.
It's offered at an affordable price when compared to similar models. That simply means it the perfect choice for most modern households.
You can buy it now and start dehydrating your foods easily and efficiently.
Eric is the owner, author, content director and founder of dehydratorlab.com. He is the lead architect and the main man in matters concerning dehydrators, their accessories, guides, reviews and all the accompaniments.Whenever he is not figuring out simple solutions (hacks) involving cookery and their eventual storage, you will find him testing out the different types of dehydrators, to bring us the juicy details regarding these devices.He is a foodie enthusiast, pasionate about making jerky has a knack for healthy and tasty food and won't hesitate to share out any ideas that might be of value around this subject.