I recently purchased the Cosori 6 Trays Food Dehydrator, and I have to say, it has been a fantastic addition to my kitchen! In this review, I'll cover the different attributes of this product, like its features, benefits, quality, and design.
I'll also list its pros and cons, compare it with other products, and provide a conclusion on whether it's worth it or not. Additionally, I will share examples of the recipes I've cooked using this dehydrator.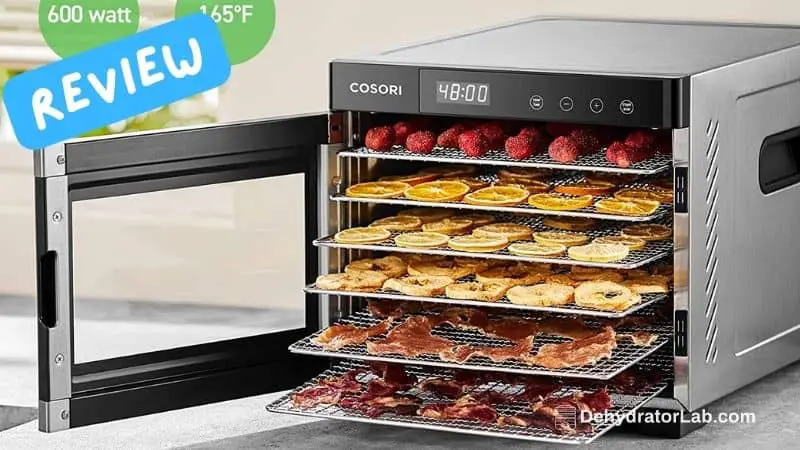 As an Amazon Associate, I earn from qualifying purchases. If you make a purchase after clicking on a link I may earn a small commission at no extra cost to you if items are purchased.
TL;DR (Summary)
Overall, I highly recommend COSORI Food Dehydrator for Jerky with 6 stainless steel trays for its performance, design, and value.
Using the Cosori dehydrator, I've successfully made beef jerky, and fruit leather, and dehydrated various fruits and vegetables like apples, pears, mangoes, carrots, and potatoes. I've made some fantastic banana chips with this dehydrator, and they turned out amazing. I've also dried herbs and zest for homemade teas and seasonings.
This Cosori dehydrator is a great choice for anyone looking for an affordable and user-friendly dehydrator. It has a sleek and modern design, and its quiet operation makes it convenient to use at any time.
The six stainless steel trays are durable and easy to clean, and the digital temperature control allows for precise adjustments up to 72 hours with automatic shut-off.
The only drawbacks are the limited maximum temperature and some issues with the mesh sheet and plastic tray. However, these issues can be easily resolved by using alternative sheets or trays.
I would recommend the Cosori 6-Tray Food Dehydrator to those new to dehydrating or looking to upgrade from older models because of its overall top-notch performance, excellent design, and outstanding customer service (you can place your order with peace of mind knowing that any issues will be swiftly resolved). I highly recommend giving it a try for a variety of tasty and healthy treats!
Detailed Review
Unboxing and First Impressions
The Cosori Food Dehydrator arrived fully functional and ready to use. It comes with a user manual that's easy to understand.
I did the recommended test run for 30 minutes without food, and the machine completed the cycle normally, alerting me with a few beeps at the end, just as described in the manual.
Features & Benefits
The Cosori Food Dehydrator is affordable, quiet, and easy to use, with a clear display and various temperature controls. It has six stainless steel trays, offering ample space for dehydrating various food items simultaneously.
The glass door allows you to monitor the progress of your food easily as you can see through it and open or close it without the machine shutting off. The door also has a magnetic catch on both the top and bottom, making it easy to open and close.
The built-in handles make it convenient to carry and store.
The digital temperature control and programmable digital timer ensure accurate and consistent results.
The rear-mounted, horizontal drying system is a huge plus, as it ensures everything gets done in the same time frame without needing to move trays around.
Capacity and Versatility
The Cosori dehydrator's six trays offer enough space to accommodate a variety of food items. Whether you're making jerky, drying fruits, or preserving vegetables, the unit is versatile enough to handle all your dehydration needs.
The stainless-steel wire trays provide ample space for drying and are perfect for placing your food and are dishwasher safe for easy cleaning. The rectangular shape of the trays also maximizes usable space compared to round models, making it more efficient for large batches.
Quality & Design
The Cosori dehydrator has a modern design with a small footprint, which makes it an attractive addition to any kitchen. It is quite deep tho, taking up most of the depth of my counter. However, it has a grab handle on both sides, making it easy to lift and move.
The stainless steel trays are durable and easy to clean, while the rear-mounted horizontal drying system ensures even drying without the need to move trays around. The dehydrator also comes with a recipe book and user manual to help you get started on your dehydrating journey.
User-Friendly Controls
Navigating the controls is a breeze, with a touchscreen for temperature and time adjustments. You can set the temperature anywhere between 95 and 165 degrees Fahrenheit in one-degree increments. The time can be set from 30 minutes up to 48 hours in 30-minute increments.
Whisper-Quiet Operation
You'll be pleasantly surprised by how quiet the Cosori Dehydrator is while running. You can have a conversation right next to it without any issues, as it won't drown you out or be overbearing.
Even Heating and No Tray Rotation
The dehydrator's door swings open nearly 180 degrees for easy access. The back features a protective mesh covering the fan and heating element. What sets this dehydrator apart from stackable styles is that you don't need to rotate the trays. The heat is distributed evenly from the back to the front, ensuring consistent drying throughout the entire volume.
Accessories
The dehydrator comes with one mesh sheet and one plastic tray. Although it comes with one mesh sheet, I wasn't impressed with it since the fruit stuck to it.
However, I found that purchasing silicone sheets from Amazon, which were inexpensive and easy to cut, made a significant difference. These sheets can be easily cut to size and help prevent food from sticking to the trays. Using the plastic tray as a drip/catch pan can also help keep the dehydrator clean.
Pros
Affordable price compared to other similar dehydrators on the market
User-friendly with a clear display and easy-to-use controls
Quiet operation, which makes it convenient to use at any time without disturbing others
The stainless steel design gives it a sleek and modern look, making it a great addition to any kitchen
Glassdoor allows for easy monitoring of the dehydration process without opening the door and disrupting the temperature
Comes with six stainless steel trays that are easy to clean and are durable
Digital temperature control that can be adjusted up to 72 hours with automatic shut off
Rear-mounted, horizontal drying means everything gets done in the same time frame with no need to move trays around
Can be used to make a variety of healthy snacks, such as jerky, fruit leather, and dehydrated fruits and vegetables
Comes with a cookbook that provides recipes and tips for making different snacks
Cons
While I've had a great experience with the Cosori Food Dehydrator, there are a few more things worth mentioning:
Some users found that the mesh sheet provided doesn't work well, as fruits tend to stick to it
The plastic tray that comes with the dehydrator is not very useful and may only be used as a drip/catch pan
Some users found that the plastic trays are not very durable and may warp over time
The screen in the back can be difficult to clean. The fan may be difficult to clean and may require disassembling the unit
Some users found that the temperature control is not very accurate and may not reach the desired temperature, especially at higher temperatures
The maximum temperature only goes up to 160 degrees F, which may not be sufficient for some types of dehydrating, such as chicken jerky.
Maintenance
To prolong the life of your dehydrator, regular cleaning and maintenance are essential. Although the screen in the back can be challenging to clean, taking the time to disassemble and clean the unit properly will ensure optimal performance.
Be cautious when cleaning to avoid damaging the fan or motor with water.
Here are some tips for use from hands-on experience:
When placing the trays in the dehydrator, make sure to put the smooth, rounded edges in to avoid scratching the interior.
If food doesn't dry to the desired crispness, try increasing the temperature by a few degrees and extending the cooking time. Remember to use parchment paper underneath to make removal easier.
Use silicone sheets instead of the included mesh sheet to prevent fruit from sticking and for easier cleaning.
For recipes requiring higher temperatures, like chicken jerky, you may need to pre-cook the chicken at the recommended temperature in the oven before dehydrating to ensure food safety.
Recipes Ideas
To make the most of your Cosori Food Dehydrator, consider trying these recipes and ideas:
Vegetable Chips
Dehydrate thinly sliced vegetables like zucchini, beets, or sweet potatoes for a healthy, crunchy snack. Experiment with seasoning blends to create unique flavors that suit your taste buds.
Fruit Leather
Puree your favorite fruit combinations and spread them onto silicone sheets before dehydrating. This creates a delicious, chewy snack perfect for kids and adults alike.
Homemade Tea Blends
Dehydrate herbs and fruits such as mint, chamomile, lemon, and orange zest to create custom tea blends. These make great gifts or can simply be enjoyed at home.
Dog Treats
Use the dehydrator to make homemade dog treats using lean meats and vegetables. Your furry friend will love healthy, preservative-free snacks.
Dried Soup Mixes
Dehydrate vegetables like carrots, onions, celery, and bell peppers to create a shelf-stable soup mix. When you're ready to enjoy, simply rehydrate the vegetables in boiling water and add your choice of protein and seasoning.
Granola
Combine dehydrated fruits and nuts with rolled oats, honey, and spices to make your own granola. Store in an airtight container for a convenient and healthy breakfast option.
Potpourri
Dehydrate flowers, herbs, and fruit slices to create homemade potpourri. Mix with essential oils for a natural and fragrant addition to your home.
Remember, the possibilities with a food dehydrator are almost endless. Don't be afraid to get creative and try new combinations to find the perfect recipes for you and your family. The Cosori 6 Trays Food Dehydrator makes it easy to explore the world of food preservation and enjoy the fruits of your labor all year round.
Comparison with Magic Mill 7 Trays & Tribest Sedona Express
I have previously owned several dehydrators, including round stackable Nesco dehydrators and the Magic Chef dehydrator. Compared to my previous experiences with older cylindrical-looking dehydrators, the Cosori model is a breath of fresh air.
Its straightforward and user-friendly controls make it an attractive option while it is often praised for its combination of quality, performance, and affordability, making it one of the best in its class according to many surveys and reviews.
What about the higher-end models like Magic Mill 7 trays & Tribest Sedona Express?
The Magic Mill Food Dehydrator Machine with 7 Stainless Steel Trays is a more expensive option that comes with an additional tray, but it also offers a higher maximum temperature of 167°F, which can be useful for certain types of dehydrating.
The Magic Mill also has a digital thermostat and timer, but it lacks a glass door, which makes it more difficult to monitor the dehydration process.
On the other hand, the Tribest Sedona Express SDE-S6780-B Digital Food Dehydrator is a high-end option that offers more advanced features, such as dual-fan technology and a digital display that shows the temperature and time.
It also comes with nine stainless steel trays, which provide more drying space than both the COSORI and Magic Mill dehydrators. However, the Tribest Sedona is much more expensive than both the COSORI and Magic Mill, and may not be the best option for someone who is just starting out with dehydrating.
Overall, if you are looking for a budget-friendly and user-friendly dehydrator, the COSORI food dehydrator for jerky with 6 stainless steel trays is a great choice.
If you need a higher maximum temperature, the Magic Mill Food Dehydrator Machine with 7 Stainless Steel Trays is a good option. If you are looking for more advanced features and have a larger budget, the Tribest Sedona Express SDE-S6780-B Digital Food Dehydrator is worth considering.
Conclusion
The Cosori 6 Trays Food Dehydrator is an excellent investment for anyone looking to preserve food and create healthy, delicious snacks, both casual and serious dehydrating enthusiasts.
Its user-friendly design, efficient drying system, and affordability make it a fantastic choice for both beginners and experienced dehydrators.
The few cons mentioned above are minor and can be easily resolved with some adjustments or additional accessories so COSORI Food Dehydrator for Jerky with 6 stainless steel trays is definitely worth considering.
Happy dehydrating!
Eric is the owner, author, content director and founder of dehydratorlab.com. He is the lead architect and the main man in matters concerning dehydrators, their accessories, guides, reviews and all the accompaniments.Whenever he is not figuring out simple solutions (hacks) involving cookery and their eventual storage, you will find him testing out the different types of dehydrators, to bring us the juicy details regarding these devices.He is a foodie enthusiast, pasionate about making jerky has a knack for healthy and tasty food and won't hesitate to share out any ideas that might be of value around this subject.