Bigger and smarter than Nutriechef rivals, the NESCO FD-1018A is a top-of-the-line dehydrator that gets you drying more stuff and faster without breaking the bank.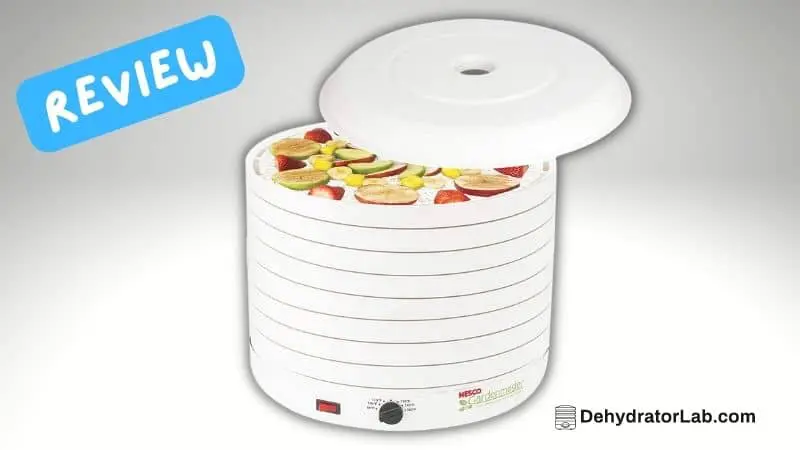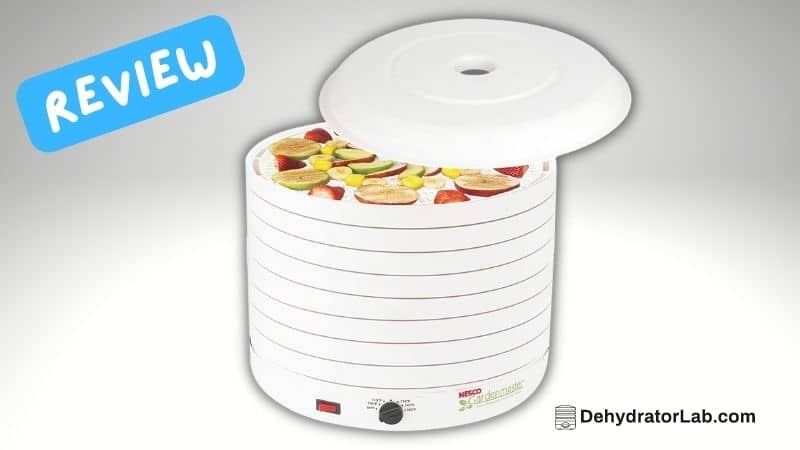 As an Amazon Associate, I earn from qualifying purchases. If you make a purchase after clicking on a link I may earn a small commission at no extra cost to you if items are purchased.
This is a mid-range kitchen appliance that's packed with high-end features including one of the highest dehydrating power ratings.
This food dehydrator is rated at 1000W meaning it won't eat up lots of your time when drying foods. Actually, while other dehydrators will take up to 24 hours to fully dry your food, this dehydrator will dry your food in a matter of hours. It's a lower-superiority model but very simple to use and clean.
What's so good about it is that using it for long hours won't cause overheating as it is the case with other lower-superiority models. It's basically one of the best kitchen dehydrators to buy if you want to replace your everyday snacks with healthier appetizers such as Kale chips.
1. Safety
The mere fact that this dehydrator has been made right here in the USA speaks volumes about its overall quality and safety.
Almost all the parts that come into direct contact with your food are plastic so there is minimal risk of metallic components or rust contaminating your food.
Importantly, Nesco puts it clear that the plastic materials used here are BPA-free.
2. History
The National Enameling and Stapling Company is one of the oldest factories in USA and it's actually listed in the National Register of Historic Places.
Located in Baltimore, Maryland, Nesco was constructed in 1887, and was organized to carry out 4 major functions: manufacture tin ware and enameled and japanned ware, storage, warehousing, and distribution.
Nesco together with American Harvest were acquired by The Metal Ware Corporation in 1981 and currently has 4 lines of dehydrators.
3. Capacity
The Nesco FD-1018A ships with 8 dishwasher trays from the factory and could be enough for 3-4 people. Credit to its powerful motor, though, there's an option to expand it up to 30 trays.
4. Weight And Dimensions
The NESCO FD-1018A is not extremely big in size. It measures only 17 inches long, 15.5 inches wide and 14 inches high.
It's compact enough to be comfortably placed on any kitchen counter. The fan's size is 4.5 inches meaning its big enough to guarantee quick drying of food.
5. Warranty Period
When you buy this dehydrator, you will get a one-year limited warranty. The warranty period is not very long but I am sure by the end of 12 months, you will have already known if the dehydrator is worth your money or not.
6. What's Included In The Package
This high-power dehydrator ships with virtually everything that you need to create more innovative recipes:
Clean-A-screen
Recipe book
Eight drying trays
Eight mesh screens
Fruit roll sheets
7. Key Features Of the NESCO FD-1018A
Exceptional Power Capacity
Running on a superior 1000W power unit, this dehydrator is more powerful than most similar models. It's innovatively and superbly designed to deliver premier dehydrating results in all conditions.
With this dehydrator, your food will be dried in hours, unlike other models that could take a day or two.
Expandable
Not many food dehydrators in the market today can be expanded. But as with NESCO FD-1018A, you can increase the trays. Originally, the dehydrator comes with 8 trays that offer utmost flexibility for you to create your desired snacks.
The additional tray adds to its overall flexibility. As for its extraordinary design flexibility, it makes the dehydrator easy to place on the top of kitchen counters.
Superior Fan
The dehydrator's fan does more than just cooling the machine to increase longevity. The fan is powerful enough to run at 2400 revolutions per minute. The high operation speed boosts the dehydrator's food drying speed and efficiency.
Adjustable Thermostat
Not many dehydrators have an adjustable thermostat. As for the few smart dehydrators like NESCO FD-1018A that have this amazing feature, they offer a steady dehydrating experience.
The adjustable thermostat works to control the temperature from 90 to 150 degree Fahrenheit depending on the type of food being dried.
Vita-Save External Body And Air Drying System
NESCO FD-1018A has a vita-save exterior body that works in an efficient way to block external light from reaching the food being dried to lower its nutritious content.
As for the Converga-flow air system, it directs air down to the direction of the pressurized compartment after which it horizontally directs it to all the trays until it reaches the center.
The smooth flow of air ensures that you won't have issues to do with flavors mixing with each or movement of trays.
8. What We Like/What We Don't Like
Pros
Price
Compact in design and size
Fast and efficient
Expandable dehydrating spacing
Even drying
Cons
9. Conclusion
NESCO FD-1018A is a time-tested food dehydrator that's reputed for its amazing design and food drying capabilities. It has a flexible design and enough dehydrating power so it will get your food dried before you even know it.
You can dry huge food quantities since the dehydrator has expandable dehydrating trays. It comes with a variety of high-end accessories and features which make it the perfect choice for all.
Despite being a superior, well-designed, and a performance-oriented dehydrated, it's one of the most affordable options in the market today.
Eric is the owner, author, content director and founder of dehydratorlab.com. He is the lead architect and the main man in matters concerning dehydrators, their accessories, guides, reviews and all the accompaniments.Whenever he is not figuring out simple solutions (hacks) involving cookery and their eventual storage, you will find him testing out the different types of dehydrators, to bring us the juicy details regarding these devices.He is a foodie enthusiast, pasionate about making jerky has a knack for healthy and tasty food and won't hesitate to share out any ideas that might be of value around this subject.