With an increasing interest in modern food preservation methods, dehydrators are now a standard feature in most kitchens.
The NutriChef dehydrator brand is among a few other manufacturers that give you value at a very affordable cost.
Most of this brand's machines get your job done with an equal performance to top tier brands, only that you don't have to break the bank for them.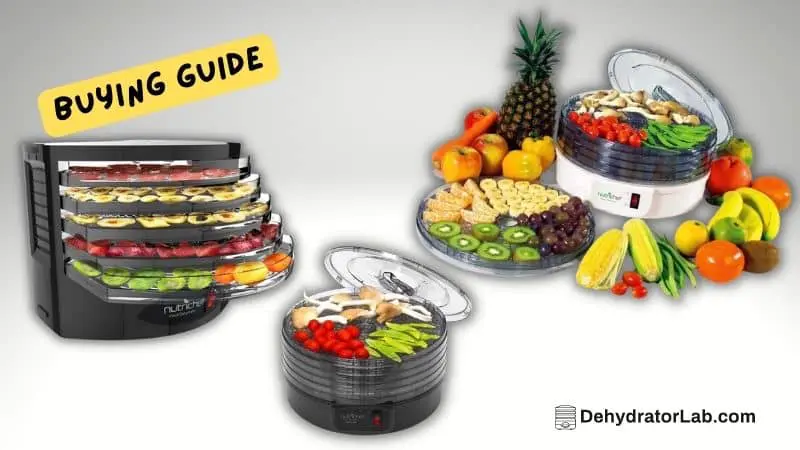 As an Amazon Associate, I earn from qualifying purchases. If you make a purchase after clicking on a link I may earn a small commission at no extra cost to you if items are purchased.
Nutrichef Dehydrator Top Models Reviewed
In this article, we look at some of the best Nutrichef dehydrator reviews based on the latest models found in the market. Read on!
Best Nutrichef Dehydrator –NutriChef PKFD19BK Electric Countertop
We have faith that any of the top 3 models could suit your food dehydration needs. But from a general point of view, we consider the NutriChef PKFD19BK Electric Countertop (buy on Amazon) as the best NutriChef dehydrator among the three NutriChef dehydrators.
Reason being, it has a relatively lower price compared to its siblings but provides equal performance. Moreover, it's quite performance endears it to the users.
Our Top 3 Picks
1. NutriChef PKFD19BK Electric Countertop –
Best Compact Nutrichef Dehydrator
The NutriChef PKFD19BK Electric Countertop provides you with a comfortable and convenient way to dehydrate your food. This is made possible by the one operational button that not only minimizes operations but also reduces the learning curve.
Nutrichef PKFD19BK allows you to dehydrate a wide variety of foods. Its versatility allows you to dry and preserve meat, fruits, and vegetables among other delicacies.
Its five stackable trays provide you with enough space to place your food, while allowing easy flow of air, thus effectively drying your food. What's even more interesting are the stain resistant and removable trays that are super easy to keep clean regardless of the type of food.
You may also like the dehydrator's small footprint which makes it ideal for persons with small kitchens and limited working spaces.
Moreover, its stealth-like operation ensures a calm working environment.
Worth of mention here is that you get 97 percent of your food's minerals and nutrients preserved, ensuring that your health isn't compromised.
On the downside, this machine doesn't have an auto timer bringing up the need for constant checks on the food lest it gets spoilt.
In other cases, the food tends to dry unevenly. For instance, you may have the food in the upper trays taking a longer time to dry compared to the lower decks.
But considering how much it costs and the functionality, the disadvantages are a small price to pay, in my opinion.
It is an excellent beginner dehydrator for those who aren't sure of their love for dehydrated foods and are on a tight budget.
Features
Five stackable and removable food trays
A temperature control function that reaches a maximum at 185 degrees Fahrenheit
One operational button
High heat circulation function
Pros
It is a multi-tier dehydrator that allows you to preserve a large variety of food
Easy to use because of the single operational button
Removable and stain resistant trays makes it easy to clean
Preserves a wide variety of foods including meat, organic healthy snacks from fruits
Alloy's high heat circulation through the trays for the longer shelf life of the food
Retains 97 percent of the food minerals and nutrients
The flip-able trays allow you to contain both the thin and thick food slices
Lightweight
Compact design
Cons
Food doesn't dry evenly
Doesn't have an auto-timer
2. Upgraded 2017 NutriChef –
Best Multi-Tier Food Preserver
Just as its name suggests, the upgraded 2017 NutriChef dehydrator features additional attributes compared to the earlier models. It has a multi-tier design that consists of five stackable trays providing you with plenty of space where you can place different kinds of food at once.
Moreover, you can dry food using these trays without necessarily using the dehydrator. The trays are also easy to clean thanks to their removable nature.
The "see me through" counter top, and body design makes it convenient to use. You can monitor the dehydration process without having to open it every time. You only need to give it some timely glances while busy on other things.
It has the ability to dry and preserve a wide range of food while retaining 97 percent of the minerals and nutrients. This makes it a healthy choice compared to the other food preservation methods.
More so you can use this machine to prepare extremely different foods. For instance, you can make oil-free veggie chips for your children, at the same time hard beef jerky for the adults, thus ensuring that your entire household's culinary needs are well catered for.
The downside about this dehydrator is it's the lack of a temperature gauge. It operates on a constant temperature of 189 degrees Fahrenheit. While this temperature might be suitable for foods such as meat, it doesn't qualify for all.
Like its sibling above, it does not have an auto timer; therefore, you need to keep an eye on it. This kind babysitting limits your movements.
It is a good bargain for those wishing to stock up different varieties of food without parting with top dollar.
Features
One button operation
A maximum temperature of 189 degrees Fahrenheit
Multi-tier design
High heat circulation
Pros
Easy to use
Preserves a wide variety of food
Five stackable trays provides enough space for food
Smooth circulation of air due to the design
Retains up to 75 percent of food vitamins and minerals
Easy to clean
Cons
Lacks an auto-timer
Has a single on a temperature
A little bit noisy
3. Pyle Home PKFD12 Nutrichef –
Best Bang For Your Buck
If you needed some few extra features on your nutrichef food dehydrator at an affordable cost, then the PYLE HOME PKFD12 may be the machine for you.
It boasts temperature control feature that allows you to adjust it to a maximum temperature of 180 degrees allowing you dry and preserve a wide range of foodstuffs, ranging from vegetables, herbs and flowers to beef jerky.
It operates on one button that allows you to get it started; therefore, no steep learning curve. You only perform the basics, such as slicing up your foodstuffs and placing them in a required manner.
The trays are arranged in a stackable layout which allows the free movements of air inside the system hence enabling your food get evenly dried. More so, the removable trays make them easy to clean.
Its transparent design makes it easy to operate and use. You can easily monitor progress without physically opening them.
It is a safe to use model because of the 180 degrees Fahrenheit maximum temperature. Moreover, it comes with a one-year limited warranty which may act as a cushion against loss in case of a malfunction.
You may also like its large capacity, which allows you to process large amounts of food saving you tons of time and headache. Its power consumption is rated at 250 watts and gets powered by a 110V to 120V 60 HZ voltage making it ideal for North American use.
The only downside that stands out is the lack of an auto timer, thus requiring you to be on the lookout when processing your food to rotate the trays to curb any over drying.
Features
Stackable trays
A temperature control system
A clear see me through countertop and walls
Pros
Has a larger capacity allowing you to dry and preserve large amounts of food
Preserves a wide variety of foods
Has a proper distribution of heat eliminating the need for constant checks
It is an energy efficient model
Has an adjustable tray height making it possible to prepare thicker slices or varieties of foodstuffs
Needs a simple preparation
Easy to access and operate
The temperature control allows you to make a decision
The trays can be used to dry the foodstuffs without necessarily putting them inside the dehydrator
Cons
A new and large unit is the NutriChef Electric Countertop NCFD10S food dehydrator. See our extended review of the NCFD10S.
Conclusion
NutriChef dehydrators offer value at a cheaper cost compared to other sophisticated brands. They are good to go right off the package and are way easy to use especially if you are starting out on matters concerning dehydration.
You can opt for one of them in your preparation for the winter period or journey or in the need of saving up on storage space.
What makes them stand out is that your food will retain the vital nutrients and vitamins as before the dehydration period.
Eric is the owner, author, content director and founder of dehydratorlab.com. He is the lead architect and the main man in matters concerning dehydrators, their accessories, guides, reviews and all the accompaniments.Whenever he is not figuring out simple solutions (hacks) involving cookery and their eventual storage, you will find him testing out the different types of dehydrators, to bring us the juicy details regarding these devices.He is a foodie enthusiast, pasionate about making jerky has a knack for healthy and tasty food and won't hesitate to share out any ideas that might be of value around this subject.