At a glance, the Nesco FD-1040 Gardenmaster Food Dehydrator seems like another overpriced and overrated unit.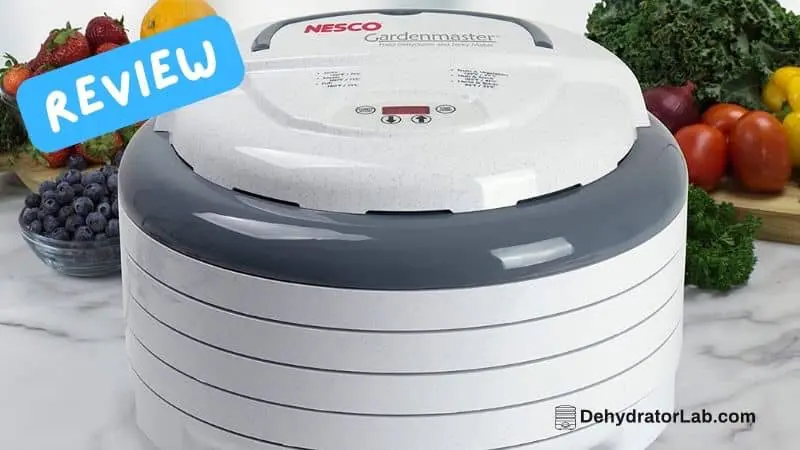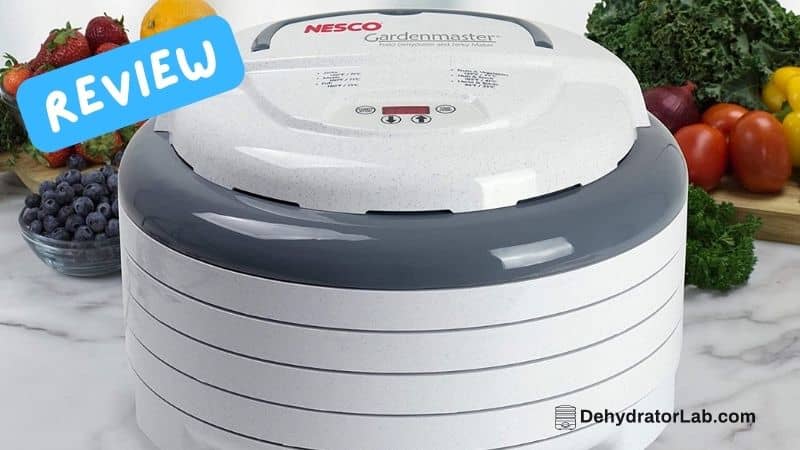 As an Amazon Associate, I earn from qualifying purchases. If you make a purchase after clicking on a link I may earn a small commission at no extra cost to you if items are purchased.
Nesco Gardenmaster Food Dehydrator Overview
But most of the people who have used it confirm that it's among the best offerings that have rolled out of Nesco's production lines.
Similar to other models in our collections of Nesco food dehydrators reviews, the FD-1040 Nesco Dehydrator has its ups and downs.
In one hand, we feel that it fits the bill if you are looking for a machine that you won't need to babysit during the drying process. All credit here goes to is built-in OFF timer and adjustable thermostat. The Nesco FD-1040 also edges out the competition with its patented Converga Airflow System – an interesting technology that we'll talk about in depth later in this article.
On the other hand, this dehydrator ships with 4 trays only. In my opinion, this is a huge let down especially for a machine coming at its price. Although it does offer a room to add up to 16 extra trays, we feel that the buyers deserve at least 6 trays to start with.
Let's not be victims of inference-observation confusion though. This Nesco FD-1040 Gardenmaster Food Dehydrator Review sheds light on the major strengths and weaknesses of this model to help you decide whether it's your unit of choice or not.
1. Safety
This machine has our thumbs up from a safety point of view. Nesco says that all the plastic parts that come into contact with your food are BPA-free. In addition, its 1000-watt heater is a promise that this machine has the oomph to handle your food at the right temperatures to inhibit bacterial growth.
Its all-opaque exterior design (a.k.a Vita Safe) also helps in retaining most of the food nutrients especially those that are susceptible to loss from light.
2. History
NESCO (National Enameling and Stamping Company) was started in the 1930s in Baltimore, Maryland. This company mainly dealt with the manufacturing and selling of electric roasters a.k.a portable ovens.
The brand name and its products were later sold to The Metal Ware Corporation (located in Two Rivers, Wisconsin) in 1981. This company also acquired the assets of yet another company, American Harvest and now markets most of its household products under the umbrella name Nesco/American Harvest.
Today, Nesco dehydrators fall into 4 major categories:
Jerky dehydrators e.g the FD-28JX (see it on Amazon)
Basic models line
Snakemaster line
Gardenmaster line (the FD-1040 is the latest addition here)
3. Capacity
The Nesco FD-1040 Gardenmaster Dehydrator ships with 4 trays each measuring 15.5 inches in diameter. This size might be a good fit for a small family of around 2 people.
If you have a large family (including pets) that really loves dehydrated treats, then the best idea would be to add more trays. Luckily, this dehydrator has been designed to support up to 20 trays.
Several online stores including Amazon and eBay stock them. You could also purchase them directly from the manufacturer's website.
4. Warranty
This dehydrator comes with a 1-year limited warranty that covers household use only. The warranty card (also available online here) has a toll-free number through which you can contact the manufacturer in case your dehydrator starts misbehaving.
5. Dimensions
In its most basic design, the Nesco FD-1040 measures 15.5'' by 15.5'' by 9.5'' and weighs around 9 pounds. The height (9.5'') will, however, change as you add more trays on top.
That being said, you might want to give proper consideration to the available space especially if you plan to use it under shelves or a cabinet.
6. Design And Color
I have to admit that the FD-1040 dehydrator kills it in terms of design. This is a circular model with an attractive and futuristic all-white design that will definitely make a statement in almost any kitchen.
7. Included In The Package
The Nesco FD-1040 ships with:
A No-Spill Fruit Roll sheet with exclusive 'no spill' lips that allows you to dry fruit rolls and other semi-liquids.
Clean-A-screen for drying small items that would otherwise fall through the trays such as spices, herbs, and potpourri.
A packet of Jerky Spice and cure to kick you off.
A 52-page recipe and instructions book.
8. Features
8.1 Programmable Digital Timer
I choose to begin with this feature because it's hands down, what makes the best food dehydrators, in my opinion.
This is a set-and-forget feature that allows you to set the drying time anywhere between 1 hour and 48 hours. It switches the machine off automatically after the expiry of the pre-set time.
A programmable timer is a vital add-on that brings the difference between a dehydrator that keeps you on your toes, and models that let you relax knowing that there are almost zero risks of your food getting burnt.
Worth noting is that this feature is commonplace with high-end units that are a couple bucks pricier than the FD-1040.
''Is a digital timer the best?'' Most people ask.
There is an ongoing debate between digital timers and the traditional mechanical dials. One thing that we can't deny is the fact that mechanical dials tend to last a lot longer. On the downside, most of them involve a lot of guesswork when setting the temperature between two dots.
That's where a digital timer takes the lead. This technology allows you to be as exact as possible especially when dealing with delicate foodstuffs such as herbs.
8.2 1000-Watt Heating Unit
Leafing through most of our dehydrator reviews, you should easily realize that most models have a 500-600-watt heating range.
Dehydrators within this range such as the Excalibur 3900B work just fine. However, power is your friend when drying your food. And a machine that can offer much more than the standard range definitely has the upper hand.
The Nesco FD-1040 brings a whopping 1000 watts of drying power. This makes it twice as powerful as the Hamilton Beach 32100A – another affordable and highly recommendable dehydrator (see its review here).
Well, a higher drying power translates to a slightly higher power consumption rate too. The key advantage, however, is that the drying time is tremendously reduced with the Nesco FD-1040. For the record, this dehydrator promises to dehydrate your apple chips in utmost 6 hours- a process that takes upwards of 12 hours and up to 24 hours on a typical machine.
8.3 Adjustable Thermostat
Honestly, you really don't want a dehydrator that won't allow you to set the recommended drying temperatures for particular foods.
Low-end, fixed-temperature models limit you to foods that can only be dried within their heating range. In most instances, it's almost impossible to dehydrate foods that dry at a higher temperature and those that require a lower heat range from the same machine.
This is the versatility that an adjustable thermostat offers. The Nesco FD-1040 lets you dry your foods at between 90℉ and 160℉. This is another way of saying that you are free to dehydrate virtually all foods that can be dried using a dehydrator for storage.
8.4 Top-Mounted Fan
Similar to its siblings, the Nesco FD-1040 features a top-mounted fan that makes 2,400 RPMs (rotations per minute) according to the manufacturer.
The positioning of the motor is yet another heated debate with aggressive contestants on both sides. Without going so much deep here, bottom-mounted fan dehydrators are thought to speed up the drying process since they tend to apply a ''pull'' system.
The major caveat with these models, however, is that food debris and juices tend to fall right into the fan and motor chamber underneath the trays. This makes the cleaning process quite daunting and might even ruin the motor at worse.
What about a top-mounted fan?
These fans have no issues with food particles falling and creating gunk around them since, well, they are on the 'roof.' On the downside, these models are said to lead to uneven drying especially on the trays at the bottom.
While this is partly true, Nesco seems to have found a solution for it with its patented Converga-flow air flow technology (covered in-depth below). In addition, the manufacturer says that this fan makes 2,400 rotations per minute. This speed compliments the beastly 1000-watt heating element in creating enough drying power even with upwards of 15 trays loaded on the machine.
8.5 Converga-Flow Action Technology
The Converga-Flow Action is Nesco's patented technology that it employs in its Gardenmaster line. This design aims at creating a drying machine that offers the benefits of both the rear-mounted fan and the top-mounted fan dehydrators.
In these models, heated and pressurized air is forced through a chamber that runs across the middle. As the hot air rushes vertically, some of it is forced horizontally through air channels that direct it across the food on the trays.
Horizontal airflow is regarded as the best in terms of offering even drying. In addition, this air flow is also said to minimize the transfer of flavors across the trays.
9. What We Like/What We Don't Like
PROS
An adjustable thermostat (90℉-160℉)
Digital timer (switches the machine off automatically)
Can be expanded to accommodate 20 trays
Fair price for what it offers
Uses a high wattage heater (1000 watts)
Top-mounted motor won't suffer damage due to food particles and juices
Converga-action air flow minimizes drying time
Rotating the trays is not necessary
Offers a large drying capacity
CONS
Comes with 4 drying trays only
Additional trays come at a premium cost
9. What Previous Buyers Say About It
Going through the reviews section, it's evident that the Nesco FD-1040 Gardenmaster Dehydrator has received a lot of love from its previous users.
There are 3 things that most reviewers tend to direct their praises to when giving their feedback about this dehydrator: its country of origin (USA), 1000-watt heating power, and a digital timer.
Homeowners who have used less powerful models before attest that the extra watts that the FD-1040 uses do make a considerable difference in terms of time and results. Most of them also do note that they no longer need to rotate the trays mid the drying process.
The digital timer and automatic OFF switch have also attracted a lot of positive feedback. One of the buyers really appreciates that you won't have to wake up at 3 am to switch the dehydrator off.
A Few Complaints
The major complaint that most buyers raise is the number of trays that this dehydrator comes with. Most of these reviewers state that 4 trays just don't cut it even for a small family.
Actually, one user notes that the 4 trays produced a half bag of chips using 5 potatoes. This buyer advises you to get at least 2 more trays especially if you'll be making treats for your pets too.
The expandability design of this dehydrator has been received with a lot of praise from the previous buyers as well. However, several of them note that it won't offer the same results when loaded with 20 trays as the manufacturer claims.
Two of the users say that the maximum number of trays that the Nesco FD-1040 Gardenmaster can support without compromising the quality of the end product is 10. One of them adds that you could take the number to 15 but expect the dehydrator to take a little longer.
Conclusion
The Nesco FD-1040 Gardenmaster has a lot of offer at its price tag. A 1000-watt heating element and a top-mounted fan design are a combination you'll rarely find at below the $100 mark. That being said, you have our green light on this machine if you are looking for a high-end dehydrator that won't cost you the earth.
A product of the USA, this machine is well built and seems like it would serve you for a good number of years with good care.
One thing that catches our attention is its high-power heating element coupled with its high-speed motor and fan. As most of its previous buyers affirm, these 2 components make dehydration not only speedy but fun too.
Speaking of speed, it's quite interesting that you can add up to 20 trays on this machine (although we would advise to stack utmost 15). This high capacity makes the Nesco FD-1040 Gardenmaster Food Dehydrator a go-to model for large families.
The adjustable thermostat and its wide temperature range is a license to dry virtually anything that can be dehydrated. And the digital timer seals the deal by ensuring that you never wake up late in the night to switch the machine off.
Eric is the owner, author, content director and founder of dehydratorlab.com. He is the lead architect and the main man in matters concerning dehydrators, their accessories, guides, reviews and all the accompaniments.Whenever he is not figuring out simple solutions (hacks) involving cookery and their eventual storage, you will find him testing out the different types of dehydrators, to bring us the juicy details regarding these devices.He is a foodie enthusiast, pasionate about making jerky has a knack for healthy and tasty food and won't hesitate to share out any ideas that might be of value around this subject.