The Hamilton Beach 32100A Food Dehydrator is a good overall dehydrator if you are looking for an affordable, compact, and versatile unit.
32100A dehydrator has an eye-catching square shape design which is a relief from the cylindrical models that are commonplace in the market today.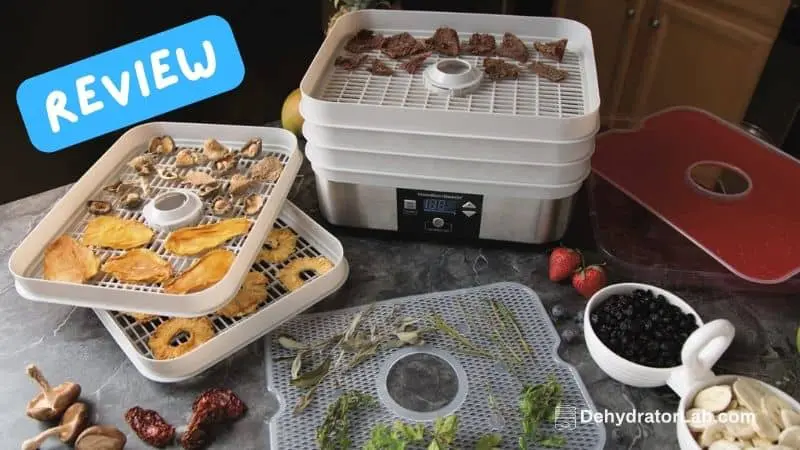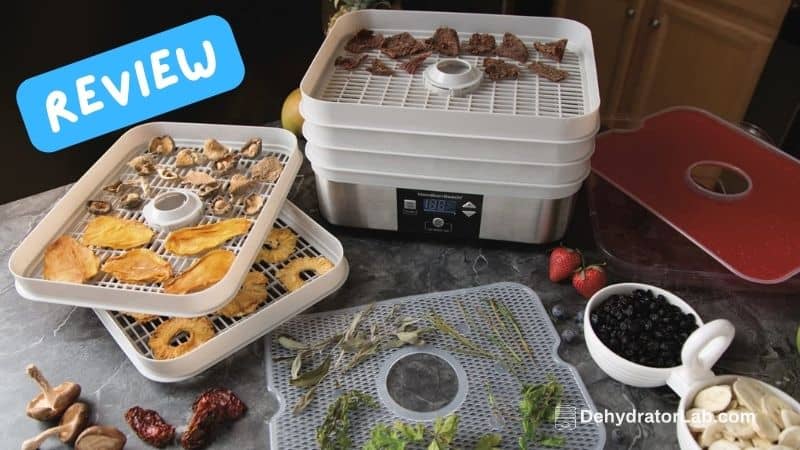 As an Amazon Associate, I earn from qualifying purchases. If you make a purchase after clicking on a link I may earn a small commission at no extra cost to you if items are purchased.
It's also notably compact and will, therefore, fit the bill for most dehydrated food lovers with limited space in their kitchens.
Of most importance, the 32100A dehydrator packs about all the interesting features that make drying food a little bit more enjoyable: an adjustable timer, an automatic shut off, and a 48-hour timer.
I should mention here that these features mostly come with dehydrators 20-30 bucks pricier than what this model comes at. So, if you want to enjoy a high-end unit without paying much, this could be it (more budget food dehydrators here).
This affordable digital food dehydrator relies on a continuous airflow. This means that once you've stacked the trays, you'll not need to rotate them again.
Actually, you won't need to do anything else until the timer goes off. Believe me, this is something that you'll really love especially if you are a first-timer or if you have other chores to attend to.
Speaking of airflow, this unit uses a 500-watt motor fan which is just the right size for a dehydrator of this size. The motor is placed at the bottom and this makes it notably stable on your shelves and tabletops.
This should eliminate all worries of the machine falling over even you left it unattended. I don't mean that it's heavy though. At around 8 pounds, this machine is really easy to move around to and from its storage point.
Capacity
The 32100A food dehydrator has a drying capacity of about 4.5 sq. ft. in total. It comes with 5 stackable trays. These trays' square design makes it possible to utilize all the available drying space unlike with circular ones.
Features
Digital Timer And Auto Shut Off
These are 2 great features that most homeowners look for when purchasing a food dehydrator. The digital timer allows you to set the machine to run for a certain amount of time between 1 and 48 hours depending on the type of food.
It also makes it easy to follow specific recipes to the latter. Besides eliminating all guesswork, a built-in digital timer means that you get the right and consistent results each time.
The automatic shut-off feature compliments the digital timer by stopping the dehydration timer after the preset time. This offers 2 definite benefits.
First, it means that you don't need to babysit the machine throughout the entire process. You can carry on some other tasks around the house as the dehydrator does its thing.
Second, it eliminates all worries of surprise fires in case you forgot to switch the machine off after the dehydration process.
Adjustable Digital Thermostat
It's also impressive that you can get a model with an adjustable thermostat at this price point. But what makes it even better is that it is digital.
A food dehydrator with an adjustable digital thermostat lets you make precise temperature adjustments, especially when dealing with delicate foods that require utmost accuracy, herbs, for instance.
The Hamilton Beach 32100A food dehydrator allows you to adjust the temperatures at between 1000F and 1600F. This range is just enough to dehydrate most foods including jerky.
BPA-Free Trays
This model comes with 5 stackable trays made from BPA-free plastics. These trays can be used to dry almost any type of food ranging from herbs to any type of meat. The manufacturer adds versatility to this machine by including a solid sheet and a fine sheet in the package.
These add-ons make it easy to deal with small foods that would otherwise fall through the spaces in the trays and into the motor beneath. The solid sheet also allows you to treat yourself and your family to home-made fruit rolls any time.
To avoid transferring flavors, it's recommended that your dry meats, vegetables, and fruits in different batches. Again, the manufacturer recommends you to use the solid sheet and fine sheet on the top trays only.
Good news for you, these trays are dishwasher-safe. This makes the cleaning process a lot easier and hassle-free.
Opaque Sides But A See-Through Top
This dehydrator has opaque side walls to prevent light from going through. This ensures that your food is not deprived of its light-sensitive nutrients such as vitamin A.
However, you won't have to open the lid to monitor the dehydration process since it is transparent and easy to see through. The essence here is to ensure that the airflow is consistent throughout the drying process for consistent results.
Continuous Airflow
The 32100A uses a heating element and a 500w motor fan located at the bottom.
The fan ensures a continuous airflow that guarantees even drying throughout the trays. This also means that you won't have to keep on moving the trays mid-way.
Dimensions And Color
The Hamilton 32100A food dehydrator is available in only 1 color: white. This model measures 10.5 x 13 x 11 in and weighs around 8 pounds (3.6kgs).
User Guide
If you are buying a dehydrator for the first time, you'll find the user's guide very helpful (see PDF). This guide has virtually everything that you need to know about operating the dehydrator.
It also packs numerous recipes on how to dehydrate different types of foods ranging from fruits to meats.
What We Like/What We Don't Like
PROS
Adjustable digital thermostat
Timer and automatic shut-off
Wide temperature range accommodates different food varieties
Trays are made of BPA-free plastics
See-through lid ensures consistent airflow and drying
Solid sheet and fine sheet add versatility
Dishwasher-safe trays make cleaning easy
Square trays allow you to utilize most of the drying surface
The package comes with an in-depth user guide and lots of recipes
Comes at a fair price
CONS
Fan can be noisy
Not big enough for a large family
Customer Reviews
The 4.1/5 star rating that the Hamilton Beach 32100A dehydrator has received from its 500+ reviewers so far is a clear indication that most homeowners are impressed by its performance.
One feature that tends to impress most buyers is its digital controls. One excited homeowner notes that while dials are hard to break, they don't offer the accuracy that comes with an adjustable digital thermostat and timer.
Most buyers also affirm that the Hamilton Beach 32100A is super easy to use. Besides the adjustable timer and thermostat, many of them also give credit to the automatic shut-off feature that eliminates the need to keep a constant watch over the machine.
On the same note, most users appreciate that all the trays are dishwasher-safe. Therefore, washing time is a breeze regardless of what you've been drying.
Several buyers also praise it for the fact that it can accommodate quite a huge amount of food despite its small footprint. One buyer says that he was able to load 3 pounds of beef into the trays without a struggle, making a delicious beef jerky.
As expected of everything, this Hamilton Beach dehydrator has its downs too. First, several reviewers note that the fan made this machine a little bit noisier than other models that they have used before.
A few users also note that their dehydrated food turned soggy. While it's not clear what led to that, there's a high chance that they used thick cuttings when drying the food.
On the upside, one reviewer says that the included guide on how to dehydrate food was accurate. So, you might want to read it carefully before dehydrating your food to avoid such inconveniences.
We also have clear guides on how to rehydrate jerky and vegetables on this site. You might want to leaf through them too.
Safety
Similar to other food dehydrators within its ballpark, the 32100a food dehydrator has most of its components crafted from plastics. What's so impressive, however, is that the trays are BPA-free and are, therefore, safe for your family.
This unit is also designed to offer an easy time to both experienced and first-time users who are learning the ropes. We do appreciate that it features an adjustable thermostat with a wide temperature range (more about this later).
The adjustable temperature range makes it possible to dry different types of foods with just the required amount of heat to inhibit bacterial growth. This enhances your safety even further.
History
Hamilton Beach isn't a stranger in most home and hospitality establishments. This is an American manufacturing company globally known for designing and distributing electrical appliances and equipment including coffeemakers, blenders, ovens, juicers, mixers, and toasters among others.
This company was founded in 1910 by Frederick Osius in Racine, Wisconsin. Osius derived this company's name from the names of his first two employees, Louis Hamilton (advertising manager then) and Chester Beach (mechanic).
Warranty
This dehydrator comes with a 1-year limited warranty from the manufacturer.
Spare Parts, Customer Care
You could purchase extra parts and accessories for your dehydrator from the manufacturer's website. In case your machine runs into problems, there are telephone numbers to reach the customer care team in the guide that comes with the package.
Conclusion
For the price, the Hamilton Beach 32100A has a lot to offer. This machine could make a good buy for outdoor enthusiasts who want to enjoy whole-some home-made jerky and dried fruits and veggies minus all the preservatives that store-bought treats come with.
The adjustable digital timer, thermostat, and auto shut-off are features that you won't find easily at this price point. So, consider them a huge bonus.
Considering its 4.5 sq. ft. capacity, this dehydrator won't cut it if you want a machine that can dry tons of food in one batch but most people find it quite enough for their dehydrating needs.
Perhaps the only major drawback of this dehydrator is that the fan and motor are located at the bottom. Models with this design tend to develop problems when food particles fall through into the motor.
However, you could prevent this by making sure that your food is cut to the right size before loading it onto the trays.
Eric is the owner, author, content director and founder of dehydratorlab.com. He is the lead architect and the main man in matters concerning dehydrators, their accessories, guides, reviews and all the accompaniments.Whenever he is not figuring out simple solutions (hacks) involving cookery and their eventual storage, you will find him testing out the different types of dehydrators, to bring us the juicy details regarding these devices.He is a foodie enthusiast, pasionate about making jerky has a knack for healthy and tasty food and won't hesitate to share out any ideas that might be of value around this subject.