As an Amazon Associate, I earn from qualifying purchases. If you make a purchase after clicking on a link I may earn a small commission at no extra cost to you if items are purchased.
Snacking while hiking, camping, or relaxed at home is a great way to boost your energy levels and have fun. Jerky snacks prepared at home using lean meat pieces in a dehydrator or oven offers portable and delicious meals for travelers, hikers, and cyclists.
We have a lot of homemade jerky recipes dehydrator and the list is endless since you can always devise new ideas. If you love preparing vegan or meat jerky at home but have no idea where to start, we have listed the best jerky recipes so you won't waste time doing so yourself.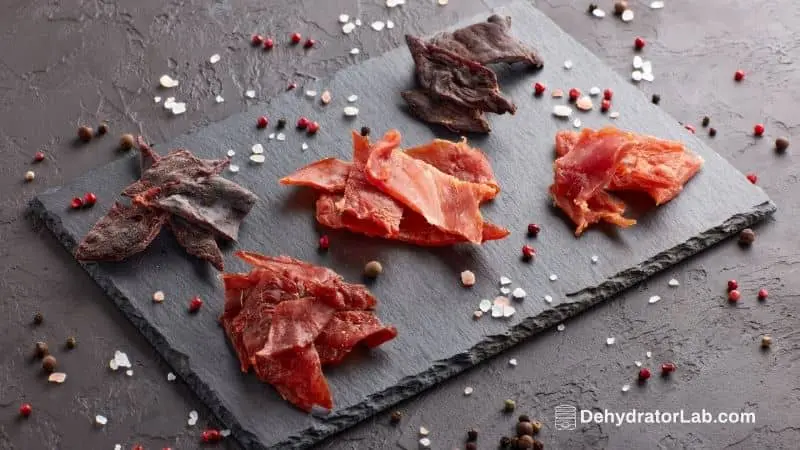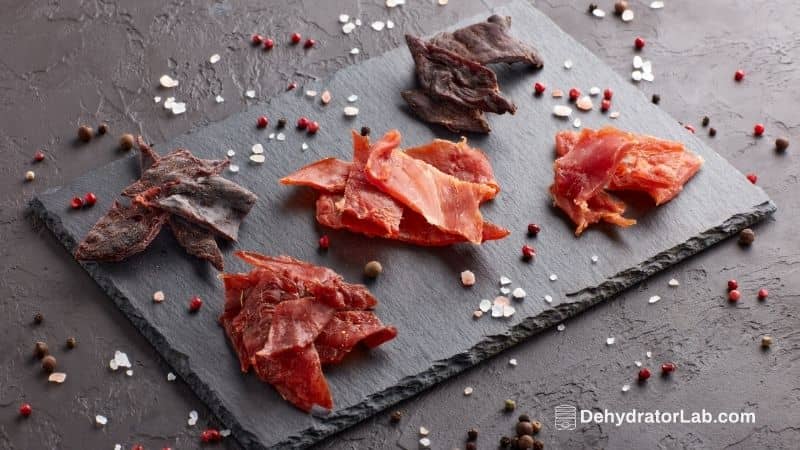 Have a look at these recipes and try preparing any of them, which mollifies your heart and equals your cooking skills.
8Mouth-Watering Homemade Jerky Recipes Dehydrator
Bloody Mary Beef Jerky
The Bloody Mary jerky recipe gets its name from the Bloody Mary alcoholic beverage, which is sourced from tomatoes. The recipe is made up of mixing spicy tomato flavors with lean meat and simmering them in an oven or for best results use a jerky food dehydrator.
Ingredients For Making Bloody Mary Jerky
Two tablespoons of salt and celery salt
Black pepper and horseradish
Cajun seasoning and cayenne
Dried tomato powder
Worcestershire sauce
Bloody Mary Mix
Lean beef or venison
Preparation Method
Get the Bloody Mary mix, horseradish, pepper, salt, and meat and place them in a zip-top bag. Cover the bag top and move all the bag's contents to ensure they're adequately coated. Now, put the bag in a refrigerator for about 6 hours.
Remove the bag's contents and rid off the liquid in them using a paper towel before you them on a foil-lined tray.
Get the cayenne, Cajun seasoning, tomato powder, and celery salt and mix them well in a bowl. Get your meat and sprinkle it with the marinade you just made, after which you should then place them in the dehydrator.
Let your meat dry for the next 7 hours.
Now, get your meat jerky and serve it at any time.
Dr. Pepper Beef Jerky
Dr. Pepper beef jerky is the favorite meat jerky for those who love Dr. Pepper. It packs the flavors and richness of the Dr. Pepper carbonated soft drink. Preparing this recipe doesn't require lots of costly and hard-to-find ingredients.
Essential Ingredients
Worcestershire sour sauce
Dr. Pepper
Deer or beef meat
Garlic powder
Onion powder
Pepper
Salt
Diced jalapenos
Preparation Method
Collect your ingredients and mix them properly in a bowl to create a marinara sauce.
Get the marinara sauce you just made and place it in a Ziploc bag (get it on Amazon) together with the meat and ensure it is adequately covered.
Allow it to refrigerate for about 8 to 12 hours.
Use of a paper towel, dry out all the liquid in the mixture. Now, place it on a wire rack and let it dry thoroughly for about 30 minutes. Once dry, put it on a dehydrator and set the temperature to 130 degrees Fahrenheit.
Those who have no dehydrator can use an oven. When dehydrating the meat in an oven, you have to set the temperature at 170 degrees Fahrenheit and dry for three hours.
When drying in an oven, you must keep opening and closing the door so that enough air flows in and out to streamline the cooking.
Sweet Cherry Beef Jerky
The sweet cherry beef jerky is one of the most delicious jerky mixtures you can enjoy at home. The recipe capitalizes on using fresh cherries, sugar, and almond to give a sweet and high-protein jerky perfect for both vegans and meat lovers.
Ingredients To Use
Honey and balsamic vinegar
Maraschino cherries with no stems
Cola
Gluten-free soy sauce (see offer on Amazon)
Chipotle pepper powder
Kosher salt
Black pepper
Boneless sirloin
Preparation Method
Using a blender, puree the cherries to extract a smooth mixture. Now mix the cherry extract with the chipotle pepper powder, black pepper, salt, cola, soy sauce, vinegar, and honey (bonus material: how to dehydrate honey) in a bowl. Place the mixture in an oven and let it dry for about 20 minutes.
Cut your meat into a ½ inch pieces and place it in a storage bag. Pour the marinade you just formed above in the storage bag and put it in a refrigerator for about 8 hours.
Get your mixture and place it on your dehydrator and set the temperature to 135 degrees Fahrenheit. Now, allow your sweet cherry jerky around 8 to 10 hours to dry thoroughly before you serve it.
The Mrs's Beef Jerky
Mrs's Beef Jerky is another amazing recipe you can try at home. It's a flavorful solution that's fun to prepare and mouthwatering to eat.
Ingredients To Use
Brown sugar
Beef roast
Steak seasoning
Italian dressing
Worcestershire sauce (get it on Amazon)
Olive oil
Garlic powder
Preparation Method
Get your roast meat and freeze it partially for several minutes. Once frozen, the meat will be easier to slice into thin pieces. With a knife or meat slicer, cut your meat into small and thin uniform slices. You are advised to cut against the grain rather than along the grain.
Get the marinade you just made and mix it with your beef in a paper bag. Cover the bag's top and then place it on a refrigerator to ice up overnight.
Using a paper towel, rinse off the water in the marinade before you place it on a dehydrator. For best results, set your dehydrator to cook at 165 degrees for about 4 hours. Most dehydrators have a guide on how to set the temperature for different recipes and the time to prepare, so check your dehydrator before you set the temperatures.
Mexican Beef Jerky
The Mexican beef jerky is created using spicy pepper flakes and Serrano peppers. It's the best jerky recipe for those who want to light their lips and satisfy their craving pepperish for spices.
Ingredients To Use
Lime juice
Jalapenos seeds
Beef stock
Soy sauce
Sea salt flakes
Beef topside steak
Preparation Method
Add the jalapenos to your food processor and let it process properly until you fine chops. Transfer the processed jalapenos to a big bowl and mix it with the soy sauce, lime juice, and beef stock.
Cut your beef against the grain (learn how to cut meat the proper way) into ¼-inch-thick pieces.
Once done, add the meat pieces into the marinade you made in step one while stirring to ensure it coats each of the slices well.
Cover your mixture and let it refrigerate for about 8 hours.
Take the mixture from the refrigerator and rinse it off with a paper towel to remove all the moisture content. Place the meat slices on the dehydrator trays after, which you should sprinkle the sea salt flakes.
Once done, put them in your dehydrator and set it to 160 degrees Fahrenheit.
Allow the jerky to cook for about 8 hours. Don't put off the dehydrator until you are sure that all the moisture content in the jerky has been removed.
You might like: Korean Spicy Jerky Recipe
Goat Jerky Recipe
Those who cherish goat meat aren't left out. The goat jerky recipe is intended to add fun to the way you prepare meat jerkies as well as help you reap the many health benefits of goat meat.
Ingredients Needed
Minced clove garlic
Lean goat meat
Soy sauce
Worcestershire sauce
Salt
Black pepper
Paprika
Tabasco (see original flavor on Amazon)
Preparation Method
Get a huge bowl and mix all the ingredients to form a marinade. Take your time to whisk it together to make sure it's properly mixed.
Get the lean goat meat and cut it to small and thin pieces. Pour the meat slices into the marinade, cover, and allow it to refrigerate throughout the night.
Now put on your dehydrator and set it to 160 degrees Fahrenheit.
Get the meat pieces on the fridge and rinse off the water until it becomes thoroughly dried.
Place the marinated goat strips on the trays of your dehydrator, ensuring they don't overlap.
Lay goat strips out on your dehydrating trays, making sure not to overlap any of the meat.
Leave the goat jerky to dry for 5 to 8 hours, depending on the room temperature.
Serve or keep your jerky safely for later use.
Western BBQ Jerky
This jerky recipe is for those who fancy western barbecue. The jerky can be made in a matter of several hours, and it's quite tasty and fun to eat.
Ingredients
Brown sugar
Salt
Ketchup
Dried mustard
Cayenne pepper
Onion powder
Garlic powder
Lean meat
Black pepper
Red wine vinegar
Preparation Method
Slice your lean meat into thin and uniform slices. It's advisable to use a butcher slice or meat slicer as they will deliver smooth and fine cuts. See here how to master the art of slicing raw meat.
Combine the marinade ingredients in a big bowl and stir them well. Once the marinade mixture is formed, add your meat slices into the bowl and shake well for the dough to cover each of the meat pieces.
Cover the mixture and marinate it for about 8 hours in a refrigerator. You have to stir it frequently to get a quality marinade and meat mixture.
Seat your dehydrator to 140 degrees Fahrenheit and then place the meat strips on the dehydrator trays, making sure they do not overlap.
You may need to place a baking sheet or aluminum foil under the dehydrator tray to capture all the drippings. You should cool a piece of the jerky once in a while to test it for proper dryness.
Salmon Jerky Recipe
The last meat jerky (on our list) you can prepare at home is salmon jerky.
Ingredients
Smoked paprika
Salmon
Cracked black pepper
Lemon
Molasses
Soy sauce
Preparation Method
The first step to creating salmon jerky at home is to prepare the marinade. You won't require any special equipment and skills to do this. All you need is to get a bowl big enough to accommodate the marinade you want to make. Add the lemon juice, paprika, black pepper, soy sauce, and molasses and mix them well in the bowl.
Remove the skin on your meat as well as the fats with a knife. Use a meat slicer to cut the meat into uniform and thin strips. You have to cut it against the grains for smoother cuts.
Once you are sure the meat slices are fine enough, add them to the marinade, cover them well, and place them on the refrigerator to chill for about two hours.
Set your dehydrator temperature and timing and place the meat strips on the dehydrator trays.
Allow them meat around 6 hours to properly dehydrate to get a tasty salmon jerky.
Conclusion
If you've wanted to prepare homemade jerky, but didn't have an idea of some of the best recipes you can try, I have given you enough recipes to take you through the whole of the spring season. I especially like the beef jerky for which I dedicated a separate article on how to make beef jerky with a dehydrator.
All the recipes are budget-friendly and easy to make so you won't need to sacrifice your time and money to prepare that delicious meat jerky you have ever desired. If you want to something without meat, learn how to dehydrate bananas or make apples chips or some other fruits or even some veggies
Eric is the owner, author, content director and founder of dehydratorlab.com. He is the lead architect and the main man in matters concerning dehydrators, their accessories, guides, reviews and all the accompaniments.Whenever he is not figuring out simple solutions (hacks) involving cookery and their eventual storage, you will find him testing out the different types of dehydrators, to bring us the juicy details regarding these devices.He is a foodie enthusiast, pasionate about making jerky has a knack for healthy and tasty food and won't hesitate to share out any ideas that might be of value around this subject.