Just like any other kitchen appliance, your choice for the best countertop convection oven can either make or break your cooking experiences. It is also very likely to have a significant financial impact on your budget.
Therefore, it pays to carry out a good amount of research and compare all the available options to ensure that you are getting a model with the best possible features for your budget.
Now, in a market that offers a mixed bag of great ovens and models that you need to steer clear of, what is the best countertop convection oven to buy?
Well, I would say this is relative and it will depend on your specific needs (size, shape, functions, and available space) and preferences in terms of brand. More about this later.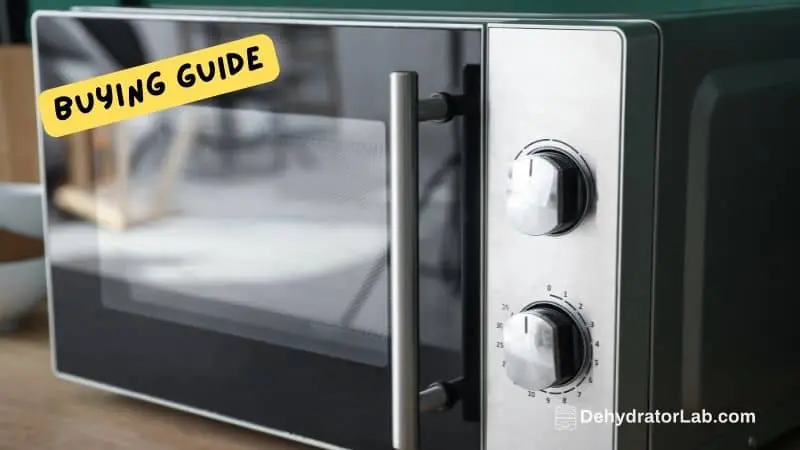 As an Amazon Associate, I earn from qualifying purchases. If you make a purchase after clicking on a link I may earn a small commission at no extra cost to you if items are purchased.
Best Convection Oven Overall: Oster TSSTTVDGXL-SHP
While we aimed at identifying the best countertop convection ovens in 2022, it's obvious that no oven would be a perfect fit for everyone. We have varying needs, priorities, and budget capabilities. Put together, these aspects mean that we'll all have varying opinions regarding a perfect oven.
If you are open to suggestions, though, and need a versatile yet affordable countertop convection oven, the Oster TSSTTVDGXL-SHP (view it on Amazon) might interest you.
Beyond its affordability, what I like most about this model is that while it's not loaded with a plethora of preset functions, it packs just what most households want for their morning and evening routines; defrost, pizza, bake, toast, and broil.
It's very easy to use to its touch-sensitive digital controls and bright LCD display. Mind you, this is one of the largest convection ovens on the market at the moment and can hold two 16-inch pizzas or 18 slices of bread.
What else would you require for a medium to large family?
Our Top Picks
Model
Brand
Our Rating
Material
Dimensions
Weight
Price
Warranty
Oster TSSTTVDGXL-SHP


Best Overall

(Our Top Choice)
Oster
8.2
Stainless
24 x 21.5 x 16.7 inches
26 pounds
$$
1 year
Breville BOV845BSS
Runner Up
Breville
9.0
Stainless Steel
15.8 x 18.5 x 11 inches
22.8 pounds
$$$$
1 year
Breville BOV900BSS
Worth The Money
Breville
8.8
Brushed Stainless Steel
21.4 x 17.2 x 12.8 inches
38.9 pounds
$$$$$
2 years
Cuisinart TOB-260N1
Cuisinart
8.8
Stainless Steel
20.9 x 16.9 x 11.4 inches
32 pounds
$$$$
3 years
Breville BOV800XL
Best Convection Microwave Oven
Breville
8.6
Reinforced Stainless Steel
18.5 x 16.2 x 11.2 inches
22.5 pounds
$$$
1 year
Hamilton Beach Professional - 31240
Hamilton Beach
8.2
Plastic
17.1 x 22.8 x 14.2 inches
20.9 pounds
$$$
3 years
Panasonic Toaster Oven NB-G110P
Best Small Toaster Oven
Panasonic
8.6
Stainless Steel
12 x 13 x 10.2 inches
11.25 pounds
$$
1 year
Hamilton Beach 31103A
Best Toaster Oven Convection For Rotisserie
Hamilton Beach
8.0
Stainless Steel
23.3 x 18.1 x 15.5 inches
24.4 pounds
$$
1 year
Black+Decker TO3240XSBD
Best Black & Decker Toaster Oven
Black+Decker
8.0
Stainless Steel/Black
15.8 x 24.4 x 13.7 inches
19.7 pounds
$
2 years
Black+Decker CTO6335S
Black+Decker
7.4
Stainless Steel
22.8 x 13.4 x 15.5 inches
15.76 pounds
$
1 year
Convection Oven Reviews
In the next couple of minutes, I'll be taking you through what our review team has concluded to be the 10 best countertop ovens.
To make your work easier, I've also included a detailed buying guide with a list of the most important considerations that you need to make when choosing a convection oven.
1. Oster Digital Countertop Convection Oven (TSSTTVDGXL-SHP) – Best Overall
There are several solid reasons why the Oster TSSTTVDGXL-SHP never lacks in most reviews of the best convection oven. First, its larger than average capacity!
Maxing out at 24 x 21.5 x 16.7 inches and with an interior width of 15.75'' and a depth of 16.36'', this oven was definitely intended to be an alternative to a conventional oven – in my opinion.
Just to give you a clearer picture of the size of this beast, it is large enough to hold 2x 16-inch pizzas, a full chicken, or up to 18 slices of bread in one go. Whether you have a family of pizza lovers, or you have to make big breakfasts daily, the Oster TSSTTVDGXL-SHP might fit the bill perfectly for you.
Beyond its large capacity, this oven also has an impressive cooking temperature range of between 200℉ and 450℉ that makes it a capable competitor for most in-built ovens.
This temperature range is adjustable at intervals of 25 degrees. This is a really nice feature considering that the Oster is meant to not only make pizzas and toast slices of bread, but it can also defrost, warm, broil, and bake.
Let's face it – following recipes is enough trouble by itself more so if you are not used to cooking at home. That being said, you don't want an oven that poses yet another problem to deal with.
Oster tends to understand this better and they have blessed this oven with a succinctly labeled digital control panel. All the buttons on this panel are touch-sensitive thereby making the oven friendly for everyone including people who are struggling with arthritis. There are also a lot of automatic presets to eliminate all guesswork.
Bottom line: the size and versatility of this oven make it a really impressive unit especially during the holidays and whenever there is a lot of cooking to do. It has a really sleek design and it's also very easy to use.
The only minor snag that I find with it is its door that could easily slam on your counter if you are not careful. It demands quite an enormous space on the counters too and its cord is on the shorter side.
Pros
Relatively affordable compared to competitors
Versatile usage
Easy to use
Large capacity
Ships with 2 racks
Cons
Short power cord
Door requires care
2.
Breville BOV845BSS Smart Oven Pro Convection Toaster Oven

– Runner Up

The Breville Smart Oven Pro is quite smaller compared to the Oster. But the fact that it is almost 2 times pricier means that it has a lot to go for.

This convection toaster oven has a footprint of 15.75 (D) by 18.50 (W) by 11 (H) inches and interior dimensions of 13 (D) by 14 (W) by 5 (H) inches. While this size means that you can't cook a ton of food items at once, it's enough for a 13-inch pizza, 6-slice toaster, a 9-cup muffin tray, or a whole chicken.

Actually, its size also means that it won't be an issue to place it in most apartment kitchens like it would be the case with the Oster above. The Breville looks and feels like a high-end gadget – and it surely is. It clads a stainless steel shell and has an impressive combination of knobs and buttons for its control panel. The key feature on this panel is the LCD that has all the functions already preset for easy selection. Even better, this LCD also displays the cooking temperatures as well as the cooking time.

The single rack that the Breville comes with is such a letdown especially for an oven at this price range. However, this model makes up for that with its wide temperature range of between 120℉ and 500℉ and 10 cooking functions: bagels, toasting, baking, roasting, warming, grilling, slow cooking, reheating, and making 13'' pizzas and cookies.

There are 2 quite impressive features that make the Breville one of the best countertop convection ovens to buy. Let's start with the Smart Element IQ technology. This is a system that automatically adjusts its heat circulation depending on the food in the cavity for consistent results each time. Basically, if you like leaving the oven to do its thing without lots of interferences from your side, this oven is yours thanks to the Smart Element IQ.

This oven also has an automatic rack eject system that pushes the rack slightly outside once you open the door thereby adding to the overall ease of use. I should have mentioned that there is a bulb in the cavity too to keep you posted on the doneness of the food each and every minute.
Pros
Automatic rack-eject system
Slow cook function of up to 10 hours
10 cooking functions
Smart Element IQ technology for perfect results
Eye-catching design
Cons
Ships with one rack only
Does not support defrosting function
A bit pricey
3.
Breville BOV900BSS Convection And Air Fry Smart Oven Air

– Worth The Money

If you think that you've seen it all with the Breville Breville BOV845BSS Smart Oven Pro above, its brother the Breville BOV900BSS Air will definitely blow you away.

Now, the Air is pretty much similar to the Pro in a number of aspects. For instance, both of them are engineered with the Smart Element IQ – a technology that intelligently transfers heat across quartz elements for stable cooking conditions and incredibly impressive results.

These 2 ovens are also fitted with an LCD display that offers clear readouts of your settings besides giving the oven a more premium look.

But the Breville Air is a whole lot better!

First, in addition to the 10 preset functions that the Pro offers; pizza, bagel, bake, roast, toast, warm, slow cook, broil, cookies, and grilling, it has 3 additional settings that make it totally worth its high initial cost.

With the Breville Air, you can Air Fry, Dehydrate, and Proof. These 3 functions are the biggest benefits of the Air and actually what make it totally worth every penny. The Air Fry function – which is the most standout feature of this oven – makes it possible to create delicious, crispy, and crunchy foods similar to what traditional oil frying offers but minus all the fat.

The dehydrating function, on the other hand, allows you to create healthy snacks from fruits and vegetables. If you would like to dehydrate some meat instead, please visit our jerky dehydrator page.

Lastly, the Proof function creates the optimal settings to give your dough the best possible rise.

The Air is a notch higher with regard to technology too. In addition to the Smart Element IQ, it has Breville sensing and PID temperature-control technology that changes the way the elements heat depending on the selected function.

Importantly, the Breville Air has 6 elements as opposed to the 5 that the Pro uses. The essence of this is to ensure that the heat in the chamber is much more even and static. And this will certainly lead to better results.

How big is it?

Well, at 17.2 x 21.4 x 12.8 inches, the Breville Air is just a few inches bigger than the Pro, but not overly bulky to occupy your entire countertops. Precisely, this oven has a 1 cubic ft interior that fits a 14-pound turkey, 9'' by 13'' pan, 9 slices of bread during toasting, or a 12-cup muffin tray.
Pros
Multifunctional (13 functions)
Spacious cooking chamber
Adjustable rack placements
Premium look and feel
Cons
4.
Cuisinart TOB-260N1 Chef's Convection Toaster Oven
Cuisinart is a HIT brand in the world of household electronics and it has a footprint in almost every American home today. What we have from this American brand is an award-winning and one of the best countertop convection ovens at a fair price.
This oven has exterior measurements of 20.87 L x 16.93 W x 11.42″ H inches and an actual cooking capacity of 0.95 cubic ft. Although slightly smaller than the 1 cubic foot that the Breville above offers, this space is still generous enough to hold a 13-inch pizza, 9'' by 13'' baking pan, a 9-pound chicken, or 9 slices of toast.
The key highlight of this countertop convection oven is its 15-function options that work just as expected. These include dual cook, bagel, speed convection, keep warm, toasting, waffle, broil, pizza (stone included), roast, leftover, and sandwich.
The Cuisinart TOB-206N1 is fitted with 6 quartz elements. Without digging much into the details, quartz elements are highly praised for their high hitting rate which consequently leads to less preheating times and fast cooking times.
Switching gears to what makes this a convection oven, this model has a fan that boosts hot air circulation around the cooking cavity. But what I find so impressive here is that this fan is its 2-speed performance. Depending on what you are cooking, you can choose between the standard convection fan setting and the speed setting for speedy air circulation.
On the right, you'll find a control panel with a large LCD blue-lit display that indicates the operating temperatures, selected cooking function, time, and a 2-hour timer to boot.
A unique control feature of this oven is a +30 button that lets you adjust the cooking time by 30-second increments.
It also has a bulb that turns on when you open the door. There is an option to turn it ON using a button on the control panel even with the door closed, though. Interestingly, this bulb will turn off automatically after 2 minutes just in case you forget to turn it off.
Other important features of this Cuisinart oven (see offers at Amazon) include 4 adjustable rack positions (most ovens offer 2) and a built-in stopper that halts the racks halfway to prevent tilting.
The rack also pops out slightly when you open the door and this makes it easier and safer to hold hot items.
Pros
Excellent heating
Even heat distribution
Simple controls
Versatile
Good amount of space
Cons
Several reports of button labels rubbing off after several months
5.
Breville BOV800XL Smart Oven

– Best Convection Microwave Oven

If you are looking for a luxury Breville oven with high capacity but your budget won't allow you to splurge on the Air, this manufacturer has a cheaper alternative that you might want to consider: the BOV800XL.

Actually, this model is very similar to the Air and the 2 do share some features. However, some functions such as Air Frying and Dehydrating have been laid off to make the BOV800XL much more affordable.

This is a sturdily built and nicely designed toaster oven with a stainless steel construction exterior that gives it an attractive modern design on virtually any countertop.

This oven measures 18.5 by 16:25 by 11.25 inches and has an interior capacity of 0.8 cubic ft that can accommodate a 13-inch pizza or 6 slices of bread for toasting.

The Breville BOV800XL is fitted with 5 quartz heating elements that are individually adjusted by the Element IQ for efficiency and guaranteed effectiveness.

This oven ships with a single rack, but it offers 3 adjustable levels that allow you to place the rack anywhere depending on what you are doing.

On this note, the BOV800XL Breville oven offers 9 functions – sure, notably fewer than what the Air offers but still sufficient for most households' needs. Besides, there's an option to customize the functions to fit your recipes. These functions include pizza, cookies, bake, roast, broil, bagel, warm, and toast.

The control panel is as simple as it gets with Breville countertop ovens and there is a large LCD display that shows the selected function, time, and operating temperatures.

This oven has several other small but very useful features that I find worthy of mention. First, when you open the oven door to remove the food, a magnetic system will eject the rack out by a few inches and then stop it from tilting. Unfortunately, this feature is available on the middle rack position only.

Secondly, it's quite impressive that you don't need to open the oven door to remove the crumb tray since it has an exterior-access design. In addition to making this process easier, it also highly minimizes your risk of getting your fingers scorched.
Pros
Incredible cooking performance
Very accurate temperature ranges
Easy to use
Impressive design
Powerful
Cons
Smart features don't work accurately all the time
It's on the pricey side
6.
Hamilton Beach Professional Countertop Toaster Oven
As you may have realized this far, the best countertop convection ovens can get really expensive more so if you are looking for a model that will replace your big oven.
However, you could still get a reliable toaster oven at way below the 200 hundred mark level and get lots of use from it. But these models tend to make more sense especially if you'll be using it alongside your main oven. The Hamilton Beach 31240 is one of the best recommendations here.
Pricewise, this oven is almost 2 times cheaper than the most expensive oven in these reviews, yet it has most of the basic functions that one could ask for in a countertop oven.
The Hamilton Beach 31240 has exterior dimensions of 17.13 x 22.83 x 14.17 inches and interior dimensions of 6 x 14 x 12 inches. This capacity is good enough to fit a 12-inch pizza, a whole chicken, or a maximum of 6 slices of bread.
This oven has a total of 7 preset settings: bagel, toast, bake, warm, reheat, broil, and convection. It also has a very easy to use control panel with a knob that allows you to choose from the functions above, and 4 buttons with which you use to adjust cooking time and temperatures.
Other interesting features of the Hamilton 32140 include a countdown timer that shows the time left, a temperature probe that continually tracks the actual cooking temperatures in the chamber, and an automatic shut off feature that switches the oven off after reaching the pre-set cook time.
This oven also has an external-access crumb tray for easy clean-up and storage for the temperature probe. Compared to other high-end models in our best countertop convection oven reviews, one thing that I really liked about the Hamilton 31240 is that it does not tend to get too hot on the sides.
Pros
Relatively affordable
Great performer for the price
Easy cleanup (non-stick interior and external-access crumb tray)
Sides don't get overly hot
Cons
7.
Panasonic Toaster Oven NB-G110P FlashXpress

– Best Small Toaster Oven

Sometimes, big isn't always the best with countertop convection as the Panasonic NB-G110P FlashXpress proves. This is currently the best rated countertop convection oven on the market today and it's not hard to understand why.

Cutting to the chase, the Panasonic Flashxpress is one of the fastest ovens when it comes to preheating. Most countertop convection ovens take anywhere between 10 and 15 minutes to hit 425-500 degrees F.

While this is still quick compared to older conventional ovens that could take up to 25 minutes, it is still a far cry to the 4.5 minutes that the Flashxpress requires to preheat to 425 degrees F. And the secret behind this? Double Infrared heating technology.

Actually, Panasonic suggests that preheating is practically unnecessary considering this oven's heating speeds.

The Flashxpress has a very small footprint on countertops too and maxes out at 13 by 12 by 10.25 inches. In addition, it is quite lightweight at 7.5 pounds, should you ever want to move it.

This oven has a drop-down door that opens with ease to reveal an internal capacity 10-1/8 x 13 x 12 (HxWxD). While you won't be able to cook a 13-inch diameter pizza on this one, you'll find it just perfect for a 9-inch pizza or 4 slices of bread.

There are 6 preset cooking modes with the Panasonic NB110-P Flashxpress; pizza, rolls, hash browns, toast, quick reheat, and waffles.

The control buttons are located on a stay-cool panel and they have all been nicely labeled for simple operations when using the preset cooking functions.

For all other dishes that require manual temperature and time setting, there are control buttons for that alongside a temperature dial set for both Fahrenheit and Celsius readings and a digital timer.

Now, as good as the Flashxpress seems, it has several design flaws although not deal breakers per se. First, its temperature control dial is calibrated for Celsius and might lead to a lot of guesswork if your recipes use Fahrenheit. Second, its 25-minute timer is very limiting especially when baking.
Pros
Speedy preheating
Superfast cooking
Small footprint
Several claims of reliable durability
Auto rack eject
Cons
25-minutes timer is limited
Limited functions
8.
Hamilton Beach 31103A Countertop Oven

– Best Toaster Oven Convection For Rotisserie

We all know rotisserie chicken tastes great… definitely because of self-basting. Unfortunately, while store-bought rotisserie comes to the rescue when we need a quick option for dinner, it is not always healthy. So, what's your next best option?

Get the Hamilton Beach 31103A countertop oven. This is an unbelievably affordable countertop convection oven that comes with an option to make rotisserie at home without all the additives and preservatives that lurk in grocery store-bought alternatives.

The rotisserie setup is the key highlight of this oven and it makes it possible to self-baste everything from chicken to turkey and from beef to pork. You can also use it for roasting. But that's not all that this countertop convection oven does.

The Hamilton Beach 31103A has 4 preset functions: bake, broil, rotisserie, and convection. The adjustable temperature range (up to 450℉) and a manual timer, on the other hand, give you the ability to customize the cooking conditions for pretty much anything.

Importantly, this model has a 2-hour cooking timer which is much better than the 25 minutes that the Panasonic offers.

For an oven that accommodates a rotisserie setup, it's obvious to think that it is overly large for a standard kitchen countertop. But that's not the case with this model.

This oven has external measurements of 23.3 by 18.1 by 15.5 inches and should fit on most tops unobtrusively.

Despite its compact design, it still offers an extra-large cooking capacity that can accommodate two 12-inch pizzas, two 9 by 13 inches casseroles, two cookie sheets, or two cake pans.

The Hamilton Beach 31103A ships with a large baking pan with enamel coating, 2 oven racks, broil rack, and a small baking pan. You'll also get a lift and fork for rotisserie mode.

It's also very easy to keep clean since all the racks and pans slide in and out with much ease and the interior is non-stick. There is a full-width crumb/drip tray too that is also very easy to remove and clean.
Pros
Has rotisserie mode
2-hour timer
Generous interior
Straightforward to use
Cons
No light in the cooking chamber
Fewer functions compared to the competition
9.
Black+Decker TO3240XSBD Convection Countertop Toaster Oven

– Best Black & Decker Toaster Oven

Black and Decker is recognized by serious contractors and job sites warriors for its solid power tools. However, this American company based in Towson, Maryland also seems to have its way in household appliances including this best convection toaster oven. And the TO3240XSBD is one of their best offerings in this department.

The Black and Decker TO3240XSBD is one of the best countertop convection ovens below $100, and a solid alternative to pricier models that offer similar features.

This oven has external measurements of 15.75 by 24.45 by 13.7 inches and internal dimensions of 12.5 by 16.5 by 9.5 inches. This is enough space to roast 8 slices of bread and make a 12-inch pizza. It also fits most 9'' by 13'' pans so you can take your lasagna and brownies from the oven straight to the table.

The Black and Decker TO3240XSBD has 4 preset functions in addition to its convection capabilities: warm, toasting, baking, and broiling. These are quite a few compared to what other high-end models such as the Breville Air and Pro offer. But we can't expect much from a countertop that costs below 80 bucks.

I have to accept that this oven's control panel looks quite busy despite its 3-knob configuration. But that's because of the writings and labeling and it won't make it any hard to use.

This countertop convection oven is set to offer a maximum of 450 degrees Fahrenheit, and it has a 90-minute timer and a really loud beeper to attract your attention once your foods are done.

It's worth mentioning, however, that there have been several complaints about the oven not reaching the said temperature range. Most people affirm that it still works for them, anyway.
Pros
Affordable
Easy to use
Solid construction
Works great
Cons
A few reports that it struggles to hit 450℉
10.
Black+Decker CTO6335S Countertop Convection Toaster Oven
Coming at a much lower price tag compared to the TO3240XSBD above, the Black and Decker CTO6335S is yet another highly recommendable option for homeowners who are looking for a mini oven that will kick in during busy dinner preparations.
Despite its lower initial cost, the CTO6335S has several additional features that its sibling the TO3240XSBD lacks.
For instance, the Black and Decker offers a total of 8 preset functions: bagel, pizza (12-inc), warm, toast, broil, cookies, potatoes, and frozen snacks.
Its control panel is much better in terms of arrangement too. Actually, what I like most about this panel is that there is a dedicated button for every function and this greatly minimizes the chances of mishits that may be caused by a crowded multi-functional knob.
This oven also has a 120-minute timer, an auto-shutoff feature to turn the oven after the cooking time is complete, and a signal bell.
Scouring the reviews and feedback from previous buyers, I didn't come across any reports of this oven not achieving its maximum operating temperatures (400 degrees Fahrenheit) as it was the case with the TO3240XSBD.
However, there were a few reports of the oven arriving with some dents probably due to mishandling during shipping or storage. Therefore, you might want to examine the oven first thing upon delivery before signing the papers.
Pros
Very versatile for its price range
Clean control panel
Easy to use
90-day supplier-backed warranty (refund or replacement)
Cons
LCD screen is non-lit
Exteriors get so hot
What Is A Convection Oven And How Is It Different From My Regular Oven?
A convection oven is basically an oven with a fan that circulates hot air around the food. This fan is what makes all the difference between convection and a traditional oven.
Both convection and regular generators use a similar heating mechanism that comprises of mostly 2 heating systems; one at the top and the other one at the bottom.
The major difference is that, for a regular generator, the heat spreads all around the chamber from the heating elements through the air and without any help.
In a convection oven, however, there is a fan located on the back panel of the oven that distributes the heated air all over the oven space.
You could ask, ''what difference does this add to my cooking?'' Well, a whole lot of differences! Read on.
Advantages Of Countertop Convection Ovens
a) Speedy cooking times
First things first, convection ovens are far much faster in cooking than their alternative regular ovens. According to science, convection is what makes it possible to transfer heat through gases (and liquids).
What happens when you introduce a fan to distribute the air? You guessed it right. The heated air particles move much faster thereby escalating the effects of the heat energy in them.
For the record, food items have been found to cook 25%-30% faster in a convection oven than in a regular oven.
Worth mentioning, when cooking using a convection oven, it's advisable to reduce the temperature called for by the recipe by around 25%.
b) Even cooking
In addition to cutting your cooking times, this gushing heated air allows for even cooking. This is because unlike in a conventional oven where the heat hits the food mainly from one direction, the fan in convection ovens distributes the hot air all around the food consistently. This means that there are no issues of uneven browning that is caused by hot spots in regular ovens.
Of course, when using a traditional oven, the issue of uneven browning is solved by turning the food at least once during the cooking process. The good news with a convection oven is that this isn't necessary.
c) Your food tastes much better
Since the heat in convection ovens hits your meats at a faster rate than it would in a regular oven, its sears the food at a faster rate thereby locking the juices inside while leaving you with awesomely crispy outsides.
At lower fan speeds, it's also very easy to get lovely dried-out vegetables with crisp edges, moist interiors, and deep flavors.
d) Ability to cook multiple items together
Perhaps what you'll like most about these ovens is their ability to cook multiple food items together without compromising target results. You see, unlike a conventional oven that treats each item in the chamber separately, a convection oven considers everything as a single unit.
This means that there won't be any temperature drop and, therefore, all the items will cook just as they would have if you cooked them separately.
Possible Drawbacks Of Convection Ovens
As good as the convection technology already seems to you, it also has its not-so-good side. First, the convection setting does not accommodate all food items. For instance, considering its slightly higher cooking speeds, this oven might not offer the best results for recipes that use batter that has to rise: think of cakes. It's also not good for delicate pastries such as flans and cheesecakes and meringues including macarons.
There's some good news, though. The best countertop convection ovens to buy often feature an option to turn off the fan. This practically converts it into a conventional oven thereby making it perfect for virtually all dishes.
Another obvious drawback with a countertop convection oven is the need to adjust the recipes given its slightly higher speed of cooking. Unless you are really cautious, the chances of overcooking and even burning the food before learning the ropes are imminent.
How To Buy The Best Countertop Convection Oven In 2022
Understand the basic jargon first.
I don't intend to make this section any complicated, but it's really important that you understand a few key terms used when describing the major types of convection ovens.
Traditional Vs. True (European) Convection Ovens
These are 2 terms that you are very likely to come across regularly as you compare the various convection ovens in the market.
Traditional convection ovens (a.k.a American version): this is the most basic type of convection oven. It is basically a conventional oven with a heating element on top of the chamber and another one on the bottom. It also has a fan fixated on the back panel of the cavity.
True (a.k.a European version): in this type of convection oven, there is a third heating element usually mounted right in front of the fan. Its essence is to stabilize the temperatures in the cavity. This technology has been found to boost efficiency and to cut cooking time even further.
Direct-Fired And Indirect-Fired
In a direct-fired convection oven, the burner is positioned directly under the cavity and it pushes heat upwards into space. The heated air from the heating coils combines with the recirculated air from the fan and the mix later comes into direct contact with the food items being cooked.
While this system tends to offer a very thin margin for error when cooking delicate food items such as cupcakes, it offers great results when cooking pizzas, flatbread, and biscuits.
Things are quite different with an indirect-fired oven in the sense that the heat from the burner does not come into direct contact with either the recirculated air from the fan or the combustion products.
In this type of burner, the heat from the burner is directed into a radiant tube type heat exchange system which consequently heats the food being cooked from above and below.
Indirect-fired convection ovens suffer from slower startups and prolonged cooking times. But their weakness also happens to be their strength in that they cook certain items including cakes and cupcakes much more evenly not to mention their greater margin for error.
Countertop Vs Floor Convection Ovens
Countertop convection ovens are just that… compact enough to position on your countertops. Unlike floor convection ovens, the former do not necessitate additional space on your floors.
That being said, the top countertop convection ovens make great choices for a modern household kitchen, convenience store, food truck, concession stand, and even a quick-serve restaurant. Depending on the size of the oven, you can use it to make snack food, baked goods, sandwiches, and even pizzas.
Major Considerations And Features To Look For When Buying A Countertop Convection Oven
Here are the key aspects to keep an eye on when buying for a brand new countertop convection oven:
1. Source of power – electricity, natural gas, or LPG?
Having narrowed down to either an American version or European style convection oven, the next biggest consideration will be to determine the ideal power source. Similar to a regular oven, these models are available in electric varieties while others are engineered to run on propane or natural gas.
Electric convection ovens: these ovens are the easiest to find and what we included in our best countertop convection oven reviews. They are easy to engineer and this is reflected in their relatively lower price tags compared to their gas alternatives.In addition to their affordability, another major advantage that an electric oven offers is its relative ease of installation. All you need is to have a compatible power source close to where you'll place the oven.On the downside, electricity is quite expensive and the pinch will manifest on your power bills especially if you are running a high-power model regularly and for prolonged periods.
Natural gas convection ovens: the major strength of these ovens is their unbeatable efficiency. The cooking chamber heats up at a much faster rate than in a similarly sized electric oven and this consequently leads to reduced cooking times. Even better, natural gas is noticeably cheaper than electricity and LPG. So, if you fear that your family's love for oven-cooked dishes and snacks will break your bank with utility bills, this might be a better option.On the downside, natural gas convection ovens demand pre-existing hookups as well as appropriate connectors. That being said, it might be quite expensive to prepare for one if you are doing it from scratch.
Propane (a.k.a LPG) gas convection ovens: the best propane convection ovens offer a viable alternative if your home or commercial facility isn't connected to natural gas network yet. LPG is actually highly preferred for being more efficient for its fast heating rate.The only caveat is that propane gas can get really expensive in some regions.
2. Dual-fuel Countertop Convection Ovens
Rather than gamble on the strengths and weaknesses of a single type of power source, how about getting an oven that allows you to switch from gas to electricity? This is a convenience that you can't beat and it offers you the best of both worlds.
3. Size
The size of the oven also matters a lot and it's the first telltale of the size of foods that you'll be able to cook in it. Usually, bigger ovens are better since they allow you to prepare a couple of food items simultaneously. But keep in mind that big ovens come with higher power/fuel usages as well as higher initial costs.
Depending on the available size in your kitchen, your budget, and how you intend to use the oven, there's an option to get either a full-size or half-size oven.
Full-size ovens are targeted towards kitchens with high-volume operations especially in restaurants. These models offer enough space to accommodate at least five standard 18'' by 26'' sheet pans.
A full-size oven might be overkill for a standard household kitchen with low-volume operations. In this case, a half-size oven might be the best option. These models are designed to accommodate 1 or 2 half-size sheet pans measuring 18'' by 13''.
4. Fan speed variations
A convection oven is just as good as the strength and versatility of its fan. Depending on the brand, a convection countertop oven can have a fan with one speed or two speeds setting.
As you probably know by now, the speed of the convection currents in the cooking chamber has a significant effect on the end results of your food items.
A high, continuous one-speed fan may fit the bill if you want the oven for roasting chicken and turkey. On the other hand, if you want an oven that will allow you to do pretty much anything from roasting to baking delicate food items such as muffins and flans, consider a model with a 2-speed fan. The ability to lower the speed of the fan and even turn it off completely is essential for utmost accuracy and precision.
5. Get as many features as possible
Baking, broiling, and toasting are perhaps the major functions of an oven be it convention or convention style.
However, if your budget allows, you could consider some of the best countertop convection ovens that have additional functions including defrosting, roasting etc.
6. Included accessories
Having sieved all the available options through the various aspects that we've discussed so far, chances are that you'll be having several competing models that seem to meet all your needs at this point.
Another great way to narrow down your options further would be to consider the accessories that each model includes in the package, that is, racks and pans.
Basically, the more accessories there are, the easier it will be for you to prepare different food items without breaking a sweat. In addition, it also saves you the cost of purchasing those accessories separately. For instance, if you love home-made pizza, you might want to hunt a little bit more for ovens that come with a pizza stone.
Virtually all countertop convection ovens will include at least one wire rack but some will come with 2. In addition, most brands ship with at least 1 baking pan, but some generous manufacturers and sellers will include a few more thereby offering you a greater bang for your buck.
Countertop Convection Oven Cooking Tips
The convection toaster ovens are generally more effective and efficient than regular ovens. However, there are a few things that you could do to maximize the benefits when using these ovens.
a) Avoid crowding the oven
As I told you earlier on, one of the advantages of using a convection oven is that it considers everything in the cooking chamber as a single item. Now, although this practically gives you the green light to throw several food items at once, overcrowding might block the much-needed flow of air thereby leading to inefficiency- the major advantage that a convection oven offers.
b) Consider low-sided baking sheets and pans
For effective circulation of the hot air all around the food, it's advisable to use sheets and pans with low sides. On the same note, we recommend going for light-colored aluminum sheets and pans when baking and roasting veggies since they work like charm in preventing overbrowning in cookies and burning of natural sugars in vegetables.
c) Lower the baking temperature
Due to the boost in air circulation in a convection oven, you won't need the exact cooking temperatures that are specified in your recipes. In most instances, lowering the temperatures by 25℉ have been found to offer the needed results.
Keep in mind, however, that some ovens are engineered to lower the cooking temperatures by the above-mentioned degrees when cooking in the convection setting. Check out whether this is the case with your oven to prevent lowering the temperatures further.
d) Keep a close eye on the food 5-10 minutes towards the end
Because the hot air moves at a higher speed in convection ovens, foods also tend to cook a lot quicker than in regular ovens.
Therefore, it's important to keep checking the food to ensure that it does not overcook or burn. Importantly, check the food halfway through the specified cooking time to determine how quickly it seems to cook.
Sure, this might seem a little bit demanding at first. But it will get easy as you get a good hang of how fast the convection oven cooks.
Frequently Asked Questions
(click to see the answer)
Are convection ovens better for baking?
To some extent, yes. Convection ovens can make your cakes fluffier. However, if you are not experienced in using it for baking, the margin for error is quite high and it could easily result in overcooked and burnt cakes.
As a rule of thumb:
Always lower the recommended baking degrees by 25℉ with a standard size cake and a further 5 degrees for larger cakes.
If you are baking several cakes at once, remember to leave at least 2 inches around each pan for adequate air circulation.
As much as possible, avoid opening the oven door to prevent hot air loss. But remember to check the doneness 10-5 minutes before the end of the cooking time.
What's the difference between countertop convection ovens and radiant ovens?
They are pretty much similar to radiant ovens. The major difference, however, is that convection ovens cook and crisp food much more quickly credit to the convection technology that they use. Precisely, the best convection ovens have been found to be up to 30% faster than conventional ovens. This is something that you'll really appreciate if you are constantly wondering how to cook a bunch of food items within a short time.
What's the best countertop oven?
Is it better to cook a turkey in a convection oven or conventional oven?
Both of these ovens will do provided the cooking temperatures are closely monitored. However, a convection oven will have the upper hand as far as cooking speed is concerned.
Precisely, while it takes around 3 hours to roast a 12-14 pound turkey in a regular oven, it would take you to 2-2 ½ hours to roast the same bird in a convection oven. A convection oven also tends to seal the juices better, by the way, and this means that its meats are tastier and flavorful.
Do I need special ware to use with a convection oven?
No. You don't need anything special. However, to maximize the benefits of these ovens, it's advisable to go with low-sided pans for excellent air circulation around the food. In addition, experts advise using light-colored aluminum pans and sheets since anodized finishes can lead to over-browning.
What's the difference between a convection and conventional oven?
In a conventional oven, heated air rises from the heating element to fill the cooking chamber without any 'help'. In a convection oven, there is a fan fixated on the back panel and that circulates the hot air from the heating elements all around the cavity for rapid and even heating.
How fast is a convection oven compared to a conventional oven?
Convection ovens are generally much faster compared to their alternative regular ovens. According to studies, these ovens have been found to be up to 25% faster. But keep in mind that this may differ slightly between brands.
How do you adjust the recommended cooking time when using a convection oven?
The easiest way to do this is to reduce the recommended cooking temperatures by 25 degrees F. You also need to check the doneness of the food 5-10 minutes before the end of the cooking time.
Are convection ovens worth it?
Very much worth it. These ovens have a fan that circulates the heated air rapidly all over the cooking chamber. Thanks to this fan, these ovens have been found to be up to 25% faster than conventional ovens.
They are also super-efficient considering that they cook at temperatures 25 degrees F lower than the stated temperatures.