I have already written a detailed review of the best countertop convection ovens to buy in this article. But since you are here, the odds are that you already have one (congratulations and welcome to fast and efficient cooking), but are wondering how to clean countertop convection oven. That's what I'll be showing you in the next couple of paragraphs.
The convection oven is likely the most versatile and mostly used appliance in your kitchen so you have to give it special attention and care. It's the kitchen appliance that makes cooking faster, simpler, and efficient.
Your convection oven can last for decades but only if you give it thorough cleaning and proper maintenance on a regular basis.
In cleaning a convection oven, strict guidelines should be followed. Getting the right cleaning supplies, materials, and solutions ready will help make the process simpler.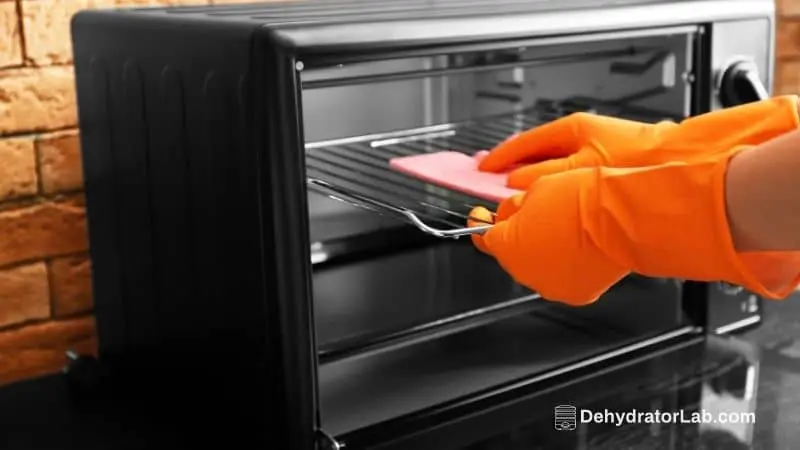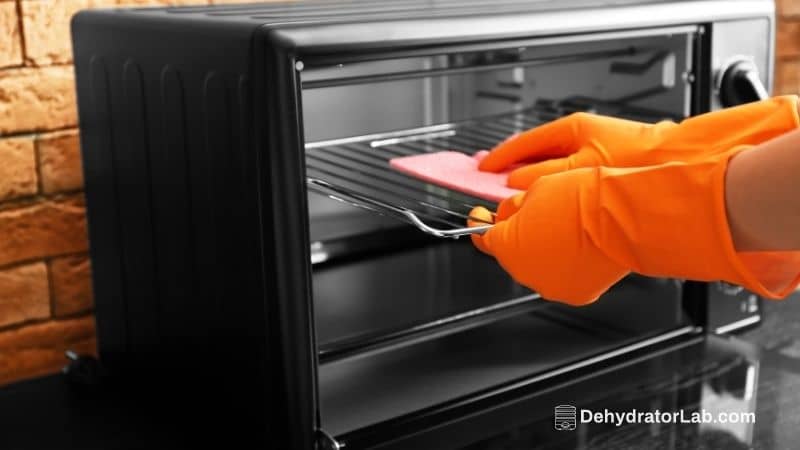 How to Clean a Countertop Convection Oven Procedure
It's imperative to keep your convection cooker in peak working condition to reap optimum benefits from its use. There are several steps to proper cleaning of your oven.
Before we get down to business, it's important to understand that your safety is a priority. Doing things wrongly can pose a great threat to your life and family. To begin with, switch the oven off and unplug the electrical cord. If it's a gas cooker, put off the gas source valve and delink the oven power connection.
1. Preparing The Machine For Cleaning
Once done disconnecting the oven from power, allow it some time to cool down, that is, if you've just used it. You should be able to safely and comfortably touch any part of the oven without getting burnt.
Don't splash cold water on the machine to test if it's cool. You will just be ruining it as it's going to develop rust in no time.
2. Disconnect And Clean The Interior Components
Disconnect major oven components like drip trays, racks, crumb, and pans. Give them a thorough cleaning. Soapy water and a microfiber cloth will do a great job.
2.1 What to Use to Clean a Convection Oven?
You may need a mixture of hydrogen peroxide and tartar to efficiently clean areas that have been seriously burnt and soiled. You may as well need to use baking soda paste for a smarter job. Let them dry before you insert them back to the system.
3. Clean The Machine Exterior
Wipe and clean the oven exterior. The cooker exterior will likely not be so dirty but it's not worth ignoring. Just get a non-abrasive mild detergent and dissolve it in water to create a solution for easy cleaning of the exterior.
Areas that are extremely soiled may need to be rubbed or scrubbed. Areas that aren't extremely dirt will only need a thorough cleaning with a soft cloth soaked into the water and detergent solution.
You may be tempted to use a pressure washer to clean the oven exterior. Don't try it on your machine unless you are ready for surprises. Water generated at high pressures will end up damaging delicate oven controls and components rendering it useless.
4. Properly Clean The Hood
Cleaning the hood doesn't need to be a complex job. Use a scrubber to remove all the dirt particles accrued on the aluminum foil, housing, and blades. Try to move the fan manually to see if it does so freely and without resistance.
Try wiping the housing to get rid of all debris and grease accrued on the machine. A good nylon-head brush will efficiently eradicate all the contaminants stack on the machine hood. Avoid harsh solvents and wire brushes, by all means, otherwise, you will end damaging your cooker.
For the environmentally conscious homeowners who want to do a more natural and ecological cleaning, boiling a pot of water on the cooker to help loosen the dirt particles stack on the cooker's hood to ease cleaning is the safest way out.
It is advisable that you heat water for some time and make sure it doesn't over boil unless you are ready for the drama that will unfold. Once you are sure the hood is fully moist, get a microfiber cloth and wipe down all the dirt. Use the warm water and dish soap to make the cleaning simpler.
5. Reassemble All The Disconnected Components
Your cooker is now clean and ready. Let all the cleaned components dry out and then connect them back to the system. Accuracy is the key to getting the components lodged in their original places flawlessly.
How To Maintain Your Convection Oven Properly
Proper care and maintenance will add to the life of your convection oven. Convection ovens aren't delicate but exposing them to awful environments and conditions holds their productivity hostage which can lower their predicted lifespan.
Whether yours is a household or commercial convection oven, here is the proper way to care and maintain it.
a) Don't Hang Stuff On The Oven Doors
The temptation to hang stuff on a convection oven's door is real. Sometimes, you will do it unwillingly and other times willingly. No matter the motivation behind you wanting to hang heavy items on the door of your oven, you should resist it.
Heavy items will damage the door hinges making them less efficient. When damaged, heat will escape uncontrollably hence affecting cooking times. Always ensure the door seal is fully function and maintains proper control of heat flow.
b) Unplug Your Oven When Cleaning With Water
The worst mistake anyone can make is to start cleaning a convection oven when still connected to power. It will electrocute you and chances are high the electrocution will be deadly. Before getting down to the business of cleaning your oven, make sure it's fully disconnected from power and cool.
Starting to clean the oven while the surface and components are still hot is wrong. It weakens the metallic bond that holds the metallic particles together. Doing so regularly will end up making the oven surface more prone to physical damage.
c) Oven Fan Cleaning
The fan is one of the most important components of a convection oven. When not properly taken care of, dirt accumulates around it making it impossible for the fan to optimize the proper flow of heated air around and over the food. This usually leads to uneven and slower cooking.
To clean your oven's fan, you have to remove it for better and thorough cleaning. You should as well effectively clean and eradicate all the obstructions on the flue to enhance fan functionality.
d) Don't Try Cleaning Under The Knobs
During the process of cleaning your oven, you may be tempted to remove the knobs for easy cleaning. It may not be a hard job and the intention may not be wrong but the results can have serious repercussions. Don't forget that's like wetting an electrical system.
And as you know when doused, electrical units can have great effects. A short circuit may happen hence damaging some parts or the entire oven or worse still, you may end up being electrocuted.
e) Clean Racks And Oven Interior Regularly
Just like in the case of house doors, when dirt accumulates along the oven door trail, it becomes hard to close and open it. Not cleaning the racks and oven interior properly and regularly attracts the accumulation of carbon and food particles, which may make it hard for the doors to close.
Wrongly closed doors allow heat wastage and poor machine functionality. They allow the escape of vapor and steam within the door. This limits the amount of hot air directed to the food being cooked hence delaying the cooking.
Conclusion
Proper convection oven cleaning and care are required to advance its lifespan. Don't assume that your convection oven is under peak condition because it's functioning properly. Be checking on it regularly to make sure all areas inside and outside are clean.
You should as well always observe the safety precautions and tips that we've mentioned here while cleaning and maintaining a convection oven to prevent deadly accidents.
Eric is the owner, author, content director and founder of dehydratorlab.com. He is the lead architect and the main man in matters concerning dehydrators, their accessories, guides, reviews and all the accompaniments.Whenever he is not figuring out simple solutions (hacks) involving cookery and their eventual storage, you will find him testing out the different types of dehydrators, to bring us the juicy details regarding these devices.He is a foodie enthusiast, pasionate about making jerky has a knack for healthy and tasty food and won't hesitate to share out any ideas that might be of value around this subject.