After putting the COSORI 5-tray food dehydrator through its paces, I can confidently say it's a fantastic little tool for dehydrating a variety of foods, from jerky to fruits and more.
In this comprehensive review, I'll cover its features, design, quality, and tips and tricks, as well as provide a detailed list of pros and cons, and compare it to other products on the market.
Let's dive right into the meat (pun intended) of this review, shall we? Buckle up for some more snarky commentary and genuine insight!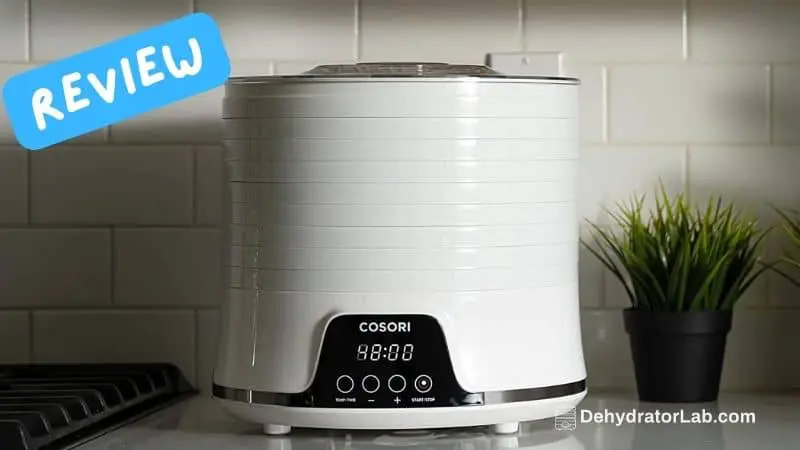 As an Amazon Associate, I earn from qualifying purchases. If you make a purchase after clicking on a link I may earn a small commission at no extra cost to you if items are purchased.
TL;DR
The COSORI dehydrator boasts a temperature control range of 95°F-165°F, a 48-hour timer, and an auto-shutoff function. The digital control panel is simple to use, and the unit comes with 5 BPA-free trays.
This dehydrator is perfect for making jerky, fruit leather, dog treats, and drying various herbs, fruits, and vegetables. The included 50-recipe book is a nice touch as well.
The COSORI Food Dehydrator is an excellent value for the price, offering precise temperature control, quiet operation, and easy cleaning. However, there are some design issues, like the trays being difficult to clean and the lid being too close to the top tray.
Despite the design hiccups, the COSORI dehydrator gets the job done. The temperature control is great, and I've successfully made several batches of jerky that were nothing short of mouthwatering.
I've also managed to dry fruits and veggies with reasonable success, although the drying times listed in the recipe book should be taken with a grain of salt (or a pinch of seasoning, if you prefer).
Alright, let's continue our deep-dive into the COSORI Food Dehydrator's performance in my kitchen and break down the features.
Features and Benefits
350W power: Efficient enough to handle most dehydrating tasks without breaking a sweat (or your electric bill).
5 BPA-Free Trays: Stackable trays that provide ample drying space, although they can be a bit tricky to clean.
48-Hour Timer: Let's you set and forget while the dehydrator works its magic.
165°F Temperature Control: Provides precise control for drying a variety of foods, from fruits to jerky.
Auto Shut Off: No need to hover around this baby – it knows when to call it quits.
50 Recipes Included: A helpful starting point for your dehydration adventures, but don't forget to experiment with your own creations!
Design and Quality
Let's face it – this dehydrator's design isn't going to win any awards, but it's still quite the workhorse, well-built and durable. The stackable trays can be adjusted for height, which is handy when you're dealing with larger items. Cleaning the trays can be a bit of a chore tho.
Some design issues include a narrow drip trough, a central air intake that overlaps with the trays, and a top lid that sits too close to the top tray. Seriously, who thought it was a good idea to have a central air intake without a cover? I mean, I love playing the "Will it drip?" game as much as the next person, but come on!
Although these issues don't make the dehydrator unusable, they do make me wonder if the design team ever actually tried making jerky themselves.
Noise Level
One thing I truly appreciate about this dehydrator is its quiet operation. Sure, it's not going to lull you to sleep with its gentle hum, but it's a far cry from the cacophony produced by some other machines I've had the misfortune of encountering. I'm looking at you, Nesco.
"COSORI dehydrator: perfect for when you want to make jerky but don't want to listen to the equivalent of a bus idling in your kitchen."
Now let's dive into the nitty-gritty details of the COSORI Food Dehydrator and break down its pros, and cons.
Pros
Easy to use: The digital control panel is user-friendly and straightforward, even for beginners.
Quiet operation: You won't have to invest in earplugs just to enjoy some homemade jerky.
Precise temperature control: Allows you to customize the drying process according to your needs.
Compact size: Doesn't hog too much counter or cabinet space.
Good value for the price: Pays for itself after a few batches of snacks.
Versatile: Suitable for dehydrating a wide range of foods, including fruits, veggies, meats, and even dog treats!
Cons
Tricky tray cleaning: Requires some elbow grease (and a good soak) to remove cooked-on marinade and residue.
Design flaws: Issues like the uncovered center air intake and the close-fitting lid could use some tweaking.
Inconsistent drying times: The recipe book's suggested times may not always produce optimal results.
Lack of included accessories: Be prepared to purchase accessory mats and parchment paper separately.
Limited tray depth: This may not accommodate larger or thicker items without some modifications.
Noise level: While quieter than some competitors, it's still not completely silent.
Accessories
This dehydrator doesn't come with accessory mats, so be prepared to order them separately. And don't even get me started on the round parchment paper situation.
I mean, I get that dehydrating is an art and all, but do I really need to spend my precious time cutting parchment to size? On the bright side, the additional effort you put in will definitely make your homemade snacks taste even more satisfying.
Value
Let's be real – we're all here to save some money on overpriced store-bought jerky and fruit snacks, right? Well, the COSORI dehydrator has you covered.
Sure, it's not the fanciest machine on the market, but it'll pay for itself in no time with the money you save on snacks. Plus, you'll get to enjoy the satisfaction of knowing exactly what's in your food. Take that, Big Snack!
Tips and Tricks
Don't forget to rotate the trays for even drying – it's a small price to pay for snack-time perfection.
Consider purchasing accessory mats for easier fruit leather and jerky preparation.
To make cleaning the trays easier, soak them in hot soapy water for about 10 minutes before scrubbing. You can also cut the grid out of one tray for drying larger items like mushrooms.
For jerky, you might need to set the temperature closer to 150°F to achieve the same effect as other machines.
Use parchment paper for fruit leather, even though the instructions say to remove it after 6 hours.
Comparison with Other Products
In this expanded comparison, I'll contrast the COSORI Food Dehydrator with three other popular dehydrator models: the Excalibur 3926TB, the Nesco FD-75A Snackmaster Pro, and the Presto 06300 Dehydro.
The COSORI dehydrator does a decent job and offers great value for its price, but it isn't quite as robust as other stackable dehydrators, the more expensive models offer additional features or better design solutions, such as slide-in tray systems.
It may not be as effective as other machines with larger diameters, but it gets the job done at a great price.
Slide-in tray system
9 large trays, offering 15 square feet of drying space
Adjustable thermostat ranging from 105°F to 165°F
26-hour timer
Solid build quality and reputation for durability
Higher price point than the COSORI model
Compared to the COSORI dehydrator, the Excalibur 3926TB offers more drying space and a slide-in tray system that can make it easier to clean and use. However, it comes at a higher price point and may be better suited for those with more extensive dehydrating needs or larger budgets.
Stackable trays
Comes with 5 trays, expandable up to 12
Adjustable thermostat ranging from 95°F to 160°F
No built-in timer
Converga-Flow drying system for even drying
More affordable than the COSORI model
The Nesco FD-75A Snackmaster Pro is another stackable dehydrator, similar in design to the COSORI model. While it lacks a built-in timer and has a slightly narrower temperature range, it offers an even drying system and comes at a lower price point. This dehydrator may be a good option for those on a budget who don't require a timer feature.
Stackable trays
Comes with 4 trays, expandable up to 8
The fixed temperature of 165°F
No built-in timer
The affordable and basic design
Less versatile due to fixed temperature
The Presto 06300 Dehydro is an entry-level dehydrator with a simple, affordable design. It has a fixed temperature setting, making it less versatile than the COSORI model. However, it may be suitable for users who only need a basic dehydrator for occasional use.
FAQ's
Below are some frequently asked questions about the COSORI Food Dehydrator and their answers:
Can you use the COSORI Food Dehydrator to dry herbs and spices?
Yes, you can use the COSORI Food Dehydrator to dry herbs and spices. Adjust the temperature to a lower setting, usually around 95-105°F, for best results.
Can I use this dehydrator to make fruit leather?
Yes, you can make fruit leather using the COSORI Food Dehydrator. It is recommended to purchase accessory mats designed for fruit leather, and you may also need to use parchment paper to prevent sticking.
Is the COSORI Food Dehydrator BPA-free?
Yes, the COSORI Food Dehydrator is BPA-free, making it a safer choice for drying your food.
How many trays can be used with this dehydrator?
The COSORI Food Dehydrator comes with 5 trays, but you can purchase additional trays separately. The maximum number of trays that can be used with this dehydrator is not specified, but stacking too many trays may affect drying efficiency.
Can I use this dehydrator for making dog treats?
Absolutely! The COSORI Food Dehydrator can be used for making various dog treats, such as dehydrated meat or fruit and vegetable chips. Just be sure to select the appropriate temperature and drying time for the specific treat you're making.
Is there a warranty for the COSORI Food Dehydrator?
Yes, the COSORI Food Dehydrator comes with a 1-year warranty, and you can also register your product with COSORI to extend the warranty by an additional year
How do I clean the trays of the COSORI Food Dehydrator?
The trays of the COSORI Food Dehydrator can be cleaned by soaking them in hot, soapy water for about 10 minutes before scrubbing them off. The trays are also dishwasher safe, but hand washing is recommended to prevent any damage caused by harsh dishwasher temperatures or detergents.
How loud is the COSORI Food Dehydrator during operation?
The COSORI Food Dehydrator operates relatively quietly, with users describing the noise level as similar to that of a small fan. The noise level may increase if the lid does not sit flush with the trays, which can happen when dehydrating larger or thicker items.
Conclusion
The Excalibur 3926TB provides more drying space and a slide-in tray system but at a higher cost. The Nesco FD-75A Snackmaster Pro offers a more affordable alternative with an even drying system, while the Presto 06300 Dehydro is a basic entry-level option with a fixed temperature setting.
In conclusion, COSORI may not be the belle of the ball, but it's a solid choice for those just starting out or looking for a budget-friendly option, providing precise temperature control, quiet operation, and a variety of uses.
It's got its quirks, such as the trays being difficult to clean and the lid sitting too close to the top tray but if you're willing to work around them and put in a little extra effort, you'll be rewarded with delicious homemade treats.
Now go forth and dehydrate!
Eric is the owner, author, content director and founder of dehydratorlab.com. He is the lead architect and the main man in matters concerning dehydrators, their accessories, guides, reviews and all the accompaniments.Whenever he is not figuring out simple solutions (hacks) involving cookery and their eventual storage, you will find him testing out the different types of dehydrators, to bring us the juicy details regarding these devices.He is a foodie enthusiast, pasionate about making jerky has a knack for healthy and tasty food and won't hesitate to share out any ideas that might be of value around this subject.