This is the one that so many dried food lovers have been waiting for – an all-stainless steel food dehydrator!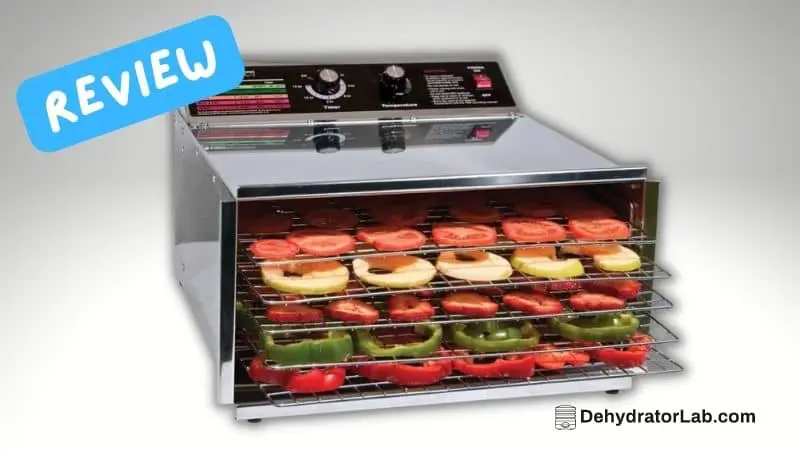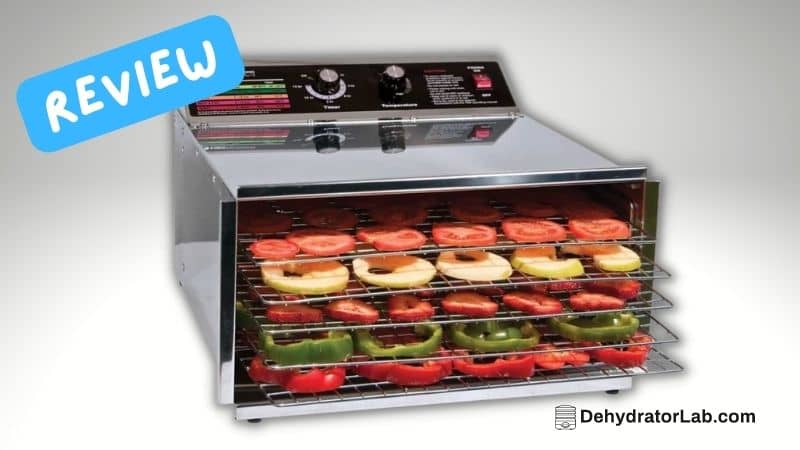 As an Amazon Associate, I earn from qualifying purchases. If you make a purchase after clicking on a link I may earn a small commission at no extra cost to you if items are purchased.
TSM Products Food Dehydrator Overview
The TSM Products food dehydrator (D-5 Stainless Steel 5-Tray model) has it all. Food-grade stainless steel cabinet and stainless steel shelves, thermostat, timer, and built-in power switch – what more can you possibly ask for?
Many people are wary of the use of any plastics, including BPA-free polypropylene, in food dehydrators, so this TSM Products dehydrator will be just what they are looking for, an all stainless steel unit. But this all comes at a price, and the D-5 is certainly not a budget machine.
For those who are serious about their health, and are prepared and able to back that commitment up with an investment in a high quality appliance, then they need look no further than this. The five 1.6 sq. ft. trays provide a generous 8 sq. ft. of drying space, and the thermostat can be set low for 'raw' dried food, high for jerky, or anywhere in between.
The fan and heater unit is located in the back panel for even distribution of airflow and efficient food dehydration without having to rotate trays. The door and even the back plate can be removed to allow for easy and safe cleaning of the cabinet.
The stainless steel door has 9 louvres for controlled release of hot air while maximizing moisture egress, and a hole in the center specially designed for inserting a food thermometer to monitor the actual air temperature inside the unit.​
Note that the stainless steel trays in Model No. 32603 have ¼" square holes; Model No. 32604 has ¾" square holes.​
1. Safety
The TSM Products stainless steel food dehydrator is extremely safe for food processing even at its maximum temperature. All the metal parts (trays and cabinet) are manufactured in 22ga – 304 food-grade stainless steel, to avoid any chance of plastic contaminants.
The rear panel, containing the electrical components, can be separated from the cabinet so that the latter can be thoroughly cleaned without any chance of damage to the electrical or electronic circuits.
The whole unit is earthed with a 3-prong plug for electrical safety, in accordance with US electrical regulations.
2. History
TSM Products is a division of The Sausage Maker, Inc., a company founded in Buffalo, NY, in 1976 that manufactures and sells food processing equipment. All equipment is performance tested by food service professionals.
The D-5 and D-10 range of Stainless Steel Food Dehydrators are made in the USA.
3. Warranty
The product has a one year limited warranty against manufacturer's defects in workmanship and material.
4. Capacity
Each shelf measures 14.5" x 16" and has a drying area of approximately 1.6 sq. ft. giving a total drying area of 8 sq. ft. when all 5 trays are used.
The vertical spacing between trays is 1.5".​
5. Features:
5.1. Rear-Mounted Fan and Heater Unit
The large fan and 800 watt heater are located in the rear panel of the dehydrator, ensuring an even flow of air over all the food trays, removing any necessity to rotate the trays during the dehydration process. They are also safe from falling liquids and food particles that can cause problems in bottom-mounted units.
The unit can be detached from the cabinet for easy cleaning of the inside of the cabinet.​
5.2. Flexibility in Vertical Spacing
Trays can be omitted to increase the vertical spacing between trays for thicker or larger food items. Even jars can be placed inside the hydrator, for example, for making yoghurt.
5.3. Built-in Timer
The dehydrator has a variable timer with a maximum period of 27 hours, with automatic shut off at the end of the time period. In addition, the unit has an option – at the far end of the dial – to be left in a "constant on" state, which effectively disables the timer and allows the dehydrator to remain on until manually switched off.
5.4. Variable Temperature Thermostat
The unit has a built-in thermostat with a color-coded table indicating the recommended temperatures for dehydrating different foodstuffs. The temperature ranges from 90°F through 165°F, providing for both 'raw' food dehydration and safe jerky production, as well as everything in between.
5.5. Built-in On-Off Switch
Given the 800 watts of energy drawn by the powerful heating element, it is essential that this unit has a built-in power switch and is not switched off by unplugging at the wall socket. This allows the appliance to be switched off even if the timer has not run to its end, allowing for ease and flexibility in operation.
5.6. Louvre Vents and Temperature Sensor Port In Detachable Door
The door of the dehydrator is made of the same food grade stainless steel as the rest of the cabinet. It is completely detachable for ease of loading and cleaning of the appliance.
The door has 9 horizontal louvre slots permitting the egress of moisture from the cabinet, along with a limited release of hot air. The door also has a small hole through its center that is ideal for inserting a food thermometer probe to measure the air temperature inside the cabinet without having to open the door.​
5.7. Shipped with:
The TSM Products D-5 Stainless Steel Food Dehydrator is shipped with 5 stainless steel trays. Non-stick drying sheets and screens can be purchased separately, as can a food thermometer.
6. Thermostat Range
The TSM Products D-5 Stainless Steel Food Dehydrator features an adjustable thermostat with a temperature range of 90°F through 165°F.
7. Power Consumption
The appliance is rated at 800 watts, and 6.6 – 7 Amps.
The power source is 110V – 120V AC 60Hz for North American use.
8. Dimensions and Color
The dimensions of the TSM Products D-5 Food Dehydrator are as follows:
Height: 9"
Width: 16.5"
Depth:18.8"
Item Weight: 31.4 pounds
Color: Mirror-finish stainless steel
9. Pros and Cons
PROS
Robust, quality construction
Safe, food-grade stainless steel
Variable timer with auto shutoff
'Constant on' function
Variable temperature thermostat
Built-in on-off switch
Detachable door and fan/heater unit for ease of cleaning
Large capacity
Flexibility in tray configuration
CONS
Large, heavy, not portable
Expensive
Fruit roll-up tray inserts and fine mesh inserts not included
No drip tray
10. Customer Reviews
Most customers have been impressed with the build quality and capacity of this food dehydrator. There are different views on the noise level, with a few users complaining about a noisy appliance, but it could be that part of the unit vibrates if the dehydrator is not on a level surface.
The ¼" mesh trays were found to be adequate for most foods, but, if needed mesh inserts can be purchased from the supplier, or baking parchment used. There were several comments that a drip tray is necessary, one solution was to lay down a piece of parchment paper or tin foil.
Most customers noted that the quality and performance, and the comfort of knowing that there were no plastics present near the food, were well worth the additional cost of the appliance.
Some mentioned that it is easy to clean, others liked the fact that it has a built-in timer, still others the large capacity. The only drawbacks that were raised related to the fact that the temperature settings are not graduated, and that it would have been good if a food thermometer had been included as a bonus feature.
Overall the TSM Products D-5 Stainless Steel Food Dehydrator has been well received by discerning food dehydrators who have found value quality over economy.
Conclusion
The TSM Products D-5 Stainless Steel Food Dehydrator really meets the needs of that section of food dehydration lovers who are put off by the prevalence of plastic in most dehydrators. With a few extras thrown in, this model would be an absolute winner.
The sturdiness, versatility, user-friendliness and efficiency of this dehydrator make it stand head and shoulders above the rest.
Eric is the owner, author, content director and founder of dehydratorlab.com. He is the lead architect and the main man in matters concerning dehydrators, their accessories, guides, reviews and all the accompaniments.Whenever he is not figuring out simple solutions (hacks) involving cookery and their eventual storage, you will find him testing out the different types of dehydrators, to bring us the juicy details regarding these devices.He is a foodie enthusiast, pasionate about making jerky has a knack for healthy and tasty food and won't hesitate to share out any ideas that might be of value around this subject.