This attractive round 5-Tray (not 6-Tray as is stated in some ads) stackable food dehydrator is available at a very affordable price for those who want an introduction to the world of food dehydration.
The NutriChef Kitchen PKFD12 5-Tray Electric Countertop Food Dehydrator has a bottom mounted fan and heater unit that pushes warm air upward through the drying trays, and out the top of the stack.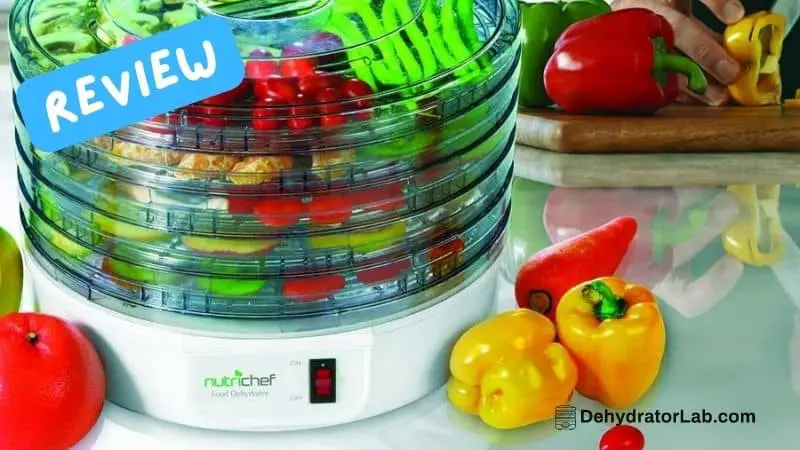 As an Amazon Associate, I earn from qualifying purchases. If you make a purchase after clicking on a link I may earn a small commission at no extra cost to you if items are purchased.
NutriChef Food Dehydrator PKFD12 Overview
The appliance features reversible trays that can increase the vertical space between them, allowing for thicker slices or larger food items to be dried.
This appliance has slightly less drying area than similar models in this price range, but this is related to the lower power rating of the heating element, at 250 watts compared to 400 watts in some other vertical stacking dryers.
With a preset temperature of 180°F, built-in on – off switch and see-through food tray walls, the NutriChef Kitchen PKFD12 Electric Countertop Food Dehydrator is simple to operate and easy to monitor during the dehydration process. And with its light weight and relatively small size, it lends itself to being moved out of the way or stored in a cupboard when not needed.
This is really a basic, entry level food dehydrator, which is simple to operate, but needs careful monitoring after a few hours to rotate trays at the correct time and prevent over-drying. At this price, it is a very affordable way of getting started in food dehydration.
1. Safety
The food trays are made of BPA-free plastic and the appliance operates at a maximum of only 180°F, so it is safe to use.
2. History
NutriChef USA is well known for its cookware which it has been making in the USA since 1874. The company has been an innovator in kitchen products since then. The NutriChef Kitchen PKFD12 Electric Countertop Food Dehydrator is made in Taiwan to US specifications.
3. Warranty
The NutriChef Kitchen PKFD12 Electric Countertop Food Dehydrator has a one year warranty limited to manufacturing defects only.
4. Capacity
Each tray has an internal diameter of about 12" and the internal core is about 2" in diameter, so the usable area per tray is approximately ¾ sq. ft. When all six trays are used, this gives a total drying area of approximately 4.5 sq. ft.
5. Features:
5.1. Built-in on-off switch
One of the main drawbacks found in the reviews of many buyers of dehydrators is the lack of a built-in on-off switch, requiring that the unit be unplugged from the wall socket every time it needs to be switched off.
NutriChef have solved that issue with the NutriChef Kitchen PKFD12 Electric Countertop Food Dehydrator, which has as its only control a built-in illuminated power switch.
5.2. Clear Trays
The NutriChef Kitchen PKFD12 Electric Countertop Food Dehydrator has clear BPA-free drying trays, with see-through walls so that the dehydration process of the food can easily be monitored.
5.3. Adjustable Tray Height
The food tray has tabs on the lower edge which, when the tray is installed upside down, will slightly increase the vertical space between trays. This will allow thicker slices of food to be dehydrated.
5.4. Supplied with:
The base containing the fan and heater unit and a built-in power switch, 5 clear BPA-free plastic food trays, and a see-through lid.
6. Thermostat Range
Preset temperature of 180°F.
7. Power Consumption
The heating element of the Nutrichef Kitchen PKFD12 Food Dehydrator has a power rating of 250 Watts.
The appliance is powered by 110V to 120V 60Hz, for North American use.
8. Dimensions and Color
The product dimensions are given as follows:
Height: 7.5"
Width: 13"
Depth: 13"
The product weight is given as 2.1 lb, but this is more likely the weight of food that can be processed at one time.
The base is available in one of two colors: white or black.
9. Pros and Cons
PROS
Affordable
Built–in on–off switch
Clear food trays for monitoring food during the dehydration process
Adjustable food tray height for different sizes of food or slices
Lightweight and easy to move or store away
CONS
Fan and motor housing in the base, vulnerable
No fruit roll-up inserts are supplied
No fine mesh inserts are supplied
There is no thermostat or automatic shut off
There is no timer so the dehydration process of the food must be closely monitored
The food trays have to be vertically rotated during the dehydration process
There is no drip tray
It has a smaller drying capacity owing to its lower power rating.
10. Customer Reviews
The customer reviews for the NutriChef are generally positive, with several buyers indicating the presence of the built-in power switch as being a useful feature. Also appreciated was the fact that the sides of the trays are transparent, allowing the user to see how the dehydration process is getting along.
The trays do need to be rotated, as the food on the lower trays tends to dehydrate faster than that on the upper trays. The see through trays are found to be very helpful in this regard.
For many people the NutriChef was considered to do a good job of food dehydration, but only if it is used as indicated in the manual. Owing to the vertical airflow, the food on the lower trays tends to heat up faster than that on the upper ones, and some buyers report having burned or over-dried their food.
The need to rotate trays and the lack of a built-in timer and automatic cutoff were also considered drawbacks, but several customers report using an independent timer to alert them to the need to check on the dehydrator's progress, with successful results.
The trays were found not to fit into a standard dishwasher and have to be cleaned by hand. If they do fit into a dishwasher, they should be removed before the drying cycle, as it was reported that the trays will warp if left in owing to the heat.
A customer reported that when fruit is sliced too thinly, it tends to stick to the trays, but was easy to remove when sliced slightly more thickly and removed as soon as ready. Another customer suggested lightly oiling the racks before placing meat on them, to prevent the resulting jerky from sticking to the rack.
Fruit roll-up sheets are not available for this model and several customers reported that sheets bought for a similar appliance from another manufacturer did not fit exactly and needed to be trimmed first.
There are several different opinions expressed by customers as to whether this appliance is noisy or quiet, but the majority appeared to find the level of sound generated by the fan to be acceptable, and felt that this is a good basic dehydrator at a very affordable price.
11. Conclusion
As has been said by many customers, the NutriChef Kitchen PKFD12 5-Tray Electric Countertop Food Dehydrator is a basic, no-frills, very affordable, entry-level food dehydrator (another 5-tray dehydrator is Elite Gourmet). It has a preset temperature of 180°F which is necessary for making jerky, but too high for making 'raw' dried foods.
The high temperature and vertical air flow pattern mean that the lowest food trays need to be rotated with the upper ones at intervals to prevent the former from over-drying and the latter from under-drying.
The clear trays allow for easy monitoring of the dehydration process, which is important when tray rotation is required.
The built-in power switch makes is a popular feature, but the lack of a timer and automatic shut-off would have been a bonus.
Also, the lack of inclusion of fine mesh inserts or fruit roll-up sheets with the shipping restrict the use of the dehydrator, especially since NutriChef does not stock fruit roll-up sheets and the ones available from other suppliers do not fit this model.
Eric is the owner, author, content director and founder of dehydratorlab.com. He is the lead architect and the main man in matters concerning dehydrators, their accessories, guides, reviews and all the accompaniments.Whenever he is not figuring out simple solutions (hacks) involving cookery and their eventual storage, you will find him testing out the different types of dehydrators, to bring us the juicy details regarding these devices.He is a foodie enthusiast, pasionate about making jerky has a knack for healthy and tasty food and won't hesitate to share out any ideas that might be of value around this subject.