The Gourmia GFD1950 dehydrator is touted as the best alternative to the expensive stainless steel dehydrators.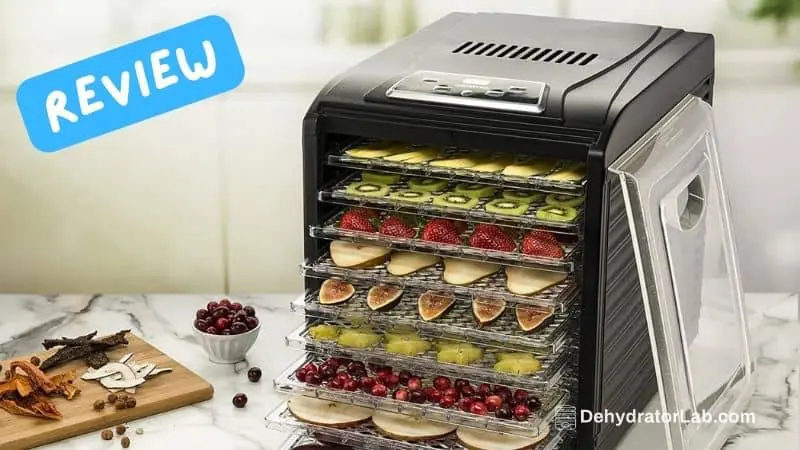 As an Amazon Associate, I earn from qualifying purchases. If you make a purchase after clicking on a link I may earn a small commission at no extra cost to you if items are purchased.
This is an amazing, fairly priced, and easy-to-use model that offers a 9-tray drying surface. The stylish and modern design of this machine is just one of the visible telltales that it has been crafted purposely for the modern family and kitchen.
Its square shape, which gives it a more attractive shape than the round-shaped dehydrators, in my opinion, allows you to easily set your pieces of food for dehydration.
Most homeowners also affirm that it fits so well on their kitchen counters.
Well, the Gourmia dehydrator also has several other operational and performance highlights that might also impress you besides its exterior silhouette.
To begin with, this is a digital unit that brings the convenience of an adjustable thermostat and an auto off switch. If you've ever had to wake up at 2 am to switch a dehydrator off, then you'll really appreciate this feature.
I'll tell you more about these and other features in this Gourmia GFD1950 Electric Food Dehydrator review. I've also scoured the net for feedbacks from other first-time users. Thus, I'll give you a glimpse of the strengths and weaknesses of this unit as the homeowners report too.
Dimensions And Color
You could get this dehydrator in either black or black. All the sides are opaque except for the transparent front-side window.
It measures 17.5 x 13.5 x 16 and weighs 13.94 pounds/6.32kgs. Its shipping dimensions will be 19.5 x 18 x 15.5 inches and 18.9 pounds/8.57kgs in weight.
It's not the bulkiest in any way whatsoever. There are models that weigh over 20 pounds, for instance, the Excalibur 3900B. All in all, some people might still find it a little bit heavy to move around.
If you are among them, then the best idea would be to dedicate enough space in your kitchen long before shipping for convenience.
Capacity
The Gourmia GFD1950 comes with 9 trays each measuring about one square foot in size. This gives you an interior drying surface totaling around 9.5 square feet.
To give you a clearer picture of this space, you could dry one pound of meat in each of these trays. For the jerkaholics, this means that you can dehydrate at least 9 pounds of meat in one batch.
This space is also ample for drying 1-2 pounds of fruits and vegetables.
Features
Rear-Mounted Fan
Rear-mounted fan dehydrators are touted as the best. Unlike the top-mounted and bottom-mounted fan models, dehydrators that have the fan at the back are said to push the heated air across the trays much better. Mind you, this is also what makes them notably pricier than their alternatives.
Besides evenly drying your food, there's no risk of food debris and juices falling through the trays and into the motor chamber as it's the case with bottom-mounted fan machines.
This dehydrator is also designed with another unique technology that contributes to the even drying: the Circusmart 360˚ Air-Flow Circulation System. Basically, this design ensures that the heated air is dispersed all around the drying chamber evenly.
Power
The GFD1950 Gourmia dehydrator is fitted with a 600-watt motor fan. I wouldn't say that this is the strongest motor in the market, but it seems like a good fit for a 9-tray drying machine like this one.
On the same note, the fact that both the heating element and the fan are located at the back make this motor just enough for this machine's size.
Another great feature of this fan is that it is less noisy compared to other high-power models. This means that you can dehydrate your foodstuffs overnight without the dehydrator being annoyingly loud.
9-Tray System
This dehydrator comes with 9 trays that are just enough for most average-sized homes. What's interesting here is that you won't have to rotate the trays since the food is heated from the back.
In addition, these trays are non-stick – a feature that most previous buyers highly appreciate, by the way. This design simply means that all the messes wash off easily simply by soaking in water and scrubbing lightly with a non-scratch brush.
The Countdown Timer LCD Control Center
The dehydrator has a magnificent LCD panel that "houses" the control center at the top. This adjustable timer offers you up to 19.5 hours of drying time.
Time adjustment is in precise 30-minute increments. This means that you can set the dehydrator to run for anywhere between 30 minutes and 19.5 hours.
This seemingly small feature is a game changer as you won't have to hover around to check if drying time is up. After the pre-set time has expired, this auto-off switch rings and switches off the machine automatically.
Digitally Adjustable Temperature Settings
The adjustable thermostat with the Gourmia GFD1950 Food Dehydrator is yet another great feature here. This feature generally allows you to dry each type of food (meat, vegetables, seeds, or herbs) at precise temperatures for optimum results.
Don't take this lightly. Most low-end dehydrators don't offer it. And this means that you'll have to dry all foods at equal an equal temperature which although doable increases the risk of burnt food.
The digital thermostat of the GFD1950 allows you to set the temperature at one of the 8 temperature settings that it spreads across a 95℉-158℉ range.
Transparent Door
Similar to most of its competitors, this dehydrator also has a see-through door that allows easy monitoring of the food without having to open it.
This means that you won't be interfering with the temperature in the drying chamber and this is one way of promoting an even drying process.
BPA-Free Plastic External Case
This dehydrator has a similar design to the all-steel Excalibur 3900B. However, this model's external case has been crafted from a hard plastic with the sole intention of cutting down the cost of production.
Consequently, you are able to get this dehydrator at a much lower price compared to the steel case models.
Of most importance is that the plastic used here is BPA-free. This means that there is reduced risk of harmful components finding their way into your food during when drying.
Accessories
The appliance comes with a fruit leather sheet to aid you in preparing fruit leather.
There is also a drip tray for taking care of dripping fluids that might give you hard time when cleaning the device.
Other items included in the package include an instructional manual to help you get the most out of the machine and a cookbook full of dehydration recipes to kick you off.
What We Like/What We Don't Like
PROS
A wide adjustable temperature accommodates all sorts of foods
Rear-mounted fan and non-stick trays make cleaning less daunting
It's fairly priced
Easy to use thanks to the digital control panel
Automatic auto OFF switch offers you considerable latitude in doing other chores
No switching of trays makes it convenient
Transparent door makes monitoring easy
Comes with a free cookbook if you want ideas
It's relatively quiet
No unintended mixture of flavors thanks to the horizontal airflow
Spacious enough to dry a wide range of food items
Its size also makes it ideal for medium to big families
CONS
Some customers find it too slow due to its maximum set temperature of 158℉
Its trays are not dishwasher safe
It's not dishwasher-safe
The accompanying booklet lacks some crucial information like temperature/time chart
Customer Reviews
The Gourmia GFD1950 Electric Food Dehydrator is currently not as popular as most of the dehydrators that we have reviewed before such as the Presto 06301 Dehydro Digital Electric Food Dehydrator.
However, the 4.4/5 star rating that it has garnered from its 300+ buyers so far is a good sign of a machine that meets the needs of most homeowners.
One thing that seems to stoke most buyers is its price tag. The Gourmia GFD1950 is relatively much cheaper than the all-steel dehydrators and yet it offers almost similar results.
The design of this machine has been received with a lot of praise so far. Most buyers attest that it blends perfectly with their modern-theme kitchens and other electrical appliances.
We didn't come across any complaint regarding space. This might suggest that its buyers are content with the drying capacity that it offers.
On this note, several reviewers pointed out that pulling trays out of the machine and loading them back is quite easy.
In terms of operations, a good number of the buyers find the timer and the adjustable thermostat great features that have really made dehydration so easy for them.
There was also almost zero complaint regarding noise. One buyer actually says that it lets out a non-obstructive white noise and that it is much quieter than his oven's cooling fan.
There were a few complaints though.
One serious flaw that a few homeowners point out is that even with its vast temperature range, this machine didn't meet their needs when drying vegetables. However, these users did affirm that it offers superb results with jerky and fruits.
Another buyer also noted that the temperature settings weren't accurate. This might be the reason why the other buyers didn't get the required quality with their dehydrated veggies.
In addition, people who don't like doing a lot of manual washing dislike the fact the trays are not dishwasher safe.
We hope that Gourmia rectifies these issues with their latest releases.
Safety
A product of the USA, Gourmia (the manufacturer) has gone an extra mile with this machine to ensure that all your health concerns are well taken care of. The trays, for instance, are made from a tough BPA-free plastic to alleviate the risk of plastic poisoning.
In addition, this electric food dehydrator carries the ETL mark. This is a proof that it has been crafted with compliance to North American safety standards and meets certain performance standards.
This means that you are not only getting a machine that gives you a good bang for your buck, but it also won't jeopardize your wellbeing and that of your family.
History
Gourmia Company has its headquarters in Brooklyn, NY. Besides its dehydrators, it manufactures an array of kitchen equipment such as this Gourmia meat grinder, sous vide immersion cookers, coffee machines, air fryers, among many others.
Gourmia has been in this industry for over 3 decades and prides itself on having full knowledge of what cooks are really looking for. This brand says that its products aim to give the cooks that which they want.
Warranty
This machine comes with a 1-year warranty. Unfortunately, the manufacturer does not reveal so much about the nature of this warranty. In fact, neither Amazon nor the manufacturer's website has any info regarding this issue.
As such, it's important that you read the warranty card in the package to the latter first to understand what is covered and what won't be compensated before putting the dehydrator to work.
Conclusion
The Gourmia GFD1950 Electric Food Dehydrator might be a great pick if you are looking for a cheaper alternative to the steel drying machines.
Even at its slightly lower price, this model still manages to bring almost all the features that make an interesting modern-day dehydrator.
The digital control panel featuring a countdown timer and an auto-off switch means that this machine has been designed to make your life much easier.
The adjustable thermostat, on the other hand, is a great thing to have especially if you love jerky as well as dehydrated fruit treats.
It does come with a few flaws like inaccurate temperature ranges and trays that you can't go in the dehydrator.
However, if you have a way of maneuvering through these challenges, the Gourmia GFD1950 Electric Food Dehydrator will definitely make a great addition in your kitchen.
Eric is the owner, author, content director and founder of dehydratorlab.com. He is the lead architect and the main man in matters concerning dehydrators, their accessories, guides, reviews and all the accompaniments.Whenever he is not figuring out simple solutions (hacks) involving cookery and their eventual storage, you will find him testing out the different types of dehydrators, to bring us the juicy details regarding these devices.He is a foodie enthusiast, pasionate about making jerky has a knack for healthy and tasty food and won't hesitate to share out any ideas that might be of value around this subject.