Grinding meat could never get any easier as it can be when you purchase the LEM 8Lb .35 HP Stainless steel electric meat grinder.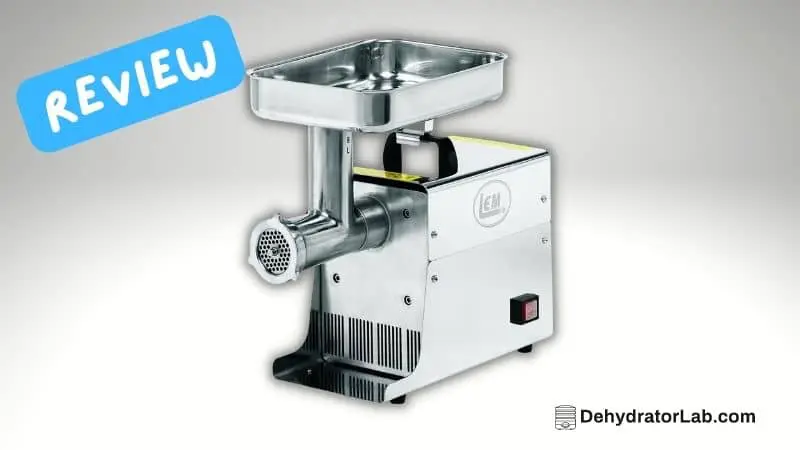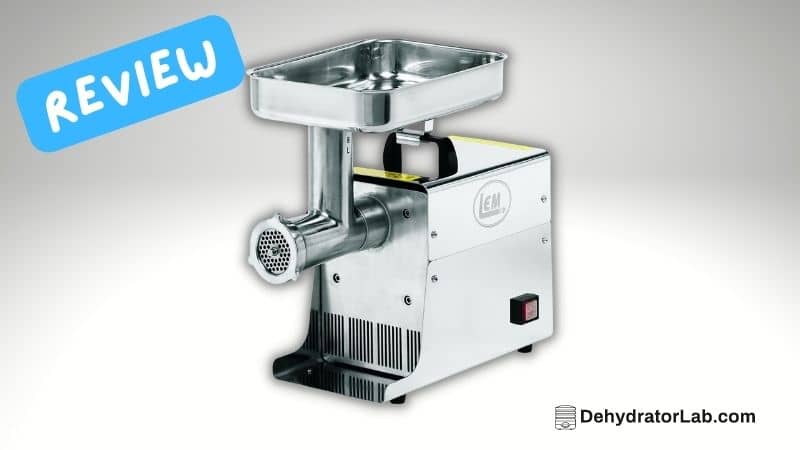 As an Amazon Associate, I earn from qualifying purchases. If you make a purchase after clicking on a link I may earn a small commission at no extra cost to you if items are purchased.
The LEM meat grinder is one of the most powerful electric meat grinders on the market as it has an 8-pound .35 horsepower motor, which is amazing for an electric meat grinder. If you need a less powerful one, then read our Gourmia GMG7000 Review.
If you are a hunter or you just want to make fresh sausages and a variety of meats, then you will be impressed with this electric meat grinder.
This electric meat grinder can easily grind up to nearly 250 pounds of meat in an hour. One major difference with the LEM electric meat grinder to other electric meat grinders is the motor doesn't require any motor lubrication after each use.
Who would benefit with this electric meat grinder? Housewives, hunters, restaurant owners, and butchers. As you can see the LEM 8 Lb. 35 HP electric grinder can benefit just about anyone!
Dimensions
The dimensions of the LEM electric meat grinder is 2.2 x 11.5 x 8.5 inches. The meat grinder weighs thirty-six pounds. The voltage range for the meat grinder is 110 standard voltage.
Features
1. Motor & Gears
The housing of the electric meat grinder is stainless steel and the motor is a size 8 lb. with a .35-horse power. The motor needs no extra lubrication because the motor is lubricated permanently.
The gears in the electric meat grinder are made of stainless steel and they have roller bearings, which provides a performing meat grinder for a very long time.
2. Grinding Plates And Stuffing Plate
The LEM meat grinder comes with three grinding plates and one stuffing plate. The grinding and stuffing plates are made with stainless steel. There is a course, fine, and large grinding plate that is included with the electric meat grinder.
3. Meat Tray
A meat tray is included with the LEM electric meat grinder. The meat tray is 11.5 x 8.5 x 2.25 inches. This tray is the perfect size for holding a lot of meat that needs to be ground.
The larger meat tray will eliminate time as there will be no reloading meat often due to the size of the meat tray.
4. Accessories
This electric grinder comes with accessories that will make your meat grinding process easier and the added accessories include:
Meat stomper
One knife that is made of stainless steel
3 grinding plates made of stainless steel
Three stuffing tubes
Big bite auger
One meat tray
The big bite auger assists in taking the meat that is needed to be placed into the stuffing tube from the meat tray quicker. The stuffing tubes sizes include 3/8, ¾, and 1 ¼.
What We Like/What We Don't Like
Pros
All items are dishwasher safe
Quiet operation
Operates quietly
Grinds thru bones that are soft, which is excellent for making fresh dog food
An automatic shut off for the motor
Handy and convenient handle
No motor lubrication needed
Stainless steel grinding plates
Rust resistant
Two-year warranty
8 LB. 35 horse power motor
Metal gears
Affordable
Durable
Cons
Feeding tube is narrow
Can scratch easily
Warranty
LEM electric meat grinder comes with an impressive two-year manufacturer's warranty. Most of the electric meat grinders only offer a one-year warranty, so this is a great warranty.
What Customers Say
The happy customers that purchased the LEM Electric Meat Grinder left a positive review for the product and many of these happy customers said that the electric meat grinder worked great.
They also said that the electric meat grinder may cost a little more money than other electric meat grinders, but the price is worth the money because there are a lot of added features and benefits that come with this particular model.
Conclusion
The LEM 8 Lb. 35 HP Stainless Steel Electric Meat Grinder is not only a great appliance for any home, but it also great for butchers and restaurants. It has the power to work effectively in all environments. This top electric meat grinder can grind through all types of meats along with softer bones.
The larger meat tray that comes with the electric meat grinder easier to grind a large amount of meat at one time. The price is a little higher than other electric meat grinders, but you should always remember the old saying, "You get what you pay for". If you want a quality product, then sometimes you have to pay a little more money to get the high-quality product that you want and need. I recommend the LEM 8 Lb. 35 HP Stainless Steel electric grinder as it has an unbelievable amount of power but if you're still looking for a cheaper alternative, read our Sunmile SM-G73 Review.
Eric Mitchell
Eric is the owner, author, content director and founder of dehydratorlab.com. He is the lead architect and the main man in matters concerning dehydrators, their accessories, guides, reviews and all the accompaniments.Whenever he is not figuring out simple solutions (hacks) involving cookery and their eventual storage, you will find him testing out the different types of dehydrators, to bring us the juicy details regarding these devices.He is a foodie enthusiast, pasionate about making jerky has a knack for healthy and tasty food and won't hesitate to share out any ideas that might be of value around this subject.