The shopper that is looking for a great meat grinder and has the power to handle all types of meat should consider purchasing the Sunmile SM-G73 ETL Stainless Steel 8 Electric Meat Grinder.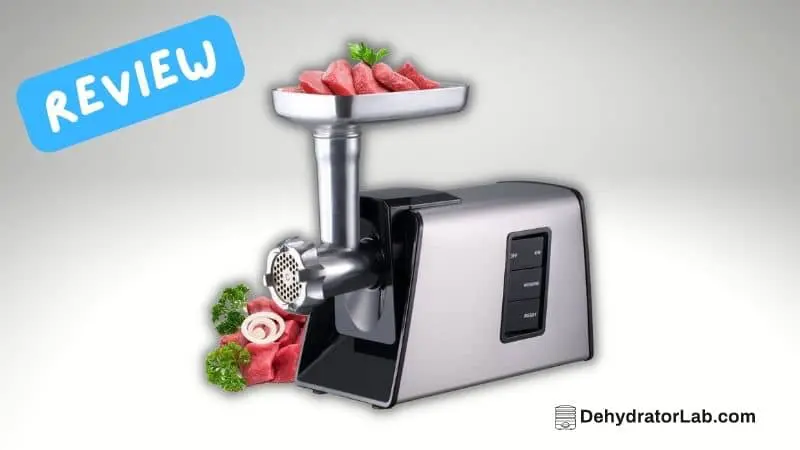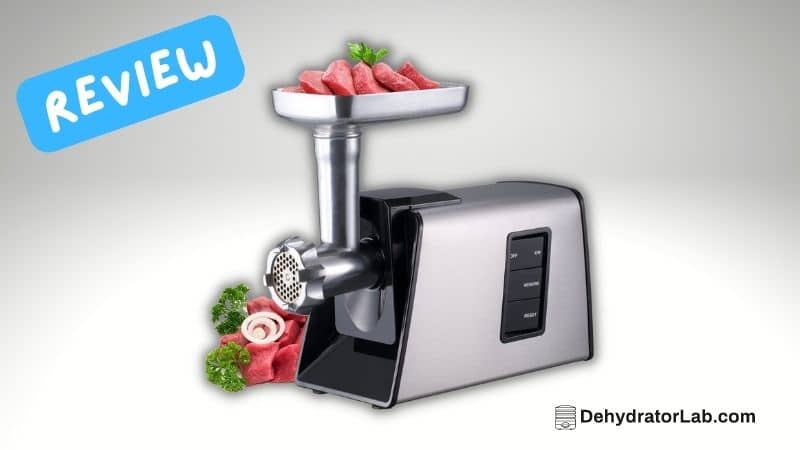 As an Amazon Associate, I earn from qualifying purchases. If you make a purchase after clicking on a link I may earn a small commission at no extra cost to you if items are purchased.
Sunmile Meat Grinder SM-G73 Overview
The Sunmile Meat Grinder SM-G73 has 1.6 horsepower, 600 watts and up to 1000 watts of maximum power will effectively grind through nearly 200 pounds of meat in less than one hour. The Sunmile electric meat grinder doesn't just grind meat, but it can also grind nuts too.
There is a circuit breaker that has been installed on this electric meat grinder and the circuit breaker will prevent the motor from overheating or burning up. If you are grinding meat and you want to restart the meat grinding, then you can do that with ease as this electric meat grinder comes with a reverse option too.
The Sunmile SM-G73 ETL Stainless Steel 8 Electric grinder comes with three grinding plates along with one cutting blade, and these are all stainless steel, which is strong and durable. All of the parts and materials with this electric meat grinder are made with high-quality materials.
What Is A Number 8 Meat Grinder?
The number 8 meat grinder means that this is a standard grinder that is two and a half inches.
The stuffing tube is two inches wide at the top of the chute where the meat will be put in and as the meat begins to drop into the auger on the meat grinder, the stuffing tube will be a bit narrower.
Features
1. Cutting Blade And Grinder Plates
The Sunmile SM-G73 ETL Stainless Steel 8 Electric meat grinder comes one cutting blade that is stainless steel, and it also comes with three grinding plates that are also stainless steel.
It also comes with three different attachments for making sausage. The cutting blade and the grinder plates are safe to put in the dishwasher for thorough cleaning and sanitizing.
2. Dimensions
Sunmile 8 electric meat grinder is 12.8 inches long x 7.28 inches wide x 6.3 inches in height. The electric meat grinder weighs 13.5 pounds, and the meat tray that is included with the electric meat grinder is 8.25 inches x 6 inches x 152 mm.
3. Materials, Parts, And Color
The Sunmile electric meat grinder gears are made of durable plastic. The meat grinder's housing is made of aluminum.
The plates and the cutting blade are made with stainless steel. The Sunmile electric meat grinder comes in an attractive stainless steel, which will match any décor.
4. Control Buttons
The control buttons on the Sunmile electric meat grinder are easy to operate. There are three buttons that are a pretty good size, which makes operating the meat grinder easier to operate.
The buttons include an on and off button, a reverse button, and last button is a reset button. You may be wondering why you would need a reverse button on an electric meat grinder, and the answer is simple.
The reverse button can be used if the grinder begins to clog up or jam. If the circuit breaker needs to reset, then this is when you use the reset button.
5. Warranty
This specific meat grinder comes with the standard warranty for most electric meat grinders, which is a one year warranty.
The electric meat grinder is well-built and will perform properly if the electric meat grinder has the proper maintenance is performed. It is made in China.
6. Maintenance
The maintenance on the electric grinder is fairly simple. Most of the parts on this particular electric meat grinder are made of stainless steel and aluminum, so you will want to make sure that you know the proper maintenance to prevent any rusting from occurring.
The cutting plates and cutting blade are safe in the dishwasher, but the hopper, stuffing tube and meat pusher should never be put in the dishwasher but washed by hand, then they should be dried. This will keep these accessories from rusting or receiving any discolor.
Before you put the electric meat grinder away and all the accessories you should use a food grade oil on all of the grinder parts and all of the accessories. This will assist in keeping everything from rusting.
What We Like/What We Don't Like
Pros
Powerful
Reverse, reset, and on and off buttons
Grinds nearly 190 pounds in an hour
Large food tray
3 sausage attachments
3 cutting plates
Stainless steel blade
Affordable
Attractive
Cons
Gears are made from plastic
Gears can break
Accessories can rust
What Customers Say
The happy customer reviews that were left said that the electric meat grinder runs smooth and quietly, easy to operate, and really loved the power.
Indeed there were some unhappy customers, and the biggest complaint that the majority of the unhappy customers said was the gears were plastic and seemed to break easily.
If I were looking to purchase an electric meat grinder I would consider purchasing the Sunmile SM-G73 Stainless Steel 8 Electric Meat Grinder due to the price, the maximum power of 1000 watts, and the one year warranty.
Conclusion
The Sunmile SM-G73 Stainless Steel 8 Electric meat grinder is really a great performing meat grinder for its price. The ability to grind nearly 200 pounds of meat within an hour is very impressive.
The circuit breaker is an excellent way to prevent the motor from overheating and burning out. It comes with plenty of accessories so buyers don't have to purchase any extra accessories later.
The overwhelming of positive customer reviews really showed actual customers were pleased with their purchase and would recommend the product due to its outstanding performances.
I would purchase the Sunmile SM-G73 Stainless Steel 8 Electric Meat Grinder for myself or to give to friends and family members as a special gift. But on the other hand, if you're looking for manual grinder, read our CucinaPro Manual Meat Grinder review.
Eric is the owner, author, content director and founder of dehydratorlab.com. He is the lead architect and the main man in matters concerning dehydrators, their accessories, guides, reviews and all the accompaniments.Whenever he is not figuring out simple solutions (hacks) involving cookery and their eventual storage, you will find him testing out the different types of dehydrators, to bring us the juicy details regarding these devices.He is a foodie enthusiast, pasionate about making jerky has a knack for healthy and tasty food and won't hesitate to share out any ideas that might be of value around this subject.