As a tabletop meat grinder CucinaPro Meat Grinder with Tabletop Clamp and Three Cutting Disks was designed to make fresh healthy meats. This meat grinder is easy to use and made of quality cast iron.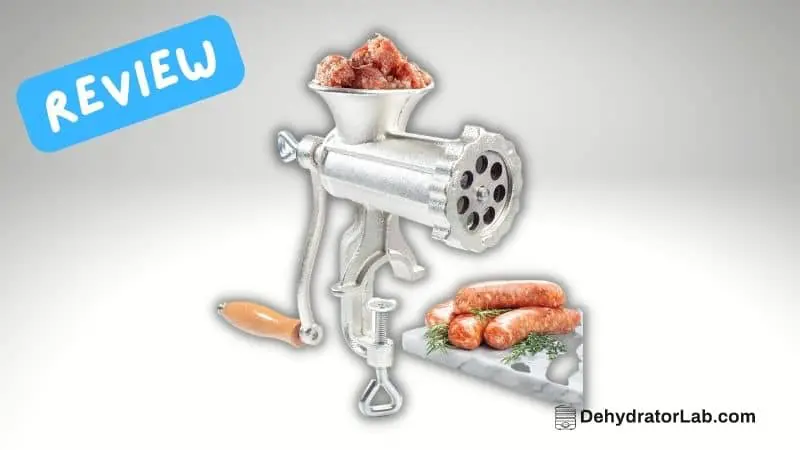 As an Amazon Associate, I earn from qualifying purchases. If you make a purchase after clicking on a link I may earn a small commission at no extra cost to you if items are purchased.
The CucinaPro meat grinder comes with three different sizes of cutting disks and the meat grinder simply attaches to any countertop and tabletop. Learn here how to assemble a manual meat grinder.
CucinaPro Meat Grinder with Tabletop Clamp was specially designed as a tabletop meat grinder for the chef in all of us.
Once you make your first batch of fresh burgers you will never purchase frozen hamburgers from the store again. The difference in the taste is amazing!
Users can easily grind up over two pounds a meat in just a couple of minutes, which is outstanding for a manual meat grinder. This grinder is well-built and is meant to last, but if you have a problem with it, then no worries as it comes with a one-year warranty.
Dimensions
The dimensions for the CucinaPro meat grinder are 10.2 x 3.8 x 10 inches. The tabletop manual meat grinder is lightweight and weighs only one pound.
Warranty
There is a one-year warranty that comes with the CucinaPro Meat Grinder. The one-year warranty covers all the parts on the meat grinder.
Ease Of Use
This is one of the easiest manual tabletop meat grinders to use. To start using the CucinaPro manual meat grinder you should select the cutting disk that you want your meat to be done with. If you want the meat to be fine, medium, or coarse, then select the disk and attach it to the meat grinder.
The next step is to attach the meat grinder to your countertop or tabletop, and you should continue to turn the clamp until the meat grinder is secured on the countertop, and this will ensure that the meat grinder won't move while you are grinding meat.
The last step is to cut the meat into smaller sizes, then turn the handle. That is how easy it is to use the CucinaPro meat grinder.
Features
Accessories
CucinaPro meat mincer comes with three sizes of cutting disks, which include a course, medium, and fine.
Although there isn't a lot of accessories that come with this manual meat grinder don't let it discourage you from purchasing it, because it is a great manual meat grinder.
Performance And Durability
The CucinaPro manual meat grinder is a durable grinder. It is made of a cast iron, which is heavy duty. The meat grinder has an amazing performance. It can grind over two pounds of meat within a couple of minutes.
If you don't tire out from cranking the handle on the meat grinder you don't have to worry about the CucinaPro manual meat grinder quitting as it will outlast you.
If you are searching for a manual meat grinder that is well-built and designed, then look no further. The CucinaPro Meat Grinder with Tabletop Clamp and Three Cutting Disks is the grinder for you.
What We Like/What We Don't Like
Pros
Affordable
Dependable
Built to last
Three cutting disks
Made with cast iron
Grinds quickly
Hand wash for easy cleanup
Easy to use
Cons
Rusts easily if it's not maintained properly
Cutting disks are not that sharp
Customer Reviews
The satisfied customers loved the heavy duty and high-quality built meat grinder and the price for this device is very affordable.
CucinaPro is well-known brand for making quality meat grinders and if the customer is having an issue with their CucinaPro grinder, then they should contact the company as there is a one-year warranty on the product.
Rusting issues can be resolved by making sure that the pieces are cleaned properly and dried thoroughly. This will keep the pieces from rusting.
The manual meat grinder is affordable and it will give you a chance to see if you enjoy grinding your own meats.
Final Thoughts
My personal thoughts on the CucinaPro Meat Grinder is that, it is a well-built tabletop meat grinder that is made with cast iron that is known for being heavy duty. The meat grinder comes with three cutting disks, so buyers will have a choice in the type of grind that they want with their meats.
The table clamp will clamp on any tabletop or countertop, so if you would like to sit down at the table and grind the meat, then you can do that with no problem with this meat grinder.The meat grinder is lightweight, which allows the user to take the meat grinder with them to family outings and cookouts.
You can impress your family and friends with the fresh sausages, hotdogs, sausages, and meat that you make. The meat grinder is not dishwasher safe, but it is easy to take apart and clean up with a matter of minutes.I would recommend the CucinaPro Meat Grinder with Tabletop Clamp because it is a heavy-duty grinder that is very affordable.
When you can grind two pounds of meat within minutes, then clearly this is a great tabletop meat grinder as most of the manual meat grinders can't perform as good as this one.
A good alternative to Cucina Pro is Weston #10 Grinder
Eric is the owner, author, content director and founder of dehydratorlab.com. He is the lead architect and the main man in matters concerning dehydrators, their accessories, guides, reviews and all the accompaniments.Whenever he is not figuring out simple solutions (hacks) involving cookery and their eventual storage, you will find him testing out the different types of dehydrators, to bring us the juicy details regarding these devices.He is a foodie enthusiast, pasionate about making jerky has a knack for healthy and tasty food and won't hesitate to share out any ideas that might be of value around this subject.