Cookouts and barbecues will never be the same again once your guests take the delicious sausages, hamburgers, and specialty meats that you create with the Elite Platinum Stainless Steel Meat Grinder.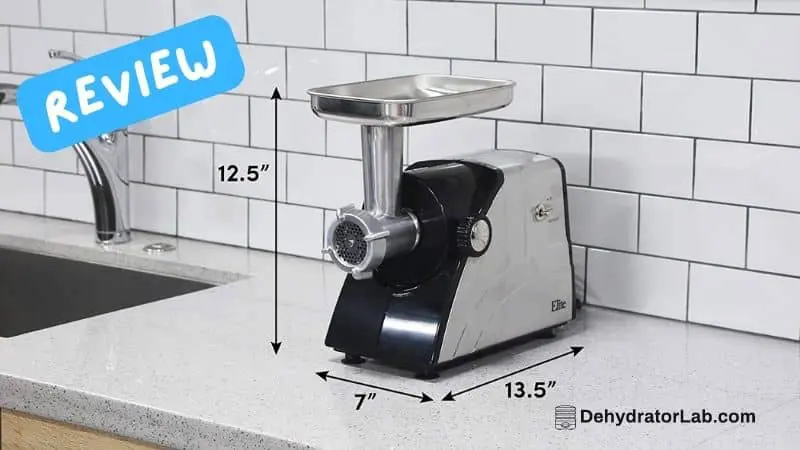 As an Amazon Associate, I earn from qualifying purchases. If you make a purchase after clicking on a link I may earn a small commission at no extra cost to you if items are purchased.
Elite Platinum HA-3433 Maxi-Matic 550 Watt is an elite meat grinder (pun intended) that has a simple design but has just enough power to grind through all types of meat.
Elite Platinum meat grinder comes with an attractive design that is also heavy duty. The body of the grinder comes with a finish of stainless steel and the head of the grinder is made of durable aluminum die cast.
The motor on the electric meat grinder is a .07 horsepower with 550 watts, which is enough power to grind quickly and effectively. All of this power and sophisticated design, consumers would expect this electric grinder to be very costly, but it isn't.
See our top 10 best meat grinder reviews on our website.
Warranty
The Elite Platinum Aluminum Die Cast grinder does come with the standard warranty, which is one year. The warranty covers the motor, grinder head, and feeding chute.
Dimensions
The dimensions for the Elite Platinum are 8.2 x 10.2 x 17 inches. The grinder weighs eleven pounds.
Ready to use?
The Elite Platinum meat grinder is easy to operate. There is only one switch that is used to operate the meat grinder. When you are ready to turn the meat grinder on, you just push the switch upwards.
If the meat grinder is clogging up or jamming, then you push the button downwards and the meat grinder will be in reverse, which will stop the meat grinder from clogging. When you have done all the grinding that you want to do, then the default position on the switch is used and this will power the meat grinder off.
Features
Accessories
Compared to other electric meat grinder brands, there aren't as many accessories with the Elite Platinum meat grinder. The accessories that come with this electric meat grinder are a food tray that is removable, two cutting discs that are cast iron, one sausage attachment, and a food pusher.
The two cutting discs provide a course and a fine grind, which doesn't give added options when grinding meat. Many of the other brands that are comparable to the Elite Platinum meat grinder, provides three different cutting discs along with two sausage attachments and a kebbe attachment.
Power And Performance
The Elite Platinum meat grinder comes with 550 watts of power and a .07-horse powered motor. With this type of power, it allows the electric meat grinder to quickly grind through venison, chicken, pork, turkey, and beef.
Elite Platinum grinder can even grind through softer bones too. The meat grinder has rubber feet, which is a good thing with this meat grinder, because unfortunately when the meat grinding is operating it tends to wobble and move.
It performs great, but when it is operating it tends to be noisy. There is a reverse switch on the meat grinder that will eliminate jamming and clogging meat.
What We Like/What We Don't Like
Pros
Heavy duty and durable design
Attractive stainless steel
Rubber seal on the feed shaft that stops liquids
Grinder head is made with aluminum die cast
Eliminates jamming with reverse switch
550 watts of power
Stability with rubber feet
Affordable
Dependable
Cons
Only one cutting plate is included
A bit noisy
Not dishwasher safe
Lack of accessories
Customer Reviews
Consumers that purchased the Elite Platinum HA-3433 Maxi-Matic 550 Watt Aluminum Die Cast Meat Grinder appreciated the affordable price and durability that this meat grinder provides. The pleased and happy customers all agreed that the meat grinder works great and grinds through all meat types without any issues.
Unfortunately, there were some of the customers that wasn't so thrilled with their purchase with the Elite Platinum meat grinder. A few of the unhappy customers complained that the meat grinder was just too loud and the meat grinder would wobble and shake when it was in use. These customers also didn't like the lack of accessories that the meat grinder didn't provide.
Overall, the Elite Platinum HA-3433 Maxi-Matic 550 Watt Aluminum Die Cast Meat Grinder may have a few flaws, but for the price, it is a great meat grinder.
Final Thoughts
My personal opinion of the Elite Platinum HA-3433 Maxi-Matic 550-Watt meat grinder is a great buy for everyone that wants to make their own sausages, hotdogs, meat, and pet food.
A few of the perks that come with this grinder is the powerful 550 watts and .07 horse powered motor. This forceful motor will allow grinding through all types of meats. If you want a quality meat grinder that will allow you to create your own meats and you really don't care how loud the grinder is, then this is the perfect meat grinder for you.
The price is very affordable and the grinder is also very attractive and will match any kitchen décor.
I recommend the Elite Platinum Maxi-Matic Aluminum Die Cast meat grinder.
Eric is the owner, author, content director and founder of dehydratorlab.com. He is the lead architect and the main man in matters concerning dehydrators, their accessories, guides, reviews and all the accompaniments.Whenever he is not figuring out simple solutions (hacks) involving cookery and their eventual storage, you will find him testing out the different types of dehydrators, to bring us the juicy details regarding these devices.He is a foodie enthusiast, pasionate about making jerky has a knack for healthy and tasty food and won't hesitate to share out any ideas that might be of value around this subject.