An industrial strength that is stylish and affordable is what consumers can expect to receive from the Best Choice Products Meat Grinder. The grinder comes with a 2.6 horse powered motor that peaks at 2000 watts.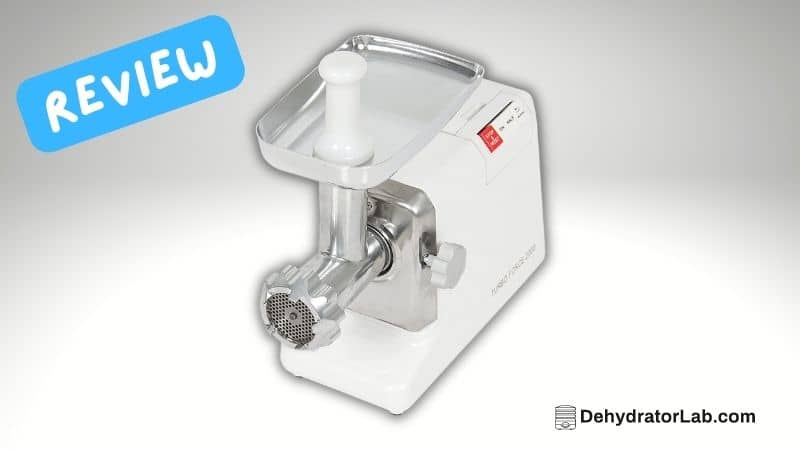 As an Amazon Associate, I earn from qualifying purchases. If you make a purchase after clicking on a link I may earn a small commission at no extra cost to you if items are purchased.
Don't let the affordable price make you think that the Best Choice 2.6 HP industrial electric meat grinder isn't a high-quality grinder because the motor is very powerful and it also comes with a hopper that is very large, which is perfect for larger sizes of meat.
There are three speeds on the electric meat grinder, which include a low speed, a high speed, and a reverse speed. The reverse speed will allow users to stop any jams or clogging, which is a rare activity that occurs with the electric meat grinder.
The 2.6 horse powered motor will effectively grind all meat types and users will not have to regrind the meat twice.
Safety
There are several safety features that the Best Choice Products meat grinder comes with. The food pusher keeps fingers safe as the food pusher will push all the meat through the feeding tube to be ground, and there is a small taper on the feeding tube that keeps fingers from entering the feeding tube.
Warranty
The Best Choice meat grinder comes with a one-year warranty and the warranty covers the motor and gears.
Dimensions
The electric meat grinder's dimensions are 18.8 x 11.5 x 8.2 inches. The electric meat grinder weighs 5.5 pounds. This grinder is light enough to take with you anywhere.
How Do You Operate The Best Choice Products Meat Grinder?
Best Choice electric grinder is easy to operate. The first step is taking the meat that you are wanting to grind and cutting them into smaller pieces. A helpful tip is once you have cut the meat into smaller pieces is then putting these pieces in the freezer for approximately twenty minutes, and doing this will make the meat grind faster and easier.
The meat is fed through the feeding chute and within seconds the meat is ground up. If at any time the grinder starts to clog up or jam, then just turn the reverse button on and this will stop the jamming.
The grinder doesn't jam or clog very often, but it is good to know what to do in case it does happen while you are trying to grind up your meats. There is no time limit on how long you can grind meat at one time as the electric meat grinder can be reset, which protects the motor.
Features
Accessories
The Best Choice Products electric meat grinder comes with three different sized cutting blades that are made out of steel. The electric meat grinder also comes with a food pusher that is made of heavy-duty plastic and a kubbe attachment.
Performance
The electric meat grinder comes with a 2.6 horsepower and 2000 watts rated. This grinder can grind three pounds of meat within one minute.
The electric meat grinder has three speeds to choose, which includes a low speed, a high speed, and a reverse option.
There is also a stop and reset option with the electric meat grinder. The auger and auger housing are made out of cast aluminum and the feeding hopper is also made out of cast aluminum.
What We Like / What We Don't Like
Pros
Motor is high powered
Three speeds
A stop and reset option
Three cutting blades made of steel
Reverse option
Auger and auger housing are made of cast aluminum
One-year warranty
Affordable
Attractive
Cons
No circuit breaker
No sausage attachment
Doesn't operate quietly
What Customers Say
The affordable price is one of the features that the most of happy customers raved about. The customers left a positive review and most of the happy customers said that the electric meat grinder worked great and were very surprised on how much power that this grinder provided.
Unfortunately, there were some unhappy customers that purchased the electric meat grinder. The main complaint they had was the Best Choice Products Company had terrible customer service support. The unhappy customers didn't complain about the performance or quality of the electric meat grinder, but they were just not pleased with the customer service support.
Conclusion
If you are tired of eating meat that is processed with additives and chemicals, then you should consider purchasing the Best Choice Products Meat Grinder. This grinder is lightweight and comes with a motor that has 2.6 horsepower.
The electric meat grinder can handle all types and thickness of meats.All of the safety measures have been added to the meat grinder. Another added feature with this electric meat grinder is the cutting plates. ​I believe this is one of the most powerful electric meat grinders that is affordable, which is always important to all consumers.
If you are want to make your own sausage with this electric meat grinder, then you will need to purchase sausage stuffing tubes, because this meat grinder doesn't provide them with the purchase of the meat grinder. I would recommend the Best Choice meat grinder to all consumers. It is affordable, powerful, and durable. It provides safety for users and the performance is outstanding!
Eric is the owner, author, content director and founder of dehydratorlab.com. He is the lead architect and the main man in matters concerning dehydrators, their accessories, guides, reviews and all the accompaniments.Whenever he is not figuring out simple solutions (hacks) involving cookery and their eventual storage, you will find him testing out the different types of dehydrators, to bring us the juicy details regarding these devices.He is a foodie enthusiast, pasionate about making jerky has a knack for healthy and tasty food and won't hesitate to share out any ideas that might be of value around this subject.