In this article, we will explore the best vacuum sealers available in the market for sous vide – a cooking method that has become increasingly popular these days – the best chamber vacuum sealers and the best external vacuum sealers.
We shall look at their key features, where they excel and perhaps where they don't quite meet the mark, and how they can best be used in the kitchen so that you're perfectly informed before choosing the one to buy for your kitchen.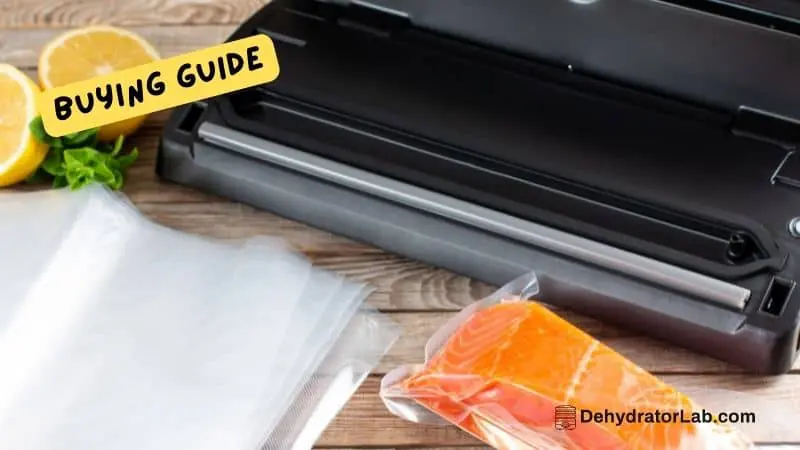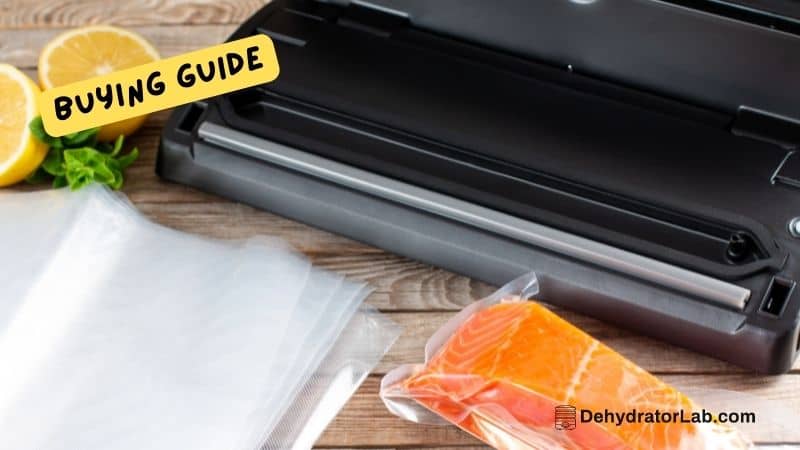 As an Amazon Associate, I earn from qualifying purchases. If you make a purchase after clicking on a link I may earn a small commission at no extra cost to you if items are purchased.
Our Top Picks
Best Vacuum Sealers For Sous Vide
1. FoodSaver V4840 Vacuum Sealer
This sleek machine which combines both a hand-held and standard vacuum sealer has automatic bag detection technology that automatically begins sealing once the food bag is put inside its chamber. The cutter and built-in roll storage allow you to cut the food bag down to any size before storing while eliminating the need for extra equipment when sealing extras like zipper bags.
LED light indicators also guide you through the sealing process: you can see at what stage the sealing has advanced to. In case moisture is still present, it adjusts its mechanism automatically, eliminating it until an air-tight seal is attained.
Its hand-held sealer is extremely versatile: it seals containers, cans, zipper bags and canisters while also marinating food in minutes. This amazing technology saves you time in a time-starved world.
FoodSaver V4840 also has a 'seal only' button. This works wonderfully for re-sealing already opened bags of dry foods like potato chips or cereal, keeping them fresher for longer.
It's excellent for sous vide cooking using its approved FoodSaver vacuum bags which tolerate high water temperatures of up to 185℉. Foods like fish or even steak cooked this way come out luxuriously tender and flavorful.
Features
2-in-1: automatic bag detection and vacuum sealing done in one step
Both hand-held and standard vacuum sealing
An automatic moisture detection mechanism
'Seal only' button: reseals already opened food bags without sucking out the air
LED light indicators guide you through the sealing process
Pros
Compact all-in-one system eliminating the need for extra sealing equipment
Sleek attractive design
Optional extras include mason jar and bottle corks to preserve liquids like wine or oil for longer
Cons
Liquids must be frozen first before sealing or they can make a mess
Cannot hold bigger commercial rolls
2. FoodSaver FM5200 Vacuum Sealer
This vacuum sealer has a unique easy view window which can help you see as you seal. This ensures that the process has been satisfactorily done. Its open-roll storage design also allows you to see when its roll needs replacing.
Dual heat sealing strips ensure that just the correct vacuum level is reached to optimize food preservation and the automatic moisture detection system adjusts automatically to correct the vacuum mode and ensure an airtight seal.
A drip tray is uniquely included with the FoodSaver FM5200 which will catch any liquid overflows and being dishwasher safe makes this vacuum sealer easy to clean.
Features
Express Bag makers reduce bag making steps by 50%
Vacuum windows help to see control of the sealing process
Open Roll storage helps determine when to replace the roll
An automatic moisture detection mechanism
LED light indicators to guide through the sealing process
Drip tray to catch any liquid overflows
Pros
Excellent for sous vide as the compatible FoodSaver bags come with high heat tolerance, hence the food comes out well-cooked
Optional extras include mason jar sealers and bottle corks
Easy to use
Easy to keep clean and in good condition
Cons
It does not come with an attachment for sealing jars
Has been known to need 2 people to operate it – one holding the food bag and one operating the sealer
3. NutriChef Vacuum Sealer
This top-rated compact vacuum sealer seems to be a hit with consumers. It has a sleek design in both black and silver, with an easy to clean outer surface.
It operates with 2 sealing modes – dry indication for dry solid foods like meats and wet indication for soupy or poached foods.
It's extremely easy to operate as it has a simple electric plug-in design with soft touch digital button that you press easily to activate the high power suction vacuum sealing systems. LED lights are also prominently displayed on the outer face to guide you along the sealing process.
The Nutrichef also comes with 5 medium environmentally friendly and BPA-free polyamide bags and an extra-long vacuum roll included in the full starter kit.
As it can withstand food temperatures of up to 212℃, it is an excellent sealer for sous vide cooking; the food cooks tender and flavorful.
Features
Dry indication and Moist Indication Sealing
High Power suction technology
Comes with a full starter kit
Comes with a wine preservation cork stopper
Pros
Its simple electric plug design is easy to use
Compact sleek design
Has a 'Seal Only' button to re-seal dry foods like snacks and cereal without vacuum sealing
Excellent for sous vide as can withstand high food temperatures
Cons
Accompanying instructions and product guide can be hard to follow
The vacuum seal can tip over on occasion when opening the lid
Best Chamber Vacuum Sealers
1. Happybuy Vacuum Sealer
Although industrial sized and heavy, this is commercial grade chamber vacuum sealer automatically begins sealing as soon as its chamber is closed, without the need to initiate sealing by pressing a button.
It efficiently works to vacuum seal all sorts of food products such as fish, fruits, vegetables, and meats but also bulky non-food items like books and electrical components.
Its stainless-steel housing makes it easy to keep clean and its size and durability lend it to commercial use as well in restaurants and food factories.
Program memory makes it easy to schedule saving time in the sealing process and its scram button stops sealing immediately in case of an emergency. With the excellent suction volume of 20 meters cube per hour and the well-sized chamber, more than one bag can be sealed at the same time.
This vacuum sealer uses vacuum oil sealing so care must be taken to regularly replace the vacuum sealer's oil to keep the pump in good condition.
Features
Heavy duty industrial-sized
Automatic sealing once chamber closed
Program Memory Feature
High Suction Power
Uses vacuum oil sealing
Pros
Can comfortably seal more than one bag at a time
Easy to clean stainless steel housing
Sealing instructions can be programmed into the machine to make repetitive sealing tasks easier
Cons
Quite bulky so could be tricky in a small kitchen or home
Product instructions can be quite hard to follow
2.

OrangeA Vacuum Sealer

The OrangeA vacuum sealer is a desktop sealer that has excellent commercial grade ability. It comfortably seals both food products such as grain, pulses and preserved fruit and non-food products such as electrical components, money, documents, and rare precious metals.

It does so by using a strict advanced seal technology that prevents spoilage from oxidation, mildew, worms or bacteria. It works well to seal both plastic bags and metal-based bags such as aluminium foil bags.

It also utilizes vacuum oil sealing which helps to absorb all moisture and non-condensable particles making for a very efficient sealing process. However, care should be taken to regularly replace the oil so as to keep the vacuum sealer pump in peak condition for longer.
Features
Commercial grade desk-top vacuum sealer
Stainless steel housing
Strict advanced seal technology
Works with both plastic based and metal/aluminum based bags
Uses vacuum oil sealing
Pros
Has high power and durability
Easy to clean stainless steel housing
Can be used with both plastic and metal-based bags adding versatility to its capabilities
Cons
Instructions manual can be hard to follow
Works well with medium size bags but not so well with large bags
Quite bulky so could be a challenge for small homes
3. VacMaster VP210 Chamber Vacuum Sealer
This vacuum sealer uses the dry sealing method – it does not need any oil to maintain and keep its pump operating. Inside the vacuum chamber, air is sucked out at high pressure, vacuum sealing while allowing liquids to stay within the bag. After the bag is sufficiently sealed, air returns back into the chamber and the bag can be removed.
It double seals on each bag to ensure a long lasting unbreakable seal and customize and adjust its sealing methods according to which packing method you prefer. Particularly excellent for sealing soupy or marinated foods, as there is no excess liquid spillage. However, it also seals dry foods very well.
It has a higher vacuum level than most other vacuum sealers in the market.
Features
Dry sealing method means less maintenance
Double sealing on bags to ensure a tighter vacuum pack
Higher vacuum levels reaching 27 – 29 hg
Specialized for sealing soupy or liquid food samples
Pros
Efficiently vacuum packs liquids just as well as solids with no spillage. This makes it excellent for sous vide cooking.
Double seals on the bag for a more secure seal
Suitable for use with any size of bags
Cons
Quite expensive
When sealing powders, they tend to mat due to the high vacuum levels, so will need to be broken up again before use
Best External Vacuum Sealers
1. Gourmia GVS455 Vacuum Sealer
This is a highly versatile external sealer with high functionality. It's an excellent choice if you're on a strict diet and need to carefully prep your food in advance, or if you have a young baby whose food needs careful portioning and prepping before storage. The end result is that this machine ends up saving you money as it extends the life of foods like meats and dairy which can be expensive.
It has four food settings – dry, moist, soft or delicate allowing you to perfectly vacuum seal the food without damaging its integrity. You can also either just seal, just vacuum or vacuumand then seal the bags depending on whether you wish to store the food in the fridge or pantry or whether you want to use it for sous vide cooking straight away.
It's also perfect for marinating meats and other foods and locks in flavour in less than 20 minutes shortening your cook time.
It has a powerful motor and built-in roll to suck out air from inside the bag powerfully. A full starter pack is included to get you pickling, marinating and preserving your food in no time.
Features
4 food selection type settings
3 vacuum and sealing settings
Compact sleek and simple design
Built-in roll and cutter
Comes with a full starter kit
Pros
Easy to use effortless operation
Perfect for marinating foods quickly locks in flavor
Highly versatile – can be used for pickling, sealing, vacuum sealing, vacuum marinating and for corking opened bottles of wine
Very affordable
Compatible with any size bag
Cons
Tends to work better with only small rolls. Bigger rolls will require cutting down to assize in order to fit the machine
2. Nesco VS-02 Vacuum Sealer
This affordable and attractive vacuum sealer is excellent for eliminating freezer burn and reducing food spoilage – perfect for the domestic home manager who wants to make their home more efficient.
It has an easy touch button operation and automatically shuts off, especially useful if you're busy with other tasks while sealing. It can accommodate bags of up to 11.8" wide which is an excellent range and has convenient built-in roll storage and bag cutter should you need to customize your bag size.
This machine performs both vacuum and seal and seals only operations indicated by LED lights, making it perfect a variety of foodstuffs. The full starter kit it comes with includes 10 BPA-free starter bags and 2 starter rolls.
Features
Easy touch button operation
Automatic shut off
Built-in roll storage and bag cutter
Vacuum/seal and seal only operations
Comes with full starter kit
Pros
Easy to use
Compatible with sealing can and jars
Automatic shut off is an added safety feature
Can accommodate a wide range of bag sizes
Cons
Sealed bags have been known to open up and succumb to freezer burn so extra care should be taken when sealing
3. Seal-a-Meal Manual Vacuum Sealer
Confidently store fresh fruit, meats, and vegetables with this external vacuum sealer. It operates using a simple one-press vacuum sealing controlled by an LED light indicator system. Once the hands-free illuminator light indicates, the machine goes on to seal efficiently without the need for you to hold on to the lid.
It is compact and well-designed making it perfect for use in small kitchens. As well as excellently sealing food products, it works just as well with non-bulky non-food products such as documents, body creams and soaps protecting them from water and mold damage.
Seal-a-Meal has compatible food saver bags and rolls making its use that much easier. It comes with a starter kit comprised of 4 Seal-a-Meal sealer bags.
Features
Grey plastic lightweight housing
LED one-press vacuum sealing
Seals both food and non-food products
Comes with a full starter kit
Pros
Easy to use one press mechanism
Very affordable
Light-weight and compact, excellent for domestic use in small spaces
Cons
Cannot handle bulky products and heavy usage
Who Can Benefit From Using A Vacuum Sealer?
Vacuum sealers come in handy for any home manager looking to reduce cost due to food wastage and spoilage. They preserve food keeping it fresher for longer. They also protect precious non-food items in the home from water damage and mold such as money, precious family photos, electrical components or precious metals.
Anyone who is following a diet for simple weight loss reasons or for medical reasons could also benefit from vacuum sealers, as it allows them to prep their food into approved portions beforehand, making it easier for them to stick to their diet.
Vacuum sealers can also help young mothers with an infant who has just started weaning. They help mothers portion out and store baby's food without fear of it going bad.
Commercial grade and heavy-duty vacuum sealers may also benefit restaurant owners or amateur manufacturers of food products helping them preserve their food for longer saving on spoilage costs.
Important Features To Consider When Buying A Vacuum Sealer
a) Size
A commercial grade bulky chamber vacuum sealer would not do in a small domestic kitchen. These machines need enough room around them to sit well on the counter and prevent overheating. A smaller sealer would be advisable dependent on the space available within the home.
b) Dry Indication vs. Wet Indication
The dry indication is used for most types of sealing as it's very versatile. However, if you know you will be sealing moist soupy foods or liquids, look for moist indication on the machine to avoid messy liquid spillages.
c) Bpa-Free Sealer Bags
Especially important for the safety of the family and young children, BPA-free sealer and food storage bags are a must to look out for.
d) Starter Kit Inclusion
This is an advantage as it gets you sealing right away at no extra cost. Sealer bags and rolls are most commonly included although some models like NutriChef add the wine cork as well.
e) Vacuum/Seal vs. Seal Only Operation
Vacuum seal operation requires that you first vacuum the contents and then seal the bag. This may not be convenient if you have bags that contain dry foods such as snacks and cereal which only need re-sealing. For this, look out for seal only operation on your vacuum sealer which will allow you to seal the bag without removing the air within it first.
Frequently Asked Questions
Do vacuum sealers seal non-food items?
Although primarily used to seal food items, vacuum sealers can seal non-food items such as documents, money or even family photographs.
How much longer do vacuum sealed foods last?
Vacuum sealed foods can last 5 times longer than food stored ordinarily in the fridge, freezer or pantry. Dairy products can last for weeks instead of days and meats, grains and pulses can last for up to 3 years when vacuum sealed.
Do vacuum sealers completely eliminate freezer burn?
Yes. They dramatically reduce, and, in most cases, completely eliminate freezer burn.
What is the difference between a chamber vacuum sealer and an external vacuum sealer?
Chamber vacuum sealers require you to place the bag inside the machine's chamber. Air is removed from the chamber, creating a vacuum which seals the bag. Once the bag is sealed air returns to the chamber and the sealed bag can be removed.
With an external sealer, only the open end of the bag is placed inside the sealer. Air is then sucked out of the bag, creating a vacuum and sealing the bag.
What is sous vide cooking?
Sous vide means cooking food inside a vacuum sealed bag under pressure. It has become extremely popular because it retains the food's nutrients and flavour while cooking the food. Vacuum sealers are especially efficient at sous vide cooking.
Why is a vacuum sealer important?
The best vacuum sealers act by eliminating air (especially oxygen) from within the storage bag. This keeps food freezer burn-free and more importantly protects food from mold and bacteria, all agents which can cause food deterioration and spoilage. In this day and age, where buying food in bulk is recommended in order to save on costs, vacuum sealers extend food shelf life and thus save money in the long run.
Vacuum sealers also come in handy when pickling as they conveniently and safely seal jars and also when prepping your home menu as individual portions are efficiently divided up, sealed and kept fresh for longer. Baby food is also preserved for months making feeding your young one easy and organized.
Conclusion
Vacuum sealers are to us in the 21st century what refrigeration was to people in the 19th century. They have completely revolutionized how we store our food, sometimes extending food shelf life for years.
In doing so they help us save money. Just which vacuum sealer you use, will depend on how heavy your usage, whether the usage is domestic or commercial and how much space have in your home to be able to accommodate the machine.
They are none-the-less very versatile and come in various sizes and designs. So, everybody is bound to find the best vacuum sealer for their needs.