Have you ever tried imagining how challenging life in the kitchen would be in the absence of the right kitchen equipment? Just envision a situation where you have to rent a food dehydrator every time you want to dry your foodstuffs.
What about having to cut meat manually when making meat jerky because you don't have a meat slicer?
Things would be really harsh around this place, and for many, the kitchen wouldn't be a cool place to be. Besides the average kitchen appliances like the refrigerator and freezer, outlined here are other 10 must-have kitchen appliances that will make your life in the kitchen smooth and convenient.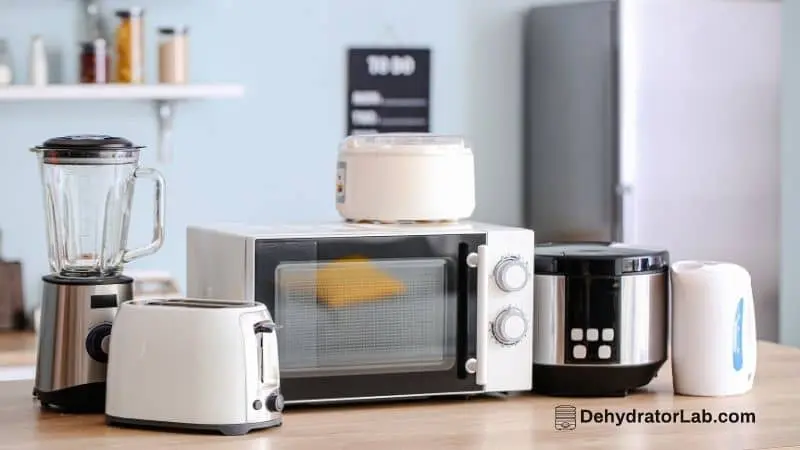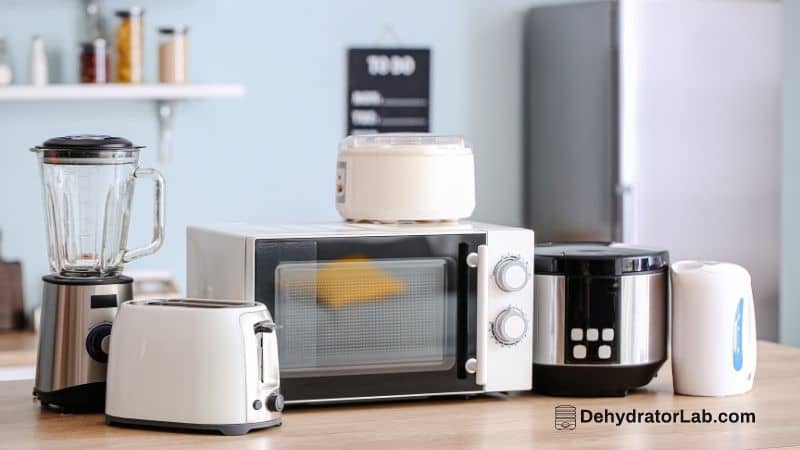 As an Amazon Associate, I earn from qualifying purchases. If you make a purchase after clicking on a link I may earn a small commission at no extra cost to you if items are purchased.
10 Kitchen Must-Have Appliances [Small Ones]
1. Food Dehydrator
A food dehydrator is a small yet efficient kitchen equipment made up of food trays, heating element, fan, and air vents. It's used in extracting the excess moisture content in vegetables, fruits, meats, and other foodstuffs to help increase their shelf life.
It works in such a way that, once the heating element heats the food and moisture is released to the dehydrator, the fan drives the moisture to the vents, which releases it to the atmosphere.
The air in a food dehydrator circulates horizontally or vertically, depending on how the fan is mounted. Vertical-airflow dehydrating units have their fans mounted on the top or bottom area, while horizontal-airflow dehydrators have their fans installed on the rear side. Check out our detailed article on food dehydrators airflow type.
The efficiency and reliability of different food dehydrators vary, so research the product details and reviews of any dehydrator to ensure you get a high-quality and performance-oriented dehydrator that will give you value for money. Or build a DIY food dehydrator yourself and control all aspects of the process.
2. Vacuum Sealer
A vacuum sealer, just like a dehydrator, helps in the preservation of foods to extend their shelf life. It's a multipurpose device that can be used in re-sealing bags, food storage, sealing bottles and jars, and corrosion protection.
Vacuum sealers work by extracting the air envisaged in a container or plastic bag and creating a sealing to prevent the air flowing back. It does an excellent job of keeping sealed contents away from bugs, oxygen, and liquids.
There are three main types of vacuum sealers, including a handheld valve, chamber, and external vacuum sealer. Handheld sealers work by removing air from customized zipper storage bags to keep your food fresh. They're small in size and perfect for use in kitchens with limited spacing.
External sealers draw air out of the lips of storage bags positioned into a thin compartment over the seal bar. These machines are bigger and louder hence suitable for household use.
As with a chamber vacuum sealer, it's more powerful and costly. The unit requires you to place a sealing bag in the chamber with the lip on the seal bar. Air is sucked out once you close the lid and turn the pump on before the bag is heat-sealed.
3. Jerky Guns
A jerky gun is a small yet user-friendly kitchen device ideal for preparing jerky recipes. It lets you make thin round sticks or thin strips from raw ground meat, which you can then dehydrate to create jerky meat. A jerky gun cut meat into strips with thicknesses of 1/8 to ¼ and wideness of one inch.
Jerky guns have hard metal or plastic parts. Some guns have a manual trigger, while others have an electric one. The barrel works to hold cured and seasoned meat, while the nozzle provides room for the meat to ooze out once the trigger is pressed. A jerky gun nozzle includes two attachments one for flat and thin strips and the other one for rounded strips.
With the right jerky gun, you can make delicious and uniformly cut jerky within a shorter time with minimal effort. It's one of the best devices you can add to your kitchen to simply and fasten cooking processes. When choosing a jerky gun, you should pay attention to the barrel size, ease of use, attachments, and the materials the device is made of.
4. Convection Oven
Convection ovens are advanced types of cooking equipment made up of an exhaust system and a fan, two of which work together to blow hot air around and over the food, and vent it out later. They work by enveloping food in dry and hot air, which ensures the food, cooks quickly and evenly.
The hot air released by the convection oven heats the exterior part of the food, while the interior parts are cooked by the heat released by the adjacent outer regions. A convection oven can be used when roasting meat or vegetables, dehydrating foods, baking pastries or pies, as well as when making cookies.
It's what you need to make more tasty cakes and pie dough as well as dehydrate your vegetables and meats so that you can increase their shelf life. Buyers can use between electric and gas convection ovens, depending on where they live and their personal preferences.
5. Meat Slicers
If you love preparing meat recipes, make your experiences smoother and funnier by using a meat slicer. A meat slicer is a small and useful kitchen appliance ideal for slicing deli products like cheeses, meats, and sausages.
You want to buy a meat slicer that packs the right features to ensure you get the best meat texture and taste. A meat slicer is every mom's favorite kitchen appliance that reduces the amounts of money spent on pre-sliced meat, which are up to 4 times costlier.
Meat slicers differ in size and performance, which is chiefly dependent on the manufacturer and the source of power. Before you buy a meat slicer, find out how much work is needed to keep them in shape.
Check the slicer's blade size and type, the engine transmission as well as safety features. You don't want a meat slicer that exposes you to extreme levels of risk when slicing meat for making stew or jerky.
6. Electric Grill
If you love grilling but hate the inconvenience associated with traditional charcoal grills, an electric grill is all you need. An electric grill pack features like the grate, electric heating element, drip pan, and deep grooves.
Electric grills come in indoor and outdoor varieties, which have either stand-on or tabletop designs. In getting an electric grill, look for one with tight dampers and lids, which can easily be opened and closed to allow quality heat control.
Consider one or two burner grills as they heat faster and eat less kitchen spacing. Check the grill's design to ensure the locking wheels, coal beds, side tables, and burners are adjustable. Electric grills with wattage ratings of more than 1000 are highly recommended since they cook faster and more evenly.
If you live in a rented house and want to enjoy the convenience of grilling any time and any time, get a unit that's portable and user-friendly. Check out the user manual to be sure the grill installs quick and doesn't require much cleaning work.
7. Slow Cooker
This is another amazing small-sized appliance you should add to your kitchen. A slow cooker eradicates the worries of having to cook food late at night after a long day at work. You can leave your food to cook as you leave and come back to a fully cooked, tasty, and ingredient-packed food. Slow cookers are useful all year and minimize the temptation of having to buy a takeout meal.
A slow cooker allows for one-step meal preparation, which ensures you can place all the ingredients at once, reducing the preparation time. The low-temperature and long cooking employed by slow cookers tenderizes the less-costly meat cuts as well as brings out the original flavor of your food, whether casseroles, meats, stews, or soups. Slow cookers have two or three settings.
The high setting lets you cook meals within four to six hours while the low setting brings cook within 6 to 10 hours. Consider small slow cookers if you love cooking sauces and dips and larger cookers if you like preparing larger meat cuts and soups.
8. Food Processor
Enjoy the versatility of being able to shred, grind, chop, puree, or even slice any food with a food processor. Food processors are created to be user-friendly and versatile kitchen appliances.
If you want to knead bread dough, make vegetable and citrus juice, beat egg whites, or grind meats, a food processor is your run to household appliance. Food processors are mini, full or compact, and have features like feed tube, motor, attachments, and lid-attached bowl.
A food processor has an electric motor mounted on the processor's base, which works to runs the vertical shaft, enabling the cutting blades to slice, chop or grind the foodstuffs to the desired sizes. If you want your food processor to multitask as a blender, look for one that has jug blender attachment.
Get a processor with a beater attachment to easily bake foods. Consider the size of the feeding tube and sort of storage accessories in the food processor, too.
9. Thermal Immersion Circulator
You might have heard about sous vide cooking but didn't know what it's all about. It's a cooking technology that entails heating foods at a controlled temperature, and in which the results are consistent.
It's a popular technology in modern households that's not only fun but also cost-effective. With a thermal immersion circulator, you can prepare delicious meals quickly without raising your electrical bills.
A thermal immersion circulator is only six inches large and includes digital temperature readout. It also has a shiny coil that works by thrusting into the stockpot in a simultaneous manner to heat and circulate water around food being cooked.
Cooking with this device requires immersing airtight plastic bags in a water bath and heating it at regulated temperatures. Thermal immersion circulators have motorized impeller or circulator pump that moves the heated flow, a heating element, control circuitry, and a precise temperature probe.
10. Spiralizer
Those who love noodles can explore a new way of preparing them using the most unexpected ingredients with a spiralizer. A spiralizer is smart kitchen equipment with fine blades that works to slice raw fruits and vegetables to create multiple zoodle and noodle shapes.
While some spiralizers work similarly to pencil sharpeners by slicing foodstuffs once you stick them in and turn the spiralizer manually against the blade, others turn cranks to slice the foods into noodles of the desired shapes.
Advanced and smart enough for common uses, spiralizers can turn your vegetables and fruits into noodles and pasta in a matter of seconds. There're many types of spiralizers available today (view selection on Amazon), which have varied specs, features, and designs.
Take your time to research and compare varied spiralizer options to choose one that is versatile, effective, and reliable.
Conclusion
Make your life in the kitchen funnier and soothing with these small yet useful kitchen appliances. Some of these appliances are versatile and flexible, so they can serve multiple cooking roles with a simple adjustment of the settings.
You obviously cannot buy all the devices, so it's better to settle for ones that can serve more than one role like the dehydrator, convection oven, and vacuum sealer.
Eric is the owner, author, content director and founder of dehydratorlab.com. He is the lead architect and the main man in matters concerning dehydrators, their accessories, guides, reviews and all the accompaniments.Whenever he is not figuring out simple solutions (hacks) involving cookery and their eventual storage, you will find him testing out the different types of dehydrators, to bring us the juicy details regarding these devices.He is a foodie enthusiast, pasionate about making jerky has a knack for healthy and tasty food and won't hesitate to share out any ideas that might be of value around this subject.