Hey there, friends! It's Eric and today I'm excited to share with you how I dehydrate cheese with a food dehydrator! Have you ever thought about dehydrating cheese?
I know it might sound daunting, but trust me, it's worth the effort. With a little patience and some attention to detail, you'll be able to create a delicious, shelf-stable ingredient for your culinary adventures. Let's dive into the process!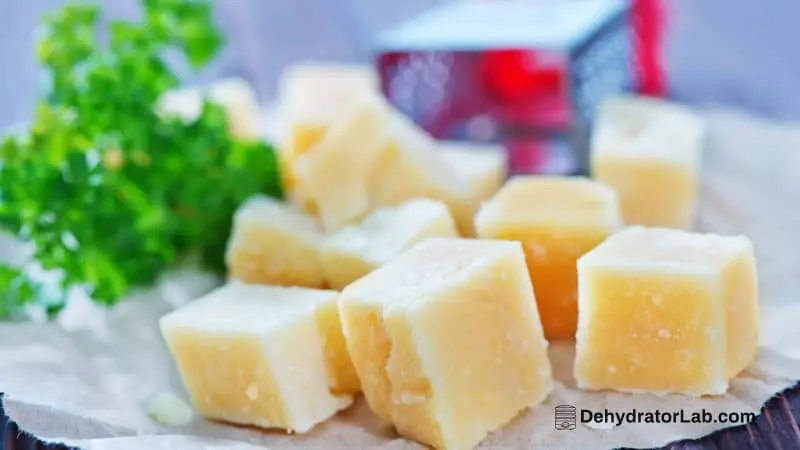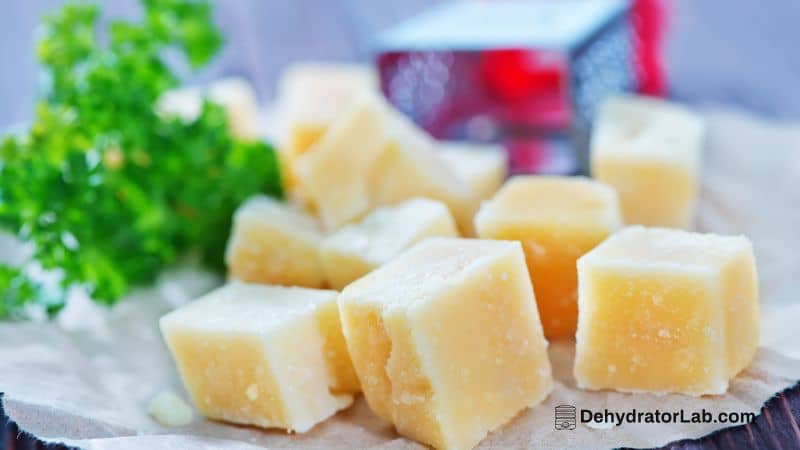 As an Amazon Associate, I earn from qualifying purchases. If you make a purchase after clicking on a link I may earn a small commission at no extra cost to you if items are purchased.
Step 1: Slicing the Cheese
The first step in dehydrating cheese is slicing it. The key is to achieve uniformity in thickness as this affects the drying time. Remember, we're drying the cheese, not melting it!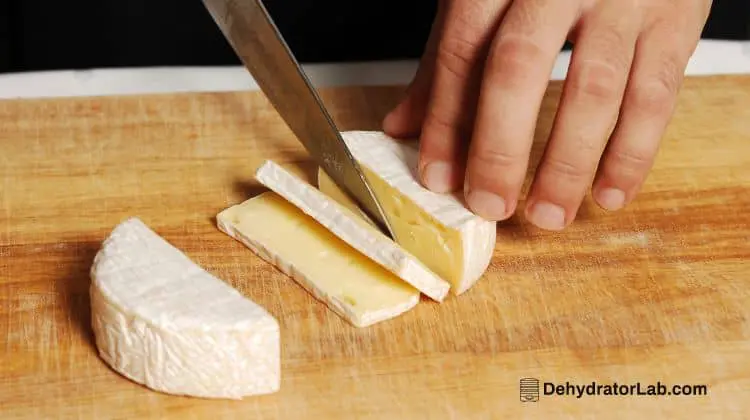 Using a sharp, thin-bladed knife, slice your cheese into thin, even pieces. A pound of cheese should yield enough to fill six trays in your dehydrator.
Step 2: Dehydrating the Cheese
Once your cheese is sliced, arrange it on your dehydrator trays. Set your dehydrator to its lowest temperature, around 95 degrees Fahrenheit to help the cheese "sweat" and dry out evenly, to prevent melting.
Patience is crucial here! You want the cheese to slowly sweat and dry out. This process might take a few days, so be patient.
Step 3: Removing Excess Grease
After dehydrating overnight, you'll notice that the cheese has become crispy, but there's still some grease on it. To remove the grease, use paper towels to pat the cheese dry. Press gently to absorb the excess oil.
You may want to line your trays with paper towels and continue dehydrating to remove even more grease. It might be a tedious job, but it's essential for creating a quality end product.
Step 4: Grinding the Cheese
Once you've patted the cheese dry, it's time to grind it into a powder. The finer the powder, the better for long-term storage. Use a cheese grinder or a food processor to create a fine cheese powder, making sure to get it as dry as possible.
You might notice some sticking inside the grinder, indicating there's still some moisture left. Give the cheese powder a couple more hours in the dehydrator to ensure it's fully dry because this is important so I say it again, the drier your cheese powder, the better it'll store for long-term use.
Step 5: Final Drying
Place the cheese powder on paper towels and put it back in the dehydrator, on fruit roll-up trays, for another hour or so. This final step helps remove any remaining oil in the cheese, ensuring a shelf-stable product.
Step 6: Storing Your Dehydrated Cheese
After the final drying, measure your cheese powder and store it in an airtight container. You should end up with about a cup and a quarter of cheese powder from a pound to a pound and a quarter of cheese. A pound of cheese should produce around a cup and a quarter of cheese powder.
BONUS: Homemade Mac and Cheese Recipe (using dehydrated cheese powder)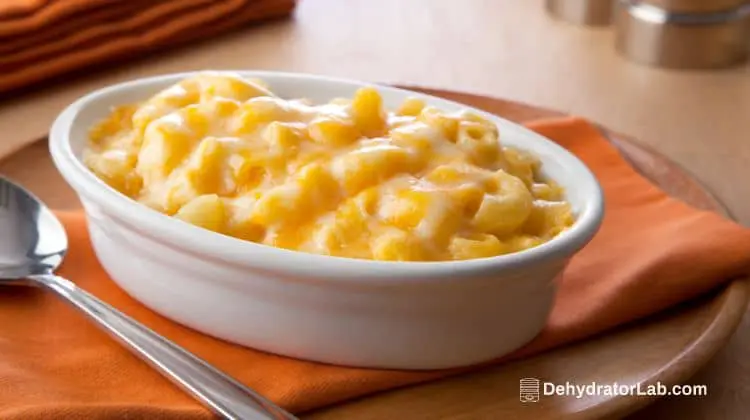 Now that you have your dehydrated cheese powder, it's time to put it to use! One fantastic way to enjoy your creation is by making homemade mac and cheese. Here's a simple recipe:
Melt 2 teaspoons of butter in a saucepan.
Stir in 1 tablespoon of flour and cook until slightly browned.
Gradually whisk in 1 1/2 cups of milk.
Add 3 tablespoons of cheese powder and whisk until smooth.
Season with a dash of sea salt and black pepper.
Stir in cooked macaroni until well coated with the sauce.
There you have it, delicious homemade mac and cheese that tastes even better than store-bought versions.
FAQ's
Can you dehydrate cheese?
Yes, you can dehydrate cheese by thinly slicing it and using a dehydrator at a low temperature to remove moisture.
Does cheese dehydrate well?
Some types of cheese dehydrate better than others, such as hard and semi-hard cheeses like cheddar and gouda.
How long will dehydrated cheese last?
If stored properly in an airtight container in a cool, dark place, dehydrated cheese can last up to 6 months to a year.
How long does it take to dehydrate cheese?
The dehydration process usually takes anywhere from 8 to 24 hours, depending on the thickness of the cheese and the dehydrator's temperature.
How do you dry cheese for long-term storage?
Dehydrate the cheese until it's completely dry and grind it into a powder, then store it in an airtight container away from heat and light.
What is the best cheese to dehydrate?
Hard and semi-hard cheeses, such as cheddar, gouda, or Colby, are the best options for dehydrating.
Is dehydrated cheese real cheese?
Yes, dehydrated cheese is real cheese that has had most of its moisture removed through the dehydration process.
How do you dehydrate cheese into powder?
After fully dehydrating the cheese, grind it in a food processor or blender until it reaches a fine powder consistency.
Can you rehydrate dehydrated cheese?
Yes, you can rehydrate dehydrated cheese by adding it to warm dishes, like soups or sauces, or mixing it with liquid ingredients.
Does dehydrating cheese affect its flavour?
The dehydration process may intensify the flavour of the cheese, making it more concentrated and slightly different from its original taste.
Is dehydrated cheese safe to eat?
Yes, as long as it's prepared, dehydrated, and stored properly, dehydrated cheese is safe to consume.
Can you dehydrate soft cheeses?
While it's possible to dehydrate soft cheeses, they may not dry evenly and can become oily or greasy during the process, making them less suitable for dehydration.
What is the ideal temperature to dehydrate cheese?
The ideal temperature for dehydrating cheese is the lowest setting on your dehydrator, usually around 95 degrees Fahrenheit.
Can I dehydrate cheese without a dehydrator?
While it's possible to dehydrate cheese in an oven set at a low temperature, a dehydrator is the most effective and controlled method for achieving consistent results.
Conclusion
So, friends, if you're up for the challenge, give dehydrating cheese a try! Dehydrating cheese requires patience and attention to detail, but the end result is well worth it.
Enjoy your homemade cheese powder and the fantastic dishes you can create with it or if might say this: enjoy your cheesy creations!
Eric is the owner, author, content director and founder of dehydratorlab.com. He is the lead architect and the main man in matters concerning dehydrators, their accessories, guides, reviews and all the accompaniments.Whenever he is not figuring out simple solutions (hacks) involving cookery and their eventual storage, you will find him testing out the different types of dehydrators, to bring us the juicy details regarding these devices.He is a foodie enthusiast, pasionate about making jerky has a knack for healthy and tasty food and won't hesitate to share out any ideas that might be of value around this subject.